20+ Resources for Free Stock Photos in 2020
Photos help us better understand the concept of a product or service. When we see the relevant photo, we understand what we can count on. Therefore, you should be extremely careful when picking up the right photo for your article or website. If you prepare a to-the-point photo, it will help you attract more clients and boost sales.
But how do we get beautiful stock photos with the relevant design? Nowadays, there are a lot of services that provide free stock photos of high quality. In this article, we will share the 20 best resources for free stock photos in 2020. They are easy to use so every user will handle the process unaided. Without further ado, let's get started.
1. Pixabay
We think this resource is the most generous as it contains more than 1 million free stock photos. You can get free images in several categories such as photos, artwork, vectors, and videos. Also, you can opt for computer illustrations. To put it another way, Pixabay is a database of non-copyrighted photos that are distributed under the Creative Commons license.
Pixabay allows you to use different filters and change the size, color, and orientation of the photo. If you want to use a search feature, we recommend choosing an English version of it. Overall, this resource is worth your attention.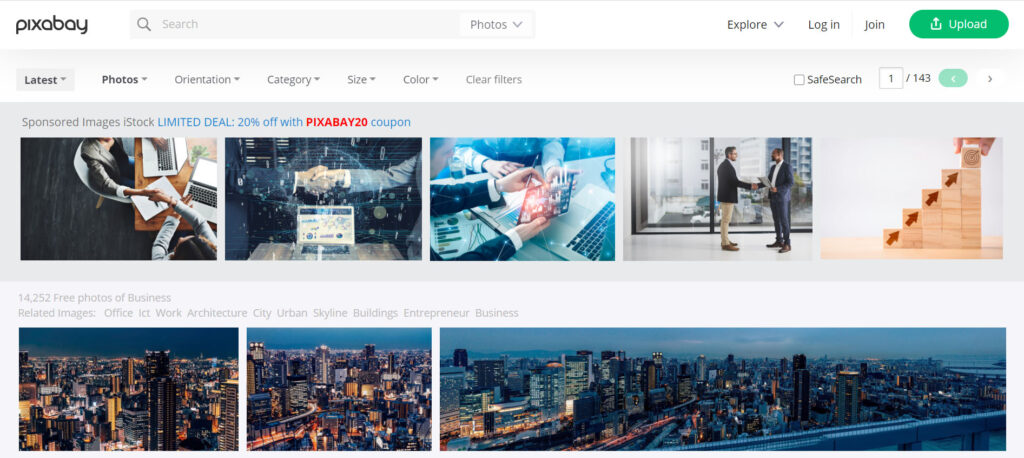 2. Unsplash
This resource provides you with 300 000+ stock photos from different photo-communities all over the world. Unsplash offers high-resolution stock photos of several categories. For example, you can browse through photos on the topic of technology, cooking, or traveling. If you sign up and create an account, Unsplash will be sending you dozens of free relevant stock photos every 10 days.
This resource is convenient and easy to use, so we recommend every user to try it. The good thing is that you can search the Unsplash library in the PicMonkey editor add pics to your designs seamlessly.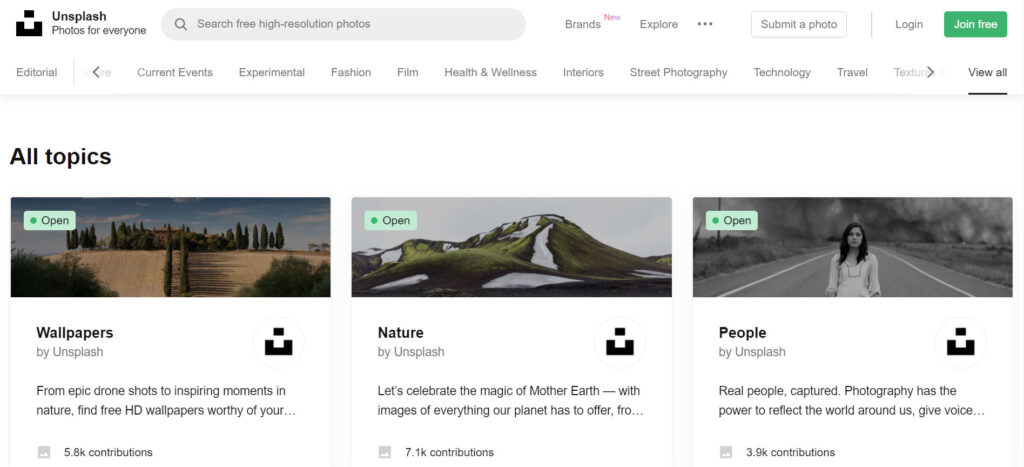 3. Pexels
Although this service contains only 40 thousand free stock photos, they are all worth your attention. You can use a search function to pick up the relevant photo from a particular category. Portraits, photos of individual objects, landscapes, and fashion photographs – you will be surprised by a wide choice of stock photos.
The website is made in a minimalistic design so that it is convenient to use. We recommend you to use the page in English the way it is to avoid mistakes in translation.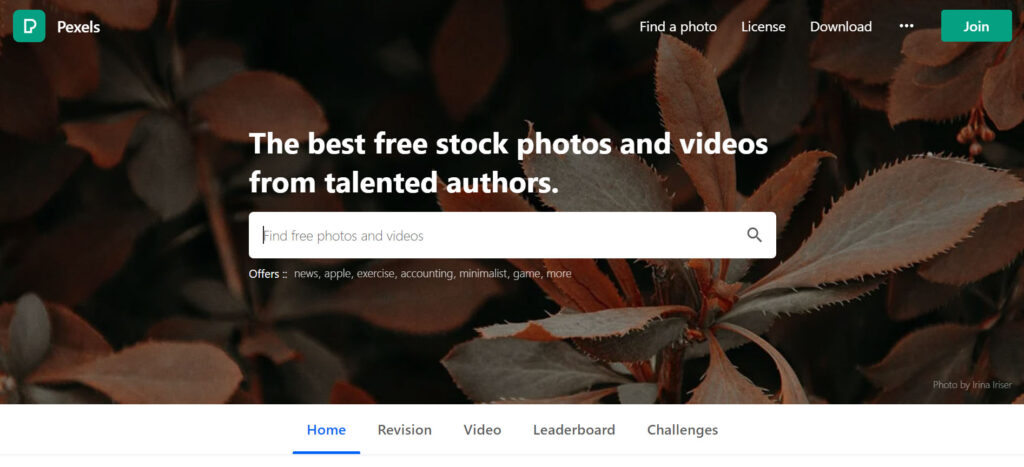 4. Burst
The first thing you need to keep in mind is that Burst has different licenses for every image. So, make sure to check it before using a photo. If you work in e-commerce and do online sales, this service will help you find the right photos.
You can find folders of pictures distinguished by the type of business all available to download as either high or low resolution. This resource is quite good in its category.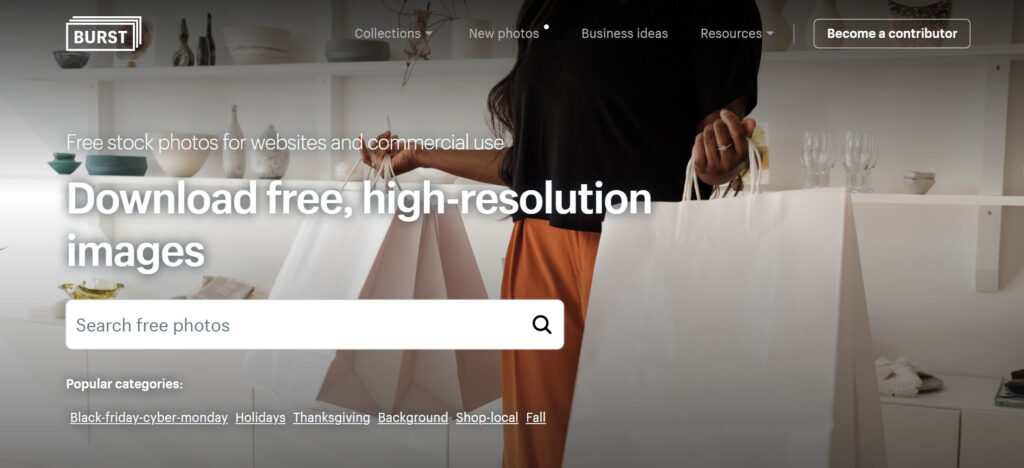 5. Dreamstime
To use this resource, you have to sign up and create an account. Dreamstime has 150 million stock photos which make it the world's largest stock community. There 33 million users who have signed up. Although not all of the photos are free, the service has a separate section with free content that is constantly updating.
Dreamstime has not only stock photos but also editorials, illustrations, videos, and audios. However, makes sure to check if the piece is free to use.

6. Flickr
A lot of people think of this service as the first one among free stock photos resources. It is really huge: it seems like Flickr contains billions of photos. It has a convenient search feature so that you can find the relevant photo by entering a keyword, color, size, or even a license type of a photo. Be careful with this website: it might be overwhelming. For instance, you will get more than a million examples by typing a simple keyword.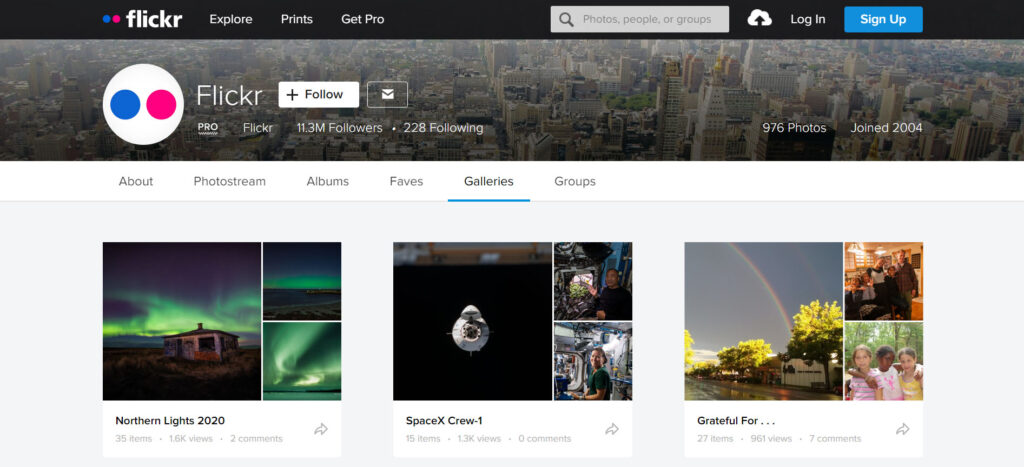 7. Picjumbo
The benefit of this resource is that you don't have to sign up if you need to download a stock photo. Although the service does not have a search function, you can explore different categories to find the right piece. The website was created in 2013 and it has more than 5 million downloads by now.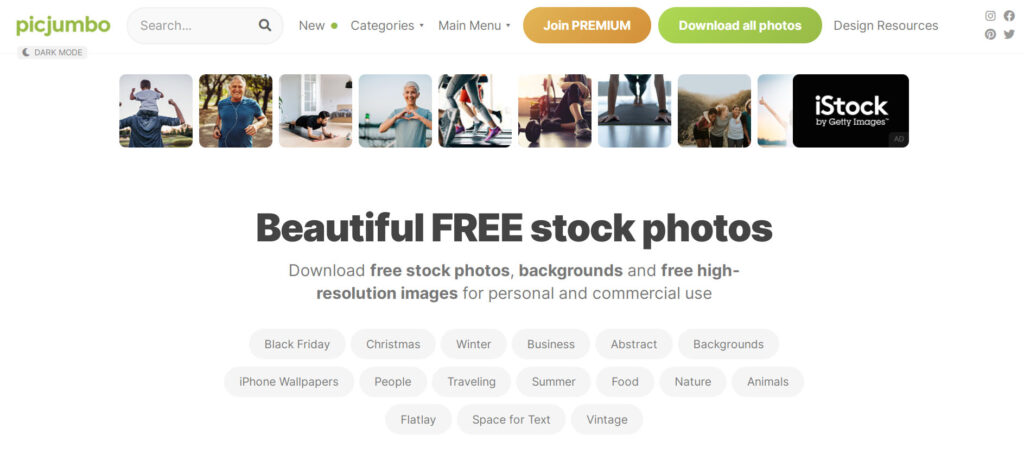 8. Visionpic
Visionpic.net provides you with high-resolution free stock photos from a community of professional photographers who travel all around the world. This service is recognized as one of the best among free stock photo websites. It shares lots of attractive high-quality photos without watermarks which makes it suitable for social media and businesses.
The website has a comfortable search feature and more than 20 categories of materials. This makes Visionpic convenient and easy to use. Also, it is worth noting that you will not have any problems with loading the pages because the website is perfectly optimized.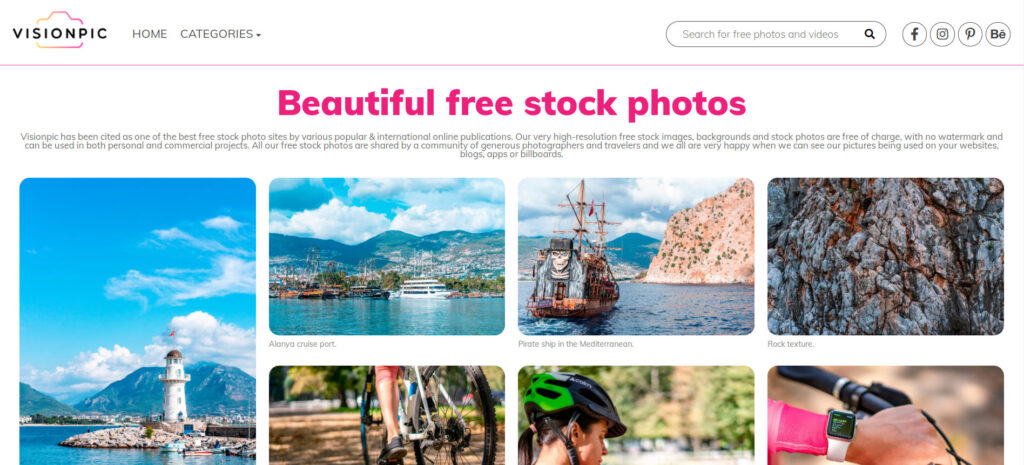 9. Stock Up
This resource shares free stock photos from other online services that gave permission on taking their materials. Stock Up makes collections of beautiful high-quality stock photos. Therefore, you can choose the appropriate image from more than 20 thousand pieces.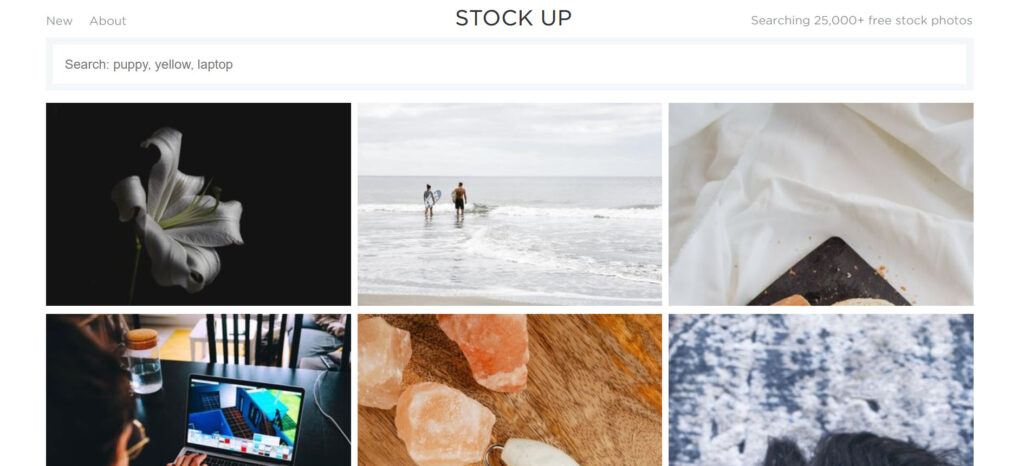 10. Free Range Stock
To use this resource of free stock photos, you have to sign up and create an account. This service is convenient to select images to illustrate abstract concepts. Overall, this free stock photos resource is quite simple and easy to use.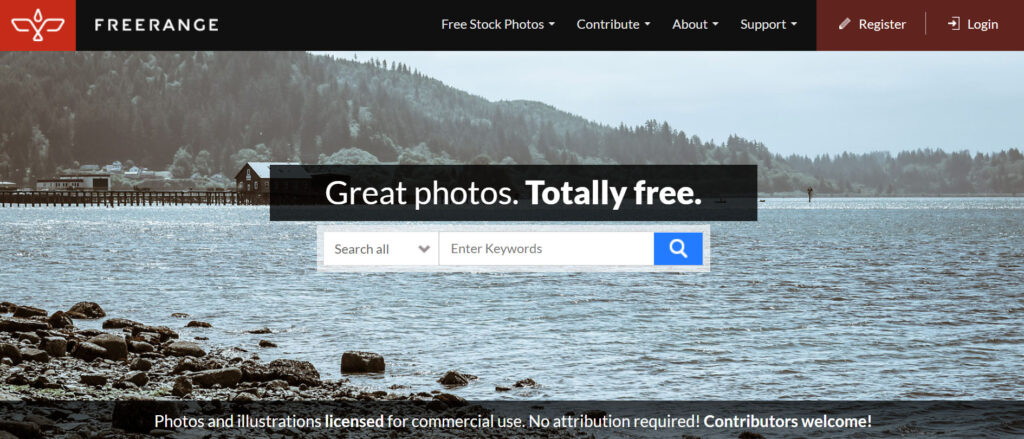 11. Stockvault
This is another photo stock for photographers and designers that allows you to both publish your work and use other people's pictures for personal purposes. The advantage of the resource is that registration is not required to use stock photos. The website also offers a selection of suitable photos from collections such as "Merry Christmas".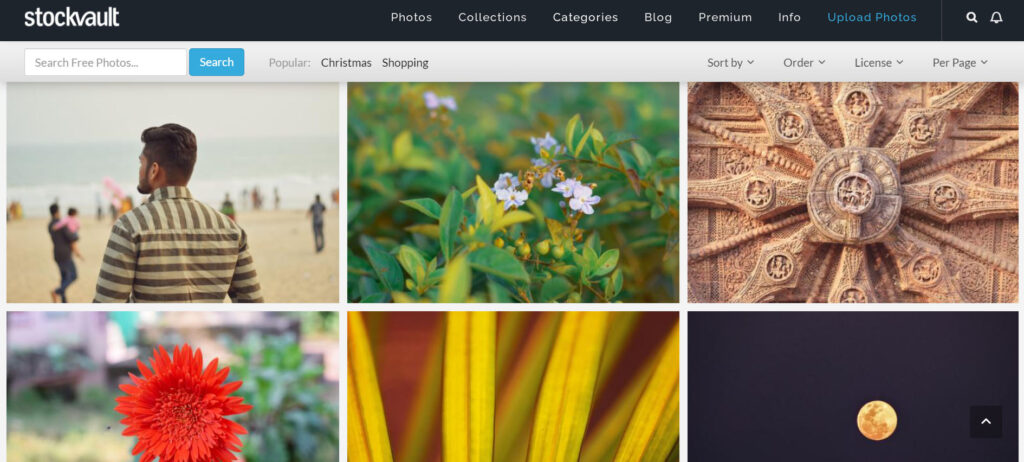 12. Kaboompics
This service offers a rather interesting option: you can search for pictures with a dominant color. Looking for images in a specific color palette? Just set up the filter and you will find something suitable in a few minutes. You will immediately appreciate the feminine atmosphere and sophistication of each photo. Bloggers and freelancers will love it!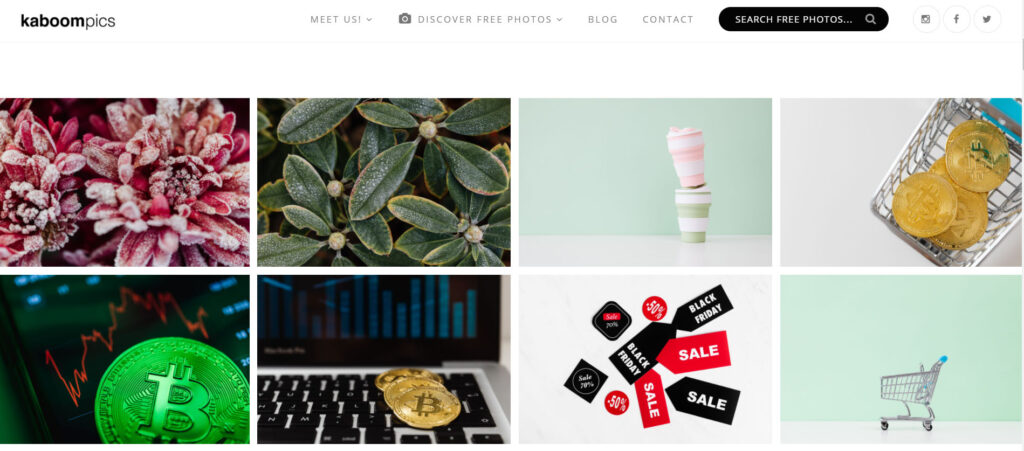 13. Life of Pix
This site contains photos of a wide range of professional photographers. All photos are free for both personal and commercial use. Landscapes, architectural objects, and portraits – here you will find photos for every taste. The base of materials of the site is updated every week, and the administration selects the photos manually.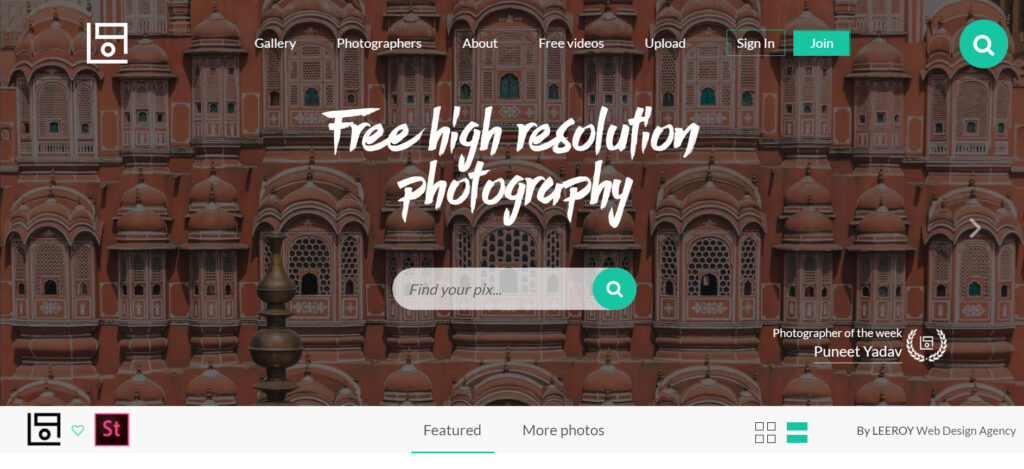 14. Foter
Foter is a search tool for Flickr that helps you quickly select images with licensing options of interest. This site contains thousands of atmospheric photographs on various topics. You can search for photos by keywords by entering them in English. Filter "All Creative Commons" to select free photos.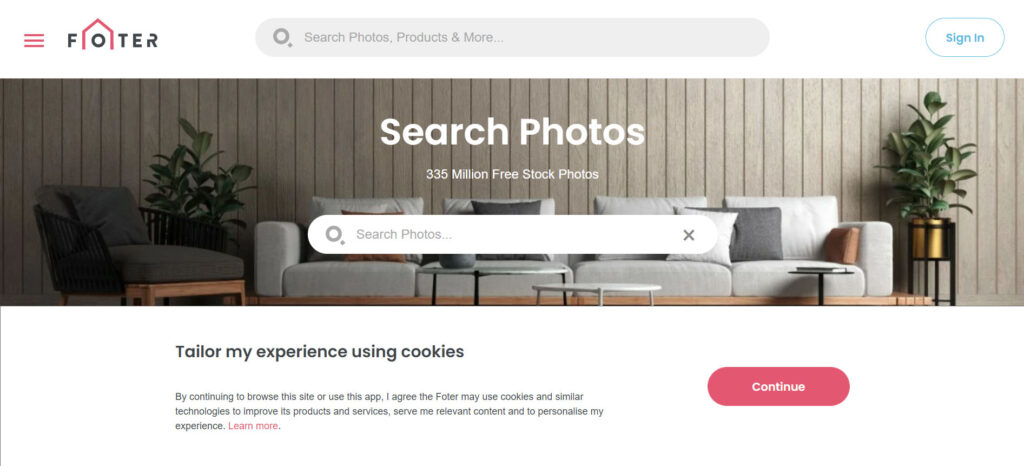 15. Negative Space
Negative Space is not very large, but it only helps to make the viewing more positive. You will be pleasantly surprised by the variety of smartphone layouts presented. Photos are CC0 licensed.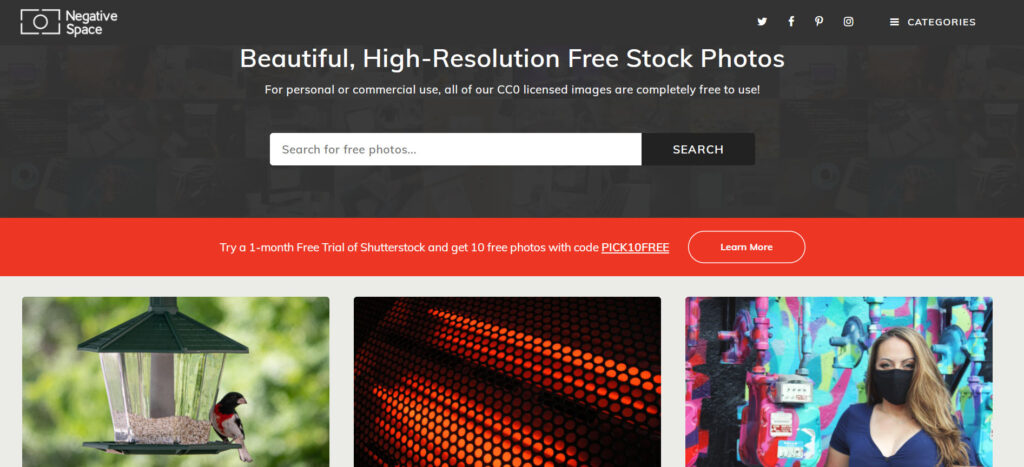 This resource contains a large database of stock photos, divided into categories. All images are free for both educational and personal or business purposes. This service is simple and straightforward to use.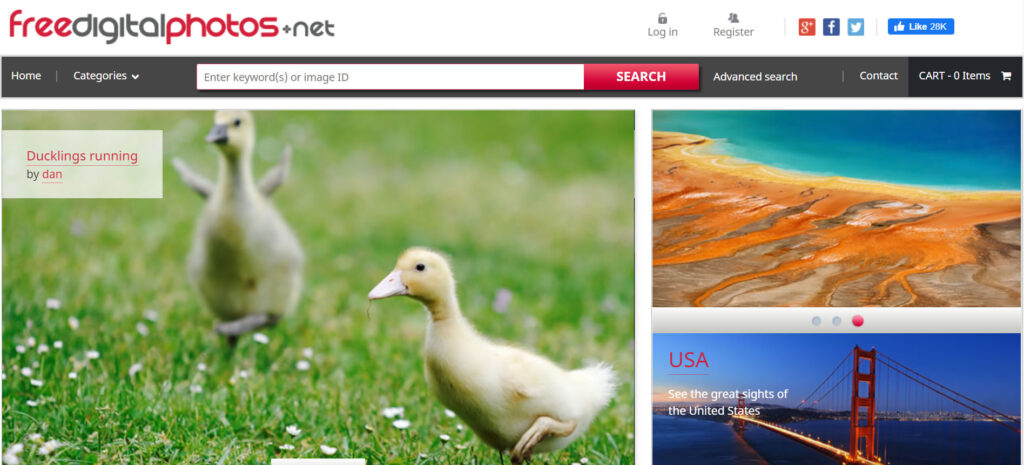 17. Skitterphoto
SkitterPhoto presents a selection of lovely cute photos from three Dutch photographers. Landscapes, animals, individual objects – everything you need is here. Keep in mind that the service regularly adds new photos.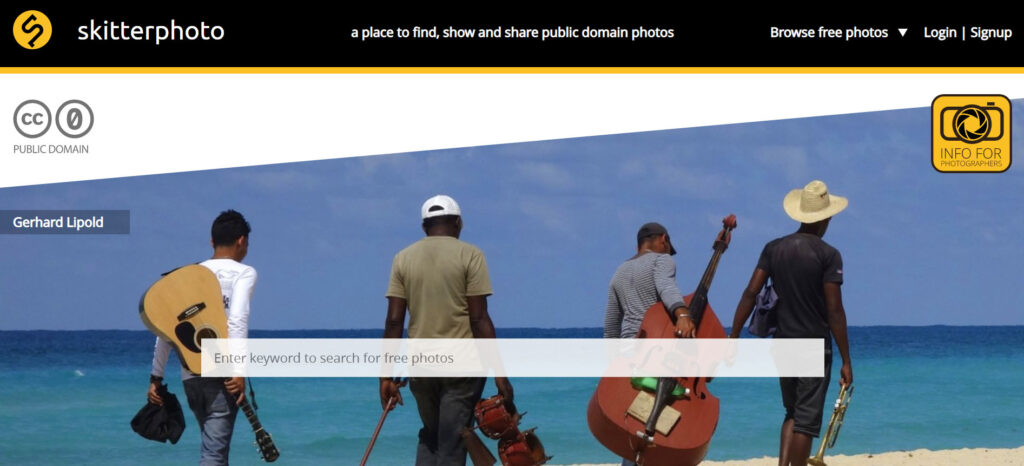 18. Barnimages
Although this site was created by a couple of photography friends, it bypasses many famous resources in quality. You can use their free, non-attributed stock images for any purpose, but the site's creators would appreciate it if you like their work. Also, they have a pretty helpful blog to help you get your head around stock photography.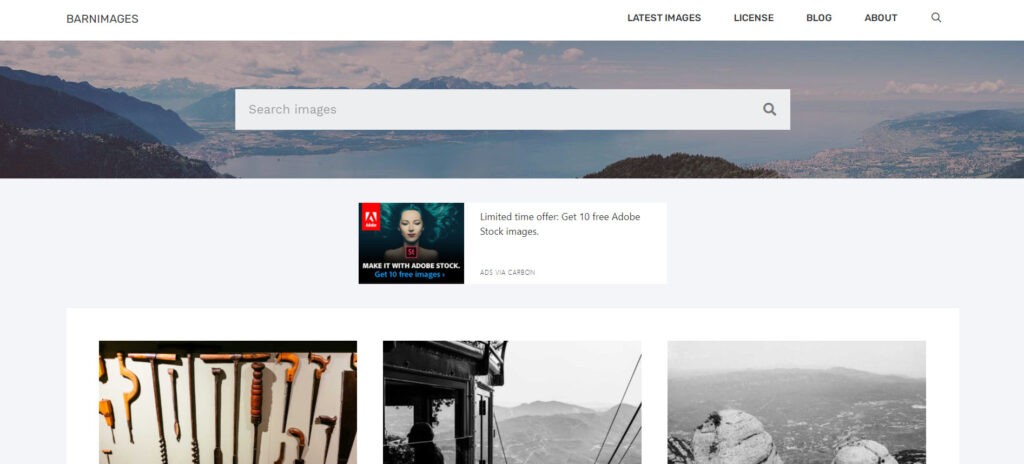 19. AllTheFreeStock
This is another service that collects snapshots of other free stock resources. Free stock images, icons, and videos – what else do you need to be happy?
All photos, videos, and icons are collected in one place. The service offers different licenses, but we recommend that you check the terms of use of the photos on the original site before downloading materials.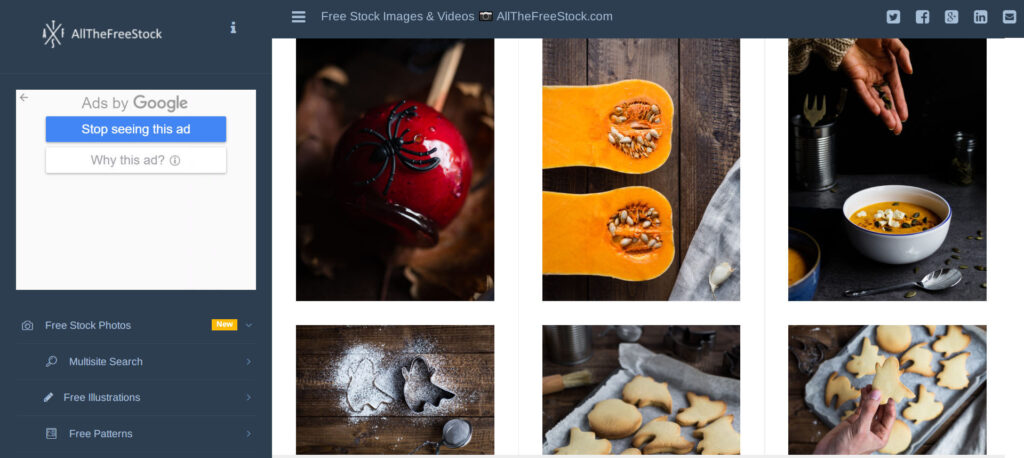 20. DesignersPics
This free stock service adds new photos every month. Users can use all the images for both personal and commercial purposes. A small collection of beautiful modern stock photos on various topics. These are mainly separate items, but there are also some pretty good landscapes. The site collects only high-resolution photos. And yes, they are absolutely free. There is a general feed of updates and a separate section where pictures are divided into categories.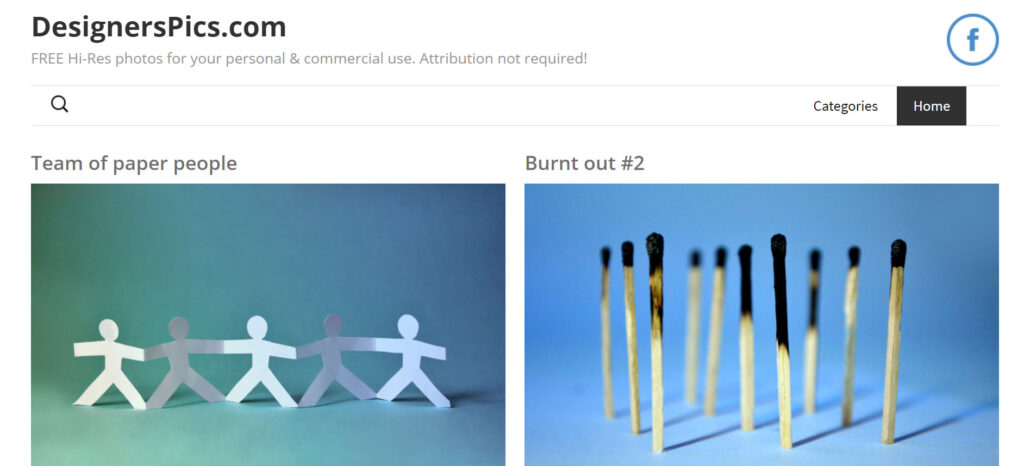 Overall, that's it for now. These were the 20 best resources for free stock photos in 2020. We recommend you to check out at least a few of them to find your favorite one. Feel free to spend some time browsing through the service to evaluate its design and optimization. Also, make sure to subscribe to our social media to stay tuned with the latest updates.
The Ultimate Guide to the Essential Social Skills in Business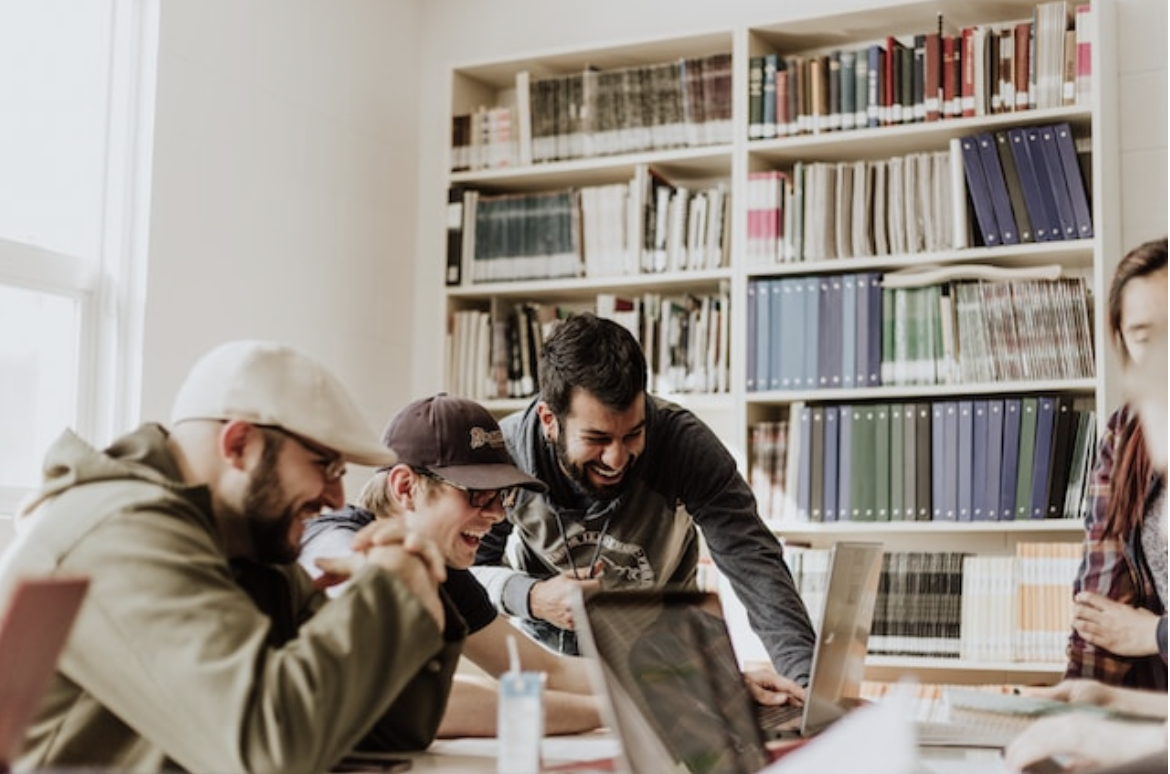 Effective communication and strong relationships are essential for success in the workplace. One factor that can greatly influence these qualities is emotional intelligence, often abbreviated as EQ. EQ refers to the ability to identify, understand, and manage one's own emotions, as well as the emotions of others. Research has shown that individuals with high levels of EQ are better equipped to handle stress, communicate effectively, and work collaboratively with others (Chamorro-Premuzic & Sanger, 2016).
Research has consistently shown that emotional intelligence (EQ) is an important predictor of job performance and success in the workplace. EQ is comprised of a set of skills that allow individuals to recognize, understand, and regulate their own emotions, as well as the emotions of others. In addition, individuals with high EQ are better able to communicate effectively, build relationships, and navigate complex social situations. As a result, they are often viewed as effective leaders and collaborators, and are more likely to achieve their personal and professional goals.
In fact, a number of studies have demonstrated the significant impact that EQ has on job performance and success. For example, one study of 85 upper-level managers found that those with higher EQ scores were rated as more effective leaders by their subordinates (Law, Wong, & Song, 2004). Another study of 151 employees found that those with higher EQ were more likely to be promoted within their organization over a five-year period (Carmeli, Brueller, & Dutton, 2009). These findings highlight the importance of EQ in the workplace and suggest that developing these skills can lead to significant benefits for both individuals and organizations.
According to a study conducted by TalentSmart, a leading provider of EQ assessments, EQ is responsible for 58% of success in all job types (Bradberry & Greaves, 2009). In contrast, IQ only accounts for about 4% of success in the workplace. This suggests that EQ is a crucial skill set for individuals in any professional field. Fortunately, EQ is a skill that can be developed and honed over time with practice and awareness.
There are several key components of EQ that are particularly important for success in the workplace. These include: 
Self-Regulation: This refers to your capacity to recognize and control your emotions. Sometimes treating them when they arise may be necessary. Understanding how to manage your anger is essential. However, it can also cover how to control the feelings you'll experience.
Self-Awareness: This implies recognizing and understanding your own feelings. Do noisy places make you nervous? Do other people talking over you make you angry? Knowing these truths about yourself shows that you are working on your self-awareness. Being conscious of yourself is necessary for this phase, which can be more complex than it sounds.
Socialization: This category focuses on your capacity to manage social interactions and direct relationships. It doesn't entail dominating others but knowing how to work with others to achieve your goals. This could entail presenting your ideas to coworkers, leading a team, or resolving a personal disagreement.
Motivation: Strong motivators include external forces like money, status, or suffering. Internal motivation, however, plays a significant role in Goleman's concept. By doing so, you demonstrate your ability to control your cause and initiate or continue initiatives of your own volition rather than in response to external demands.
Empathy: It's equally critical to be sensitive to others' feelings. This may entail learning to identify different emotional states in individuals — for example, can you tell the difference between someone at ease and someone anxious? — but it also requires comprehension of how other people may react to their current situation. Empathy is one of the essential traits in business and business leadership.
A thought leader in this space, Michael Ventura has built a career advising organizations on the importance of emotional intelligence in the workplace. In his book, Applied Empathy, Ventura highlights the value of empathy in business and provides strategies for developing and applying this skill set. With two decades of experience as a leader, facilitator, and educator, Ventura's work has made impact in with prestigious institutions such as Princeton University and the United Nations as well as corporate clients such as Google and Nike.
Through his work, Ventura advises leaders to focus on the development of EQ in order to help individuals improve their communication, collaboration, and leadership skills, ultimately leading to greater success in the workplace. Experts like Ventura continue to support the growing body of research on the value of EQ in business, and the evidence that organizations who invest in the EQ of their teams help to create a more empathetic and successful professional environment.
And it's worth noting that EQ isn't just important for individual success in the workplace, but also for overall organizational success. A study by the Center for Creative Leadership found that EQ was a better predictor of success than IQ or technical skills in the workplace, and that teams with higher levels of EQ tend to be more effective and productive (Boyatzis, Goleman, & Rhee, 1999). By cultivating a culture of empathy and emotional intelligence, organizations can improve their overall performance and create a more positive work environment for their employees.
In conclusion, emotional intelligence is a crucial component of success in the workplace, and individuals and organizations alike should prioritize the development of these skills. The ones that do not only develop a leading edge in their category, but also become a meaningful place to work for their teams. And in today's rapidly changing talent landscape, the retention of highly capable, emotionally intelligent leaders is one of the greatest keys to unlocking success.
References:
Boyatzis, R. E., Goleman, D., & Rhee, K. S. (1999). Clustering competence in emotional intelligence: Insights from the emotional competence inventory (ECI). In R. Bar-On & J. D. A. Parker (Eds.), Handbook of emotional intelligence (pp. 343-362). Jossey-Bass.
Bradberry, T., & Greaves, J. (2009). Emotional intelligence 2.0. TalentSmart.
Chamorro-Premuzic, T., & Sanger, M. N. (2016). Does employee happiness matter? Journal of Organizational Effectiveness: People and Performance, 3(2), 168-191.