How to Break into the Male Modeling Industry: Advice from Super Model RUDY BUNDINI
Today we break into the fashion and commercial world of high-end male modeling. Who else to analyze it than someone with years of experience in the field, super model RUDY BUNDINI? Years ago when he first started his career, nobody could imagine that he would turn into one of the most recognizable faces in the fashion and commercial world. Today he has become one of the most well-known faces in the modeling industry.
Male modeling is a unique career choice in that there is no specific path to success. Many men try and fail while others are able to land short-term work without the ability to earn consistent and stable long-term wages. However, one male model has been able to stand out above the rest. Rudy Bundini has been able to remain successful in the industry and earn illustrious recognition for his work from Asia to New York to Dubai. Rudy was kind enough to sit down with us from his busy schedule to shed some light into why certain male models succeed while others are replaced.
If you've never heard of Rudy before, you have probably seen his work. He has graced the ad campaigns of designers and companies including Philipp Plein, Nike, Versace and Roger Dubois.  His Instagram account boasts over a million followers and is filled with professional pictures of his perfect godlike physique and chiseled jawline. Although there are always newer and fresher faces breaking into the male modeling industry on a daily basis, Rudy has been able to maintain steady and consistent success through his hard work, dedication and innate ability to keep up with the newest trends.
One of the main ingredients that contributes to Rudy's success is his laser-like focus. When asked about what he would do if modeling did not work out for him, he simply responded "I don't have a plan B, only different ways to make plan A work." His tenacity and drive is unmatched by any other male model in the industry. He studies and learns about each advertising campaign that he is shooting for and learns about what the underlying audience are seeking. Different campaigns target different demographics and Rudy has become skillful in the art of perfecting his craft for his target audience.
When asked if there is any advice he would give other models, Rudy explains that representing your true self is the master key to unlocking many of the difficulties in the modern world. People become afraid of revealing their true selves and eventually forget who they really are. For example, Rudy modeled in the high fashion industry in Dubai and was booked consistently by multiple brands and many different advertising campaigns. However the fashion industry in Dubai quickly shifted and the type of male models sought out were quite different from the traditional male model types. While companies and designers were initially looking for masculine men with big frames, wide shoulders and chiseled jawlines, all of which Rudy fit perfectly into, the industry took a turn where the type of physique that were sought out tended to be smaller and less masculine. Rudy responded by following one of his personal inspirational quotes, "Accept what you cannot change and change what you cannot accept."
Rudy soon realized that he would lose his chances in high fashion castings due to his masculine physique. However, it did not stop him from working towards his end goal, which was to become of the top male international models. Although the high fashion industry was changing, Rudy was able to successfully steer his modeling career towards commercials and editorial footprints. Using this strategy, he was able to still book high fashion brands who desired the old school look of masculine physiques and faces while still finding success through different avenues in the modeling industry.
It was by accepting reality and adjusting himself accordingly to changes in the industry that Rudy was able to book consistent work and find continued success. The modeling industry is an ever-changing one and one can only adapt and adjust to the world around it. Rudy concludes that "To protect your feet, it is easier to have your shoes on than to carpet the entire world."
Break Media: Giving a lifetime opportunity to up & coming artists with their entertainment company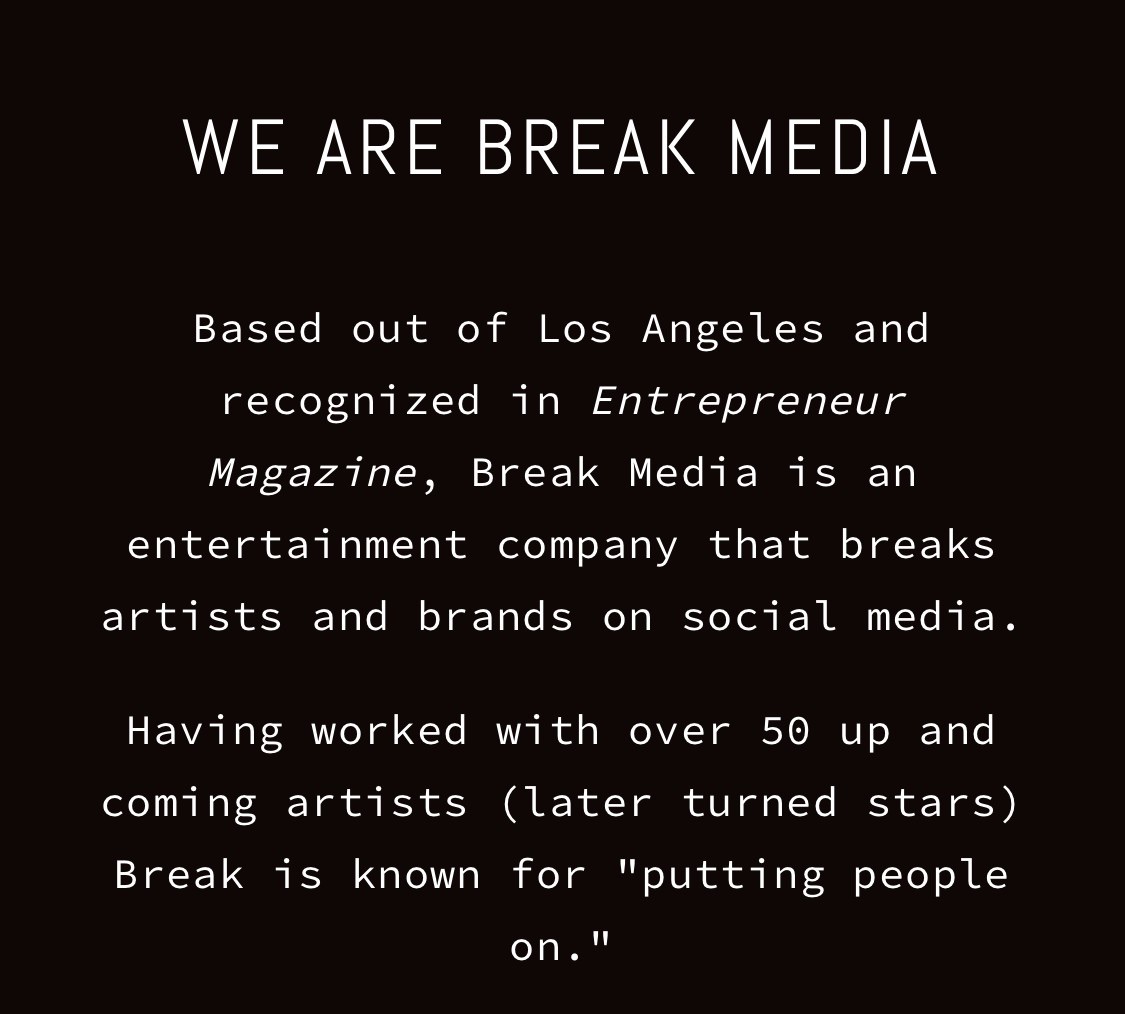 Considered to be the best in the USA, Joey Hickson's Break Media is both learning & a path-breaking platform for artists.
The way the world of social media has seen a rise, especially in the past few years is staggering. The number of people who have joined the bandwagon on social media is incredible knowing the various opportunities & admiration that the online platform offers an individual. When you are aware of such advantages of the medium, it is natural that some companies use the same to provide opportunities to clients who associate with them. Break Media by Joey Hickson is one of the best entertainment companies in the US that works for the growth & betterment of up & coming artists, athletes & influencers, who have talents that the world must know about.
Break Media is a visionary company created by Joey Hickson that provides the ultimate solutions to many artists & influencers across the world looking to get a chance of their lifetime to showcase their talents globally. Hickson, who is also a renowned social media influencer in the US, knows how to effectively use social media platforms to carve a path for talented youngsters & give them a platform which can turn out to be fruitful for their careers.
Hickson's company works for placing these talented people in front of huge audiences by helping them create an image on social media & in the outside world. The social media world is already crowded with many such similar companies & to still make a special place in the online world is something Hickson has achieved with his determination & hard work. Break Media is also unique because the work they do for influencers & artists; they do not claim any credit for their increasing popularity amongst the masses & the classes.
Today with his consistent efforts, Hickson has been able to take Break Media to the peak of the media industry, which is popularly recognised as a company that guides & supports talented artists & influencers.
Providing top services in influencer personality management, music promotion, collaborations on the agency's 350 million network & many more such amazing services, Break Media has been successful in giving a break to artists worldwide. Looking at the rate the agency is growing along with its clients, it won't come as a surprise if the agency develops many other things through social media platforms for the artists & influencers.
If you too wish to make your dreams a reality, you can connect with them on Instagram @break or can visit their
Website : breakmedia.us
Instagram : https://instagram.com/break