Parker Beck on the Future of Social Media and Cannabis Marketing
How did you get into the social media business?
While in high school, I noticed fellow students blowing up their personal Instagram accounts to over 100k followers using unique growth tactics. I was fascinated by how they were able to grow their pages to such massive followings so quickly. In my freshman year of college, one of my baseball teammates explained how he was making money running largely followed Twitter accounts. Soon after, I purchased my first account called Every Day Baseball. From there, I bought many more Twitter accounts, created some from zero followers and eventually in 2016 got into running Instagram accounts.
Being in the social media business seems like an ideal lifestyle to many people. What advice you would give to those looking to get into the industry?
Like most things in life, if it was easy, everyone would do it. Being in the social media business, especially in the cannabis niche, there is a lot of stress that comes with the job. Social media isn't a 9-5 job and it doesn't take a day off. You should be prepared to work on holidays and weekends. You need to post every day and constantly create new content that fits the current trends and what your followers want to see. Being in the cannabis niche on social media, there is the persistent fear in the back of your mind that you will wake up one day and find your accounts have been suspended. At any point, your largest and most profitable account can be taken away from you by Instagram or Twitter for violating their terms of service. My advice is to never get comfortable in the social media business and don't put all of your eggs in one basket. Push yourself to learn new skills and be prepared to adapt to any changes the social platforms put out. Put yourself in a position to be a valuable asset if one day you suddenly do lose your accounts.
When it comes to marketing cannabis companies and their products, what restrictions do you face and how are you able to legally promote them?
Marketing cannabis companies has proven to be a very difficult challenge. Despite many states having both legal recreational and medical marijuana, it is still a federally controlled substance labeled as a Schedule 1 drug by the DEA along with heroin in the same category. Companies are not allowed to pay Facebook to run ads so that is where I come in. I use subtle marketing techniques to promote these companies products on social platforms without violating their terms of service. One example of this: if a company is looking to promote a smoking device such as a water pipe or vape, I will incorporate their product into a picture, trending meme format or use a general meme format to work the brands name into the punchline. When it comes to a company that sells the flower directly, that is when the marketing becomes increasingly difficult because it can quickly violate the terms of service of posting an illegal substance and get your account suspended.
Where do you see social media heading in the next few years? What platforms do you see fading out with others thriving?
From my experience, I think there is going to be a shakeup in the meme pages and formats currently being used. I feel at a certain point, people are going to get tired of seeing the same old format of a picture with a caption above it. A new format will start to emerge and page owners who adapt and adjust will be the ones who continue to thrive. Social media is so fast paced now, something can be trending for a few days and just as quickly become a dead format. Although Facebook is not the preferred social media of millennials, I don't see the platform going anywhere. Twitter is the biggest platform in danger of losing its relevancy in the coming years. It has remained a popular platform because information is relayed in real time. But as someone who has been on the platform for 9 years and seen the changes they have made, I don't have confidence in the people running the platform to keep up with the other major companies like Facebook. They will still be a very popular platform because it's the most convient platform to quickly convey a message to the masses. TikTok will be the biggest platform to continue to blow up. It is still in its early stages when it comes to a social platform but it's the platform that Vine should have become with options of long and short form videos, as well as tailored feeds to the viewers interests.
What do you see for the future of cannabis marketing on social media?
I anticipate within the next 5 years, states will continue to pass bills for legalization and decriminalization of marijuana both on the state and federal levels. With states and the federal government both struggling with the lasting effects of the coronavirus, the taxation of cannabis will become increasingly appealing. It is very important for those who want to push for legalization to contact their elected officials and do their research on provisions that will be on their ballots in the 2020 election cycle. With legalization, cannabis should be treated like alcohol when it comes to promotion on social platforms. There should be restrictions on how you can market the product and what age groups you are allowed to target. This will also open up the flood gates for influencers to be able to safely promote their favorite cannabis brands without the fear of getting suspended.
SPOTLIGHT: Sweet vinyl by DREAMOUR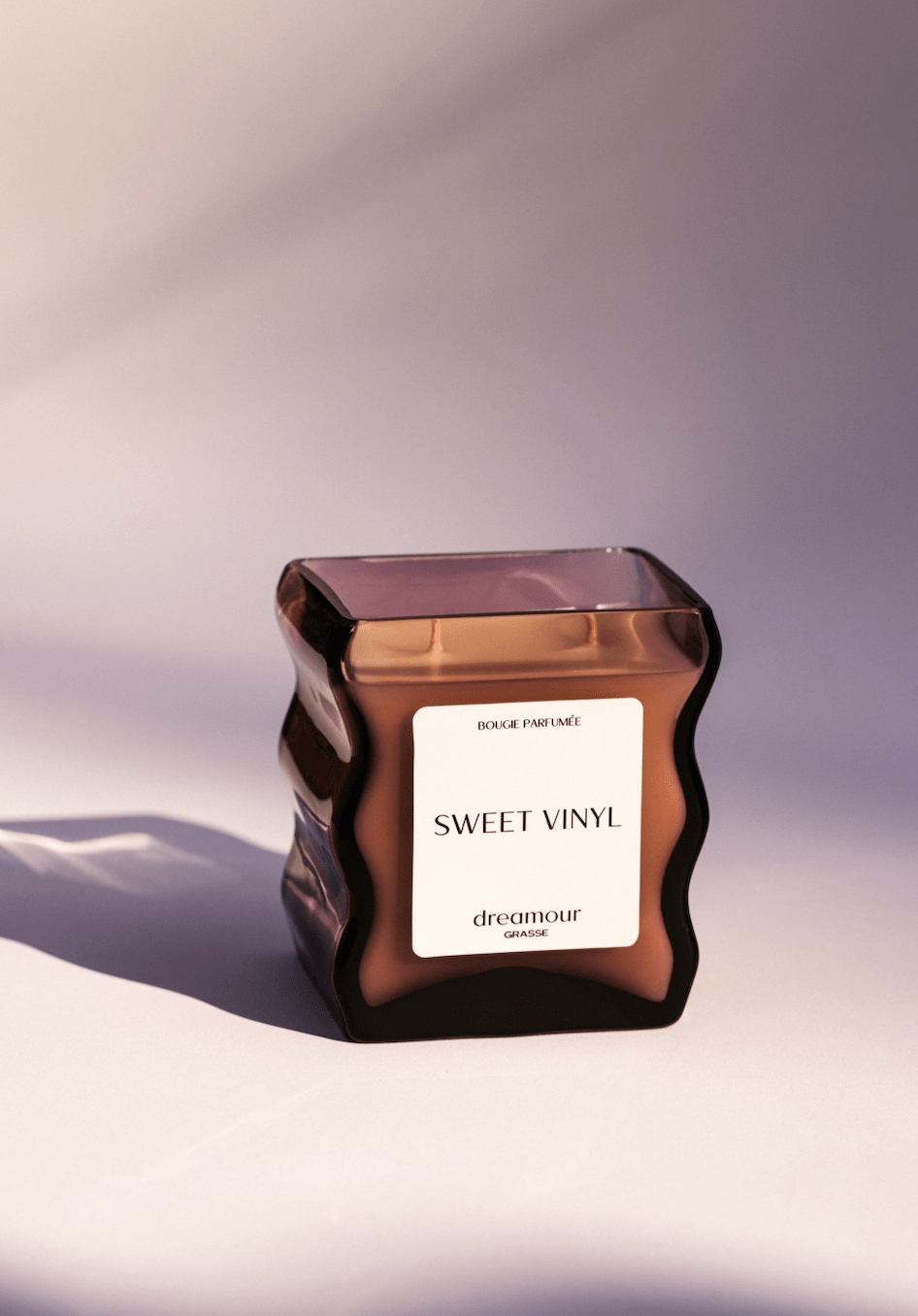 What happens when two immensely talented visionaries come together to create elegance and ingenuity in a sculptural glass fragranced candle? Dreamour. That is the long and short version of how Dreamour was created. Founded by Karissa Rowe and Neal Klotsman in late September 2022, Dreamour was founded with the goal of creating a luxury fragrance brand that operates at the intersection of functional art in the candle market space.
Rowe, a Parsons School of Design graduate, set out to fill the niche of integrating design in the candle marketplace. Unlike most candle vessels that are mass-produced, Dreamour's founders desired to prioritize the artisanal craftsmanship of glass in their production processes of the sculptural glass designs. This resulted in a long timeline of sourcing the globe for talented glass artisans who could transform a sketch into a functional and sophisticated candle vessel. Each and every candle vessel is hand-blown, inherently resulting in a one-of-a-kind product and unique experience for the consumer. These functional fragrant candles also act as a piece of décor due to its sculptural and alluring appearance.
Sweet Vinyl, Dreamour's first candle scent, fills the room with musky & leathery notes combined with earthy notes of vetiver and cypriol, topped with a citrus touch of bergamot and mandarin. The founders worked with master perfumers in Grasse, France, to create a scent that invoked notes of memorable moments, emphasizing high quality ingredients in the fragrances in a soy wax blend. This resulted in candles that consist of clean ingredients, a vegan formula, and is entirely cruelty-free.
It is the personification of the glass blowers' spirit, the heart of Grasse imprisoned in a bottle, and the narrative of two visionaries that sets Dreamour at the top of the candle market pedestal. Dreamour embodies the sophistication and savior-faire French perfumery as a luxury brand, while being a NYC based brand. Dreamour is currently stocked at Patron of the New in New York, along with other major designer luxury known brands. Rowe and Klotsman are currently expanding their production lines and will drop new fragrances and designs in early 2023. Don't expect anything ordinary with Dreamour, as they will continue to bring a unique perspective to the marketplace of home fragrances.
To find out more about Dreamour and their newest releases, you may visit the business's website dreamour.com or follow the company via its Instagram handle @dreamourshop.