Are you Keeping a Track of these Important Things for your Business?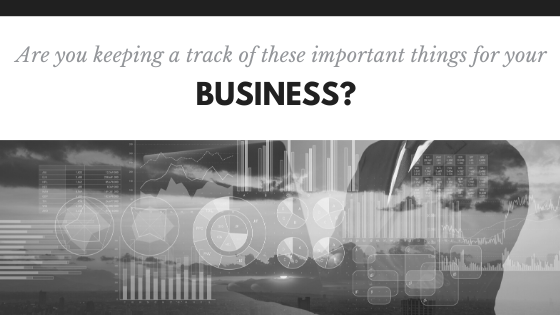 If you are a business owner, then it falls under your daily job role to monitor the key performance indicators regularly. It is impossible to know where your business stands without keeping a track of the company's performance. However, monitoring sales and revenue generated is not all that CEOs and managers do behind closed doors, there are more in the mix.
To make a business run successfully, be it an SMB or an enterprise, a few rules must be followed. While the basics are known by most entrepreneurs, today we are going to highlight the not-so-popular, yet a few of the most crucial points to consider.
Time Tracking and Its Merits:
Employees generally work for a 9-hour shift. They come in the office, punch in the time and thus start their day. But the question remains, how much time from these 9 hours are spent productively? They don't need to stay glued to their computer screen throughout. There is a difference between office hours and work hours, and in between them lies the productive hours.
There are many benefits attached to tracking your employee's time consistently and accurately.
Accurate time tracking will help you to pay out your employee for the hours actually worked. It eliminates the chances of overpaying or underpaying.
Overtime costs can be eschewed. There are multiple time tracking tools like Hubstaff which can alert your employees when they are nearing their regular work hours.
With effective time tracking, employees tend to become more accountable as they are made aware of their actions owing to which they don't waste time.
The Element of Customer Loyalty:
Right after a company is well adjusted with employee management, it's time to turn the attention to customer retention or vise versa. To put it in simple terms, customer retention is all about drawing in the right customers, making a sale, encouraging them to buy more and bring back more clients. This is generally how the customer loyalty circle work. To build this sort of loyalty, a company must treat its customers the right way.
Generally, three common means are used to monitor customer loyalty and the resulting retention:
Periodic customer survey
Direct feedback right after purchase
A detailed purchase analysis
Customer loyalty is one of the greatest pillars of business success. As per Fred Reichheld, a 5 percent increase in customer retention can raise the profit margin by 20 to 100 percent.
Your online heritage and competitor's online presence:
The digital world can be compared to a parallel universe. It has its own rules, regulations, and format. Since the early days of digitization, a lot has been achieved. It's our online heritage. But unfortunately, we don't have any way with which we could look back at what we have achieved so far. While in life it's possible to store photographs of memorable events or loved ones, that facility is not there in the digital world, or is there?
Indeed, with Stillio it is possible to look back upon the digital footprint we have created. Its serves two purpose – we become aware of our past which facilitates decision making in the present, and we can keep a closer watch on the activities being followed by our competitors. Business owners and entrepreneurs can secure their position in a cutthroat business world only by being aware of what their competitors are doing. However, keeping a regular watch on their social media handles, websites and promotional offers may not possible. Stillio can help in this regard with the screenshots of the competitors' sites making competitor analysis simple and easy.
The Merit of Content Marketing and ROI:
In this world of digitization, no business can survive without effective content marketing efforts. Be it a business blog, an email newsletter, a social media post, content marketing is crucial for the survival of a business in the digital world. To add more feathers on the hat, though content marketing costs 60 percent less than outbound marketing, it generates three times more leads! So that's a win-win!
However, to reap the full benefits of content marketing, proper tracking and performance analysis must be conducted. It's important to track the number of shares and other forms of engagement on the content. Additionally, tracking back-links and mentions on other websites must also be practiced as it enhances domain authority.
Tracking Business Goals:
This is the most important element of all. Without proper business goals, it will be like driving around in a truck aimlessly. All the other things that you will be tracking is finally related to your business goal. For instance, if your goal is to spike up your LinkedIn company page by a hundred followers, you have to track the performance of your Linkedin posts. That way a micro goal merges with the macro goal.
So roll up your sleeves and get tracking. Success is right around the corner, you will have to "track it through"
How Conventional Scores Are Stopping Most Millennials From Accessing Credit and How One Company Is Changing That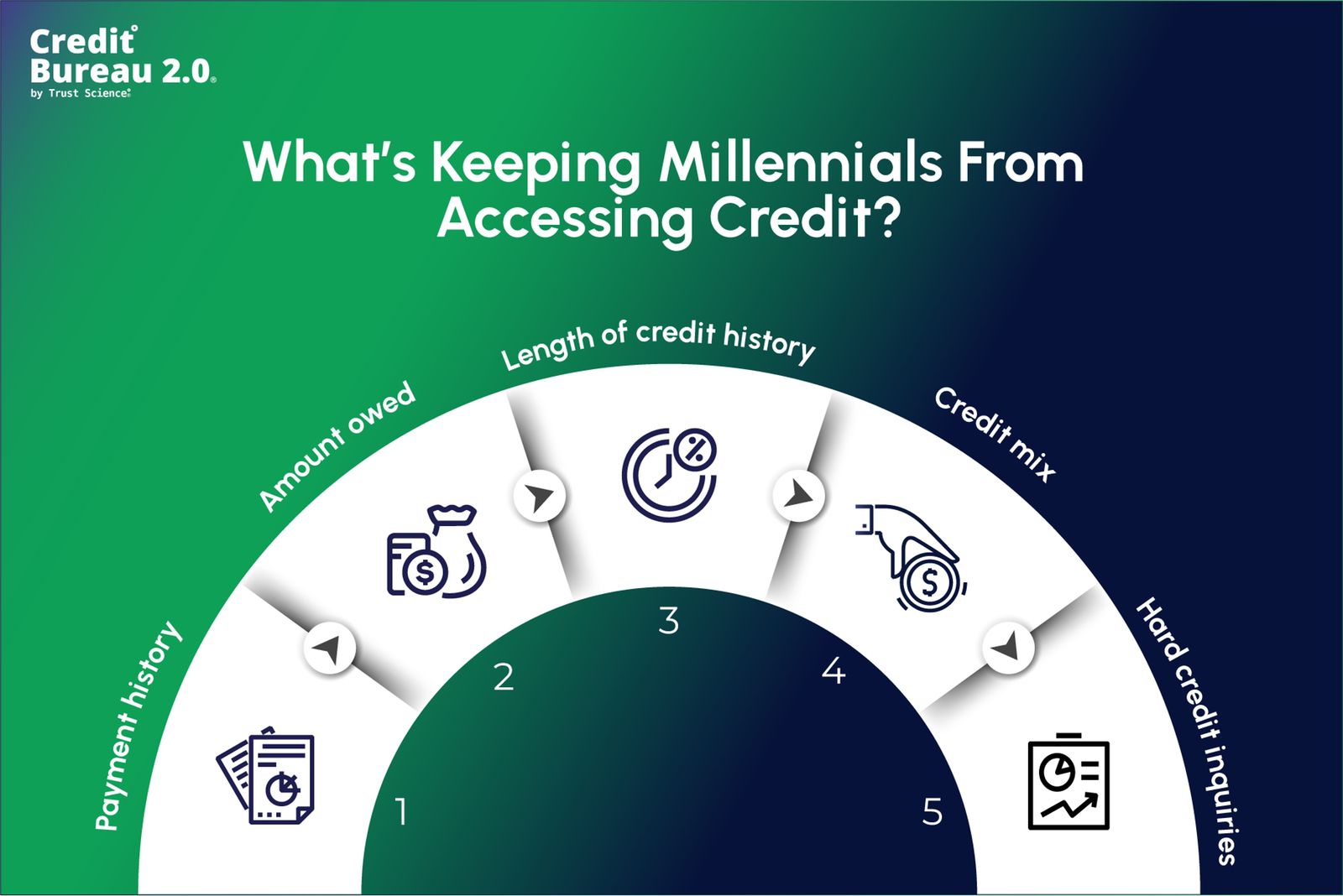 Credit scores are a barrier to entry for just about everything for millennials. Trust Science® is taking new metrics into account to expand access to credit with Credit Bureau 2.0®
What's Keeping Millennials From Accessing Credit?
The concept behind a credit score seems simple enough. It tracks your credit history to see if you're someone that a bank or lender can trust to pay back a loan. However, conventional credit scores just don't account for the way that millennials and Gen Z handle their finances.
Even where a person would be fully capable and reliable in paying back a loan, the lack of an established credit score can prevent them from accessing credit, or at least from getting as much as they should be able to. That leaves millennials without an on-ramp into the modern economy and it can also jeopardize access to other "credit gated" necessities like housing.
The way that conventional credit scores are calculated is complex but boils down to 5 essential metrics:
Payment history
Amount owed
Length of credit history
Credit mix
Hard credit inquiries
You can start to see the issue for millennials when you look at what data goes into their credit scores. For one thing, younger people don't have a long credit history. Even without other factors, simply being young and only having had so much time to build credit puts them at a disadvantage. However, millennials have also been tending to establish credit later in life compared with previous generations, putting them at a further disadvantage.
The most significant issue here is the credit mix. Different types of credit affect credit scores differently, and millennials generally don't have a favorable mix. While they might have a credit card or two, they generally don't have mortgages. These are the most beneficial type of credit to have on your credit report, and millennials really have that going against them.
The student loan crisis also plays a big role. Young people today have much higher student loan debts than previous generations, meaning they have a great amount of credit owed. Not only that, but many can begin to fall behind on payments and see that amount grow. This can quickly send a credit score spiraling out of control.
Student loans aren't the only threat. When young, some people make poor decisions. They could find themselves making credit mistakes very early on and suffering the fact that those mistakes can haunt their score for seven years in general. That means someone at 25 is still paying for a mistake made at the age of 18, even if they've been on the up and up ever since.
It's clear that conventional credit scores weren't designed with the current landscape in mind and that young people are being negatively affected. But what exactly can be done about this? One company is changing the way that lenders look at creditworthiness to make it possible for millennials to mitigate these issues.
How Credit Bureau 2.0 Fixes Those Problems
Trust Science is an innovative fintech company that has developed Credit Bureau 2.0, a scoring service that acts as an antidote for lenders, offsetting the problems posed by conventional credit scores. Instead of seeing a lack of credit history, a few negative issues from years ago, or a poor credit mix and ending any credit application, Credit Bureau 2.0 considers a wealth of additional data to generate a more accurate credit score.
Credit Bureau 2.0 expands the data used to calculate credit scores, getting the borrower's consented, permissioned data and/or acquiring Alternative Data in order to reach a more accurate credit score. For example, those applying for credit can use Trust Science's Smart Consent™ app to divulge their information safely and confidently to Trust Science, which is working on behalf of the lender that is trying to reach a decision about the borrower. By doing so, young people or other people without a credit history in-country can let prudent financial decisions in other areas of their lives demonstrate that they're trustworthy for greater credit.
The service is available to a wide variety of lenders, including auto lenders, installment lenders, and single-repayment lenders. It's in their best interest to find more reliable, deserving borrowers to give loans to, so Credit Bureau 2.0 benefits both sides of the transaction.
Trust Science CEO Evan Chrapko says that "Credit Bureau 2.0 isn't just about giving borrowers access to more credit than they would have had otherwise. It's about recontextualizing financial data to give both sides–lenders and borrowers–a more accurate and reliable way to enter into loans in the modern economy."