Deborah Bigeleisen -The Artist Changing the Genre of Floral Painting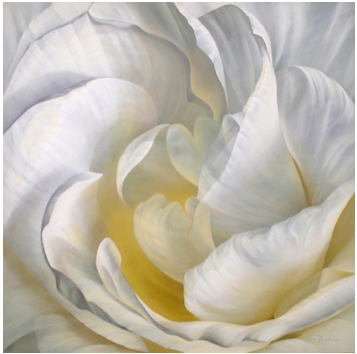 Bigeleisen's Visions of Flowers will Dazzle Your Senses and  Spark Your Imagination
Think of artists who paint flowers: do Monet's water lilies come to mind, or Van Gogh's sunflowers; perhaps Ono's cherry blossoms, Renoir's pink roses, or Klimt's flower garden? Monet once proclaimed, "I owe having become a painter to flowers." 
Women have been tinkering with nature since Eve appeared in the garden of Eden. Put a woman in a verdant spot under a shining sun and you are guaranteed all sorts of surprises to bloom. Just look at Judith Leyster's dimly lit vase of posies in her beautiful painting Flowers in a Vase in 1654,  Rachel Ruysch's exquisite bouquets of flowers in the Dutch Golden Age, and  Suzanna Valadon's mix of realism and abstraction in her1921 painting Vase of Flowers.
Why has it taken centuries for female floral artists to get the recognition they deserve? It was not until the early 1900's that Georgia O'Keeffe, one of the most widely known female painters of flowers, rose to prominence. Whether you are admiring one of her iconic irises or being seduced by her Oriental poppies, you instantly know that the masterpiece belongs to the maverick painter. 
Deborah Bigeleisen's Brand of Floral Painting 
Contemporary artist Deborah Bigeleisen's paintings of flowers stand alone in the fine art arena. She has been referenced alongside O'Keefe most of her career, only because the two artists are associated with painting flowers.  What they share are their passion for painting flowers and their pioneering spirit of seeing nature through a unique lens. Their vision and their techniques differ widely.  O'Keefe is revered for her very stylized almost voyeuristic loosely suggestive paintings executed in a very 'washed' almost watercolor-like technique. Bigeleisen's elegantly deceptive floral paintings hover on the cusp between realism and abstraction, with some series leaning more to one than the other. Through the application of numerous opaque and translucent layers of paint, the complexity of her technique draws the viewer into her world, one that is filled with energy, chaos, mystery, and beauty. Pictured below, from her Magical Realism series, Rhythm 8, oil on canvas, 127cm x 127cm (50" x 50") ©2011
Art dealer Robert Miller commented that at first he thought Bigeleisen was channeling O'Keeffe. However, upon further reflection, to paraphrase "he came to realize that Bigeleisen has the absolute formula of perfect thought.  She is accomplished in the idiom of the masters – noting that she personifies the perfect package: female – one who gives birth; focused – driven to explore the vast cavities of infinity; philosopher – one who tunes her work to the levels of understanding; and talent – that is technical without excuses." Pictured below, from her Multiple Perspective series, Untitled No. 34, oil on canvas, 88.99cm x 177.8cm (35" x 70") ©2015
Magical Realism
Bigeleisen has been captivated by natural forms since childhood. Echoing the personal philosophy of Rembrandt who "loved what he painted and only painted what he loved," she continues to paint flowers. She says that flowers are in her DNA.
With a foundation in the painting techniques of the 17th century Dutch master artists, she applies similar principles to her painting practice. Her focus is on the organization of the space, the contrast of light and shadow to sculpt the forms, and the brushwork to give a voice  to her subject's energy and spirit. Through the application of more than ten translucent glazing layers, the use of subtle tonal transitions, and the constant play of warm hues against cool hues, the shadows have astonishing richness and depth, and the highlights are vibrant and luminous. Bigeleisen uses color as emotion. Because color is so subjective, she uses a carefully selected limited palette, often juxtaposing colors as they naturally appear, to deliberately challenge the viewer's perception and imagination. Pictured below, from her Magical Realism series, Energy 5, oil on canvas, 91.44cm x 142.24cm (36" x 56") ©2015
A Foundation in Fractals
Bigeleisen's work demonstrates a deep interest in searching out the connective tissue between human and environmental anatomies; a search that sparks an enquiry as to how people establish a deeply intimate relationship with nature. She credits her introduction to the mathematic principles of fractals for transforming her artistic vision and changing the direction and force of her work.  Still using a single image of a flower as her inspiration, she captures the fleeting effect of natural phenomena and immortalizes the transitory nature of life. Peeling away the layers and magnifying the image to its core, to the point of pure abstraction, she exposes the depth of her subject's anatomy, its dynamism, its turbulence, and its unpredictability. Her subject is no longer simply a flower; it is a dynamic system existing in a chaotic universe filled with energy, turbulence, mystery, and beauty.
Bigeleisen's goal with the larger-than-life explorations into the depths and soul of a flower is not only to seduce the viewer into the multitude of its complexities but also to shift the dialogue inward by asking the viewer to put down their devices, to take the time to look at the world around them for longer than a nano-second, and to see and question more than meets the eye. Pictured below, from her Kaleidoscope series, Renaissance, acrylic on canvas, 142.24cm x 106.68cm (56" x 42") ©2020      
A Unique Vision
Bigeleisen's work is both a fresh perspective of and a deep insight into the familiar. Her work probes the bridge between beauty and science, order and chaos. One art journalist describes her work perfectly: "It brings a unique vision to the genre of floral painting to embody a contemporary world." Bigeleisen paints introspectively, asking not only the viewers to engage with the bursting blooms, but also examines her own questions regarding the seemingly indestructible bond between human activity and the cycles of nature. Pictured above, from her Dreamscape series, Bridal Veil Falls, acrylic on canvas, 152.4cm x 137.16cm (60" x 54") ©2021
Deborah Bigeleisen is an award-winning artist whose paintings enhance corporate and private collections worldwide and are represented by galleries across the United States. Her work has been included in numerous museum exhibitions and has been published widely. Bigeleisen paints from her Palm Beach studio sprouting joy and wonders with each brushstroke and new canvas.
Hardwood Floors Refinishing: Top Care Tips for a Lasting Shine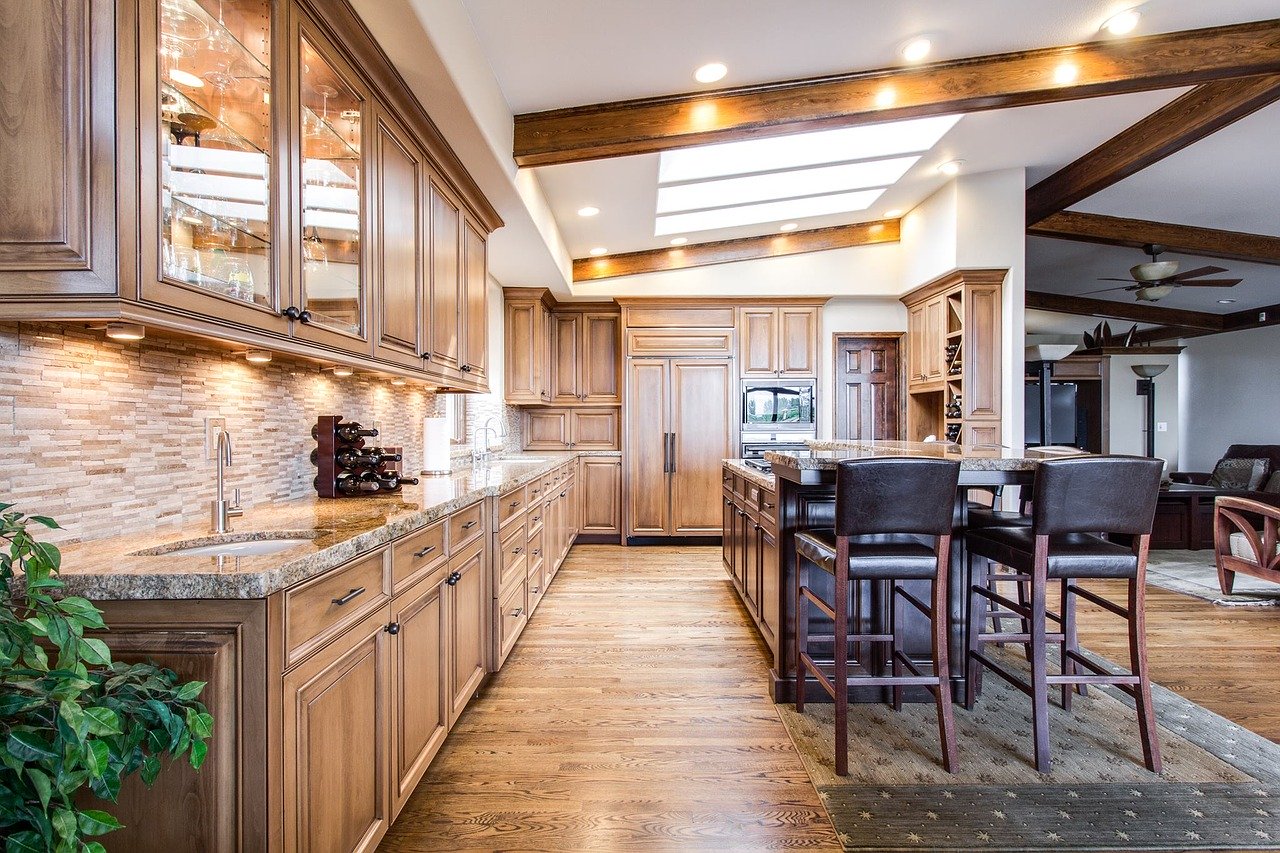 Revamping your hardwood floors requires both a time and financial investment, yet the returns are evident in the enhanced aesthetics and functionality of your residential or commercial area. However, the longevity and durability of these newly refinished floors are contingent upon proper maintenance. This detailed guide is designed to offer expert guidance on how to preserve the quality and look of your newly refinished hardwood floors. We'll cover a variety of subjects, from the science of wood aging and types of wood that need more frequent treatment, to top tips for floor upkeep. Your investment in hardwood floor refinishing need not be short-lived; with the correct care, it can be a long-term enhancement to your property.
Tips for Ensuring Durability in Your Newly Refinished Floors
After you have spent money on hardwood floor refinishing, maintaining their condition becomes a top priority. Here are strategies to prolong the lifespan and appearance of your updated flooring.
1. Regular Cleaning
A clean floor is a happy floor. Use a microfiber mop or cloth to pick up dust, dirt, and grime daily if possible. For a deeper clean, opt for cleaning products specifically designed for hardwood floors. Make sure to read the labels and opt for pH-neutral cleaners that are free from abrasives or harsh chemicals. Weekly or bi-weekly, consider a gentle vacuuming with a hardwood-friendly vacuum cleaner to remove debris that may have settled between the wood planks.
2. Use Protective Pads
One of the most effective ways to prevent scratches and dents on your hardwood floors is to place felt pads under the legs of furniture. This simple step can go a long way in preserving the smooth finish of your floor. You should also replace these pads every few months, as they can wear down or accumulate grime, reducing their effectiveness.
3. Control Humidity
Fluctuating indoor humidity levels can wreak havoc on hardwood floors. Excessive moisture can cause the wood to swell, leading to issues like cupping or buckling, while too little moisture can cause wood to shrink, leading to gaps between planks. Invest in a quality hygrometer to measure your home's humidity level, and aim to keep it between 30% and 50%. Use a humidifier during dry months and a dehumidifier during humid months to maintain optimal conditions.
4. Proper Spill Management
Accidents are inevitable, but the way you handle them can make all the difference. Whether it's water, juice, or wine, if you spill liquid on your hardwood floor, wipe it up immediately with a dry or slightly damp cloth. Avoid using paper towels as they can disintegrate and get stuck in the crevices of the wood. Also, never let liquids sit on the wood, as they can seep in and cause staining or warping.
5. No Shoes Policy
Implement a 'no shoes' policy to preserve your floors. Shoes can bring in dirt, gravel, and other harmful debris from outside. If a full-blown 'no shoes' policy isn't realistic for your household, at least insist on no high heels or sports cleats, which can cause dents and scratches. You might also consider placing a high-quality doormat at entrances to trap dirt before it gets to your floor.
6. Regular Inspections
Every three to six months, set aside time to inspect your hardwood floors meticulously. Use natural light or a bright lamp to look for scratches, dents, or areas where the finish might be wearing off. If you catch these issues early, you may be able to address them with a simple touch-up rather than a full refinishing job.
7. Refresher Coats
Although your newly refinished floors look amazing now, they won't stay that way forever without some upkeep. Consider applying a 'refresher' coat of finish every two to three years. This isn't as invasive or time-consuming as a full refinishing project. Instead, it's more like a topcoat that adds an extra layer of protection, keeping your floors looking vibrant and shiny.
8. Scheduled Expert Cleaning
A yearly cleaning session by professionals can dramatically enhance the condition of your hardwood floors. Specialized machinery and products are used to eliminate tough dirt, renew the wood's natural shine, and smooth out minor imperfections. This process not only rejuvenates your flooring but also prolongs its lifespan, maintaining its fresh appearance for an extended time.
Advantages of Consistent Upkeep
Routine care for your restored hardwood floors does more than maintain their visual appeal; it also prolongs their durability, augmenting the long-term value of your property. Floors that are regularly cared for can endure for many years, negating the need for frequent, costly refinishing. In addition, a structured care regimen lessens the likelihood that small defects will escalate into serious issues, thus promoting a cleaner and more healthful living area. In summary, regular maintenance serves as a long-term financial benefit and a means of sustaining your home's elegance.
When To Seek Professional Help
If you notice persistent issues like deep scratches, stubborn stains, or any form of water damage, it's best to seek professional help. Specialists in hardwood floors refinishing can assess the situation and provide targeted solutions. Companies like 1DayRefinishing offer an extensive range of services that can effectively address these problems. Notably, the company specializes in a one-day turnaround, making them a convenient option for those in need of quick yet high-quality refinishing solutions.
Finding Trustworthy Services for Floor Refinishing
If you're in a location with scarce local options, consider exploring 1 DAY Refinishing. Their seasoned experts offer complete solutions for maintaining and refinishing hardwood floors, helping to keep them pristine for the long haul.
Final Thoughts
The decision to invest in refinishing your hardwood floors is a significant commitment to enhancing your home's aesthetics and overall value. By diligently following proper maintenance routines, your refinished floors can continue to elevate your home's ambience. Every effort, from regular cleaning, to hiring professionals, adds to the resilience and visual allure of your hardwood floors. Stick to these essential care guidelines, and your floors will maintain their lustre for an extended period.