How to recognize the best balsamic vinegar?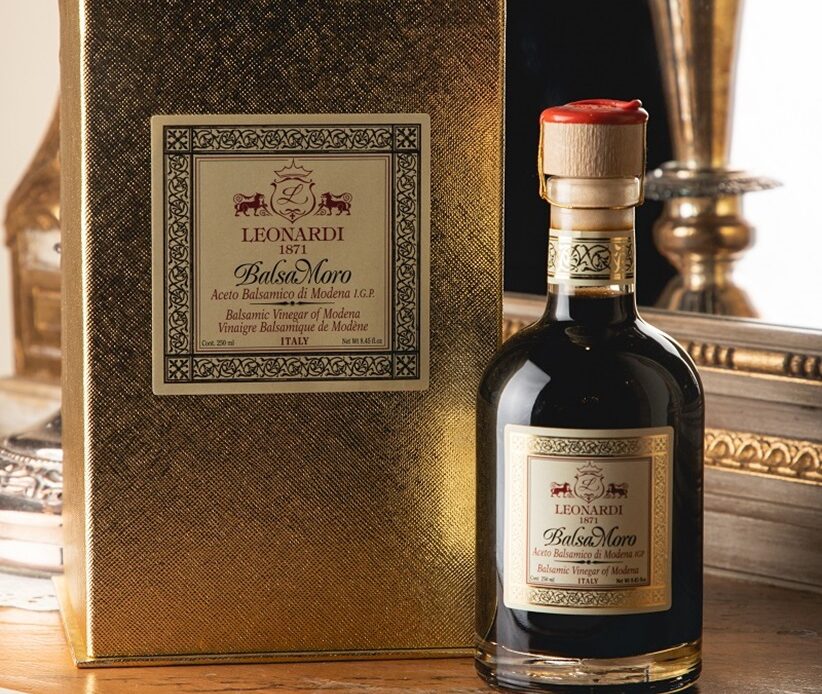 There are simple straightforward ways to recognize good quality balsamic vinegar when standing in a supermarket in front of a dozen different labels.
The secrets we will share below will help you not only recognize the best balsamic vinegar but therefore have available in your kitchen a product of the highest quality that can add that touch of uniqueness to your cooking.
Go for a recognized brand
The world of balsamic vinegar of Modena is full of traditions, family secrets passed from generation to generation, and a deep love for what is considered a national patrimony, the historical production of this dark, syrupy, tart, and at the same time, sweet ingredient. No surprise it's an Italian product, after all, Italy is well-known for its food.
To make sure you are choosing the best balsamic vinegar of Modena, your best bet is to go for a recognized name, like Acetaia Leonardi. 
This acetaia, which is the name of the place where balsamic vinegar is made, has its own vineyard of typical Lambrusco and Trebbiano grapes, but what is more, every step in the production cycle happens in the property, under the guidance of a family that has been making balsamic vinegar of the highest quality for years, and always following the established regulations that guarantee a very balanced final product with incredible flavors, unique perfumes, and the honey-like texture that has enchanted chefs around the world
Look at the bottle and the label
When looking for the best quality balsamic vinegar, there are a few hints that will lead you in the right direction. 
What should the bottle look like? Historically, balsamic vinegar has been presented in glass bottles. As a fun fact, bottles are regulated and can tell a whole lot about the type of balsamic vinegar they hold.
However, it's the label where all the information you need to recognize the best balsamic vinegar. The real balsamic vinegar is produced in the province of Modena and Reggio Emilia, using grapes from this particular region, like Lambrusco, Ancellotta, Trebbiano, Sauvignon, and Berzemino, among others, and following a strict set of rules and regulations that guarantee the quality of the final product.
On the label, we should avoid being misled by the name of balsamic vinegar of Modena, since many imitations claim that name, we should instead look for the denominations IGP or DOP.  
These denominations mean that the balsamic vinegar we are buying is up to certain standards and guarantee we are using a product that is of the highest quality.
DOP or IGP?
The main difference between these two denominations is in the production process. 
When we are talking about the balsamic vinegar of Modena IGP, we have a product made with grape must from a variety of local grape kinds, like Lambrusco, Sangiovese, Trebbiano, Albana, Ancellotta, Fortana, Montuni. Once the grape must is obtained, a quote of aged balsamic vinegar is added to the mix, and it's let to age for a minimum of 60 days in wooden barrels, but this time could be longer too.
In the case of the traditional balsamic vinegar of Modena DOP, we find grapes as the unique ingredient, with the following varieties as the base of the grape must: Lambrusco, Ancellotta, Trebbiano, Sauvignon, Berzemino, Sgavetta e Occhio di Gatta. In this case, the aging process is a lot longer, with a minimum of 12 years in wooden barrels (commonly known as "affinato") or also 25 years (which is called "extra vecchio").
Conclusion
There are a few tips that can help anyone recognize the best balsamic vinegar. Going for quality in such a special and unique product will without a doubt, influence the quality of your cooking, therefore is imperative to choose wisely.
SPOTLIGHT: Sweet vinyl by DREAMOUR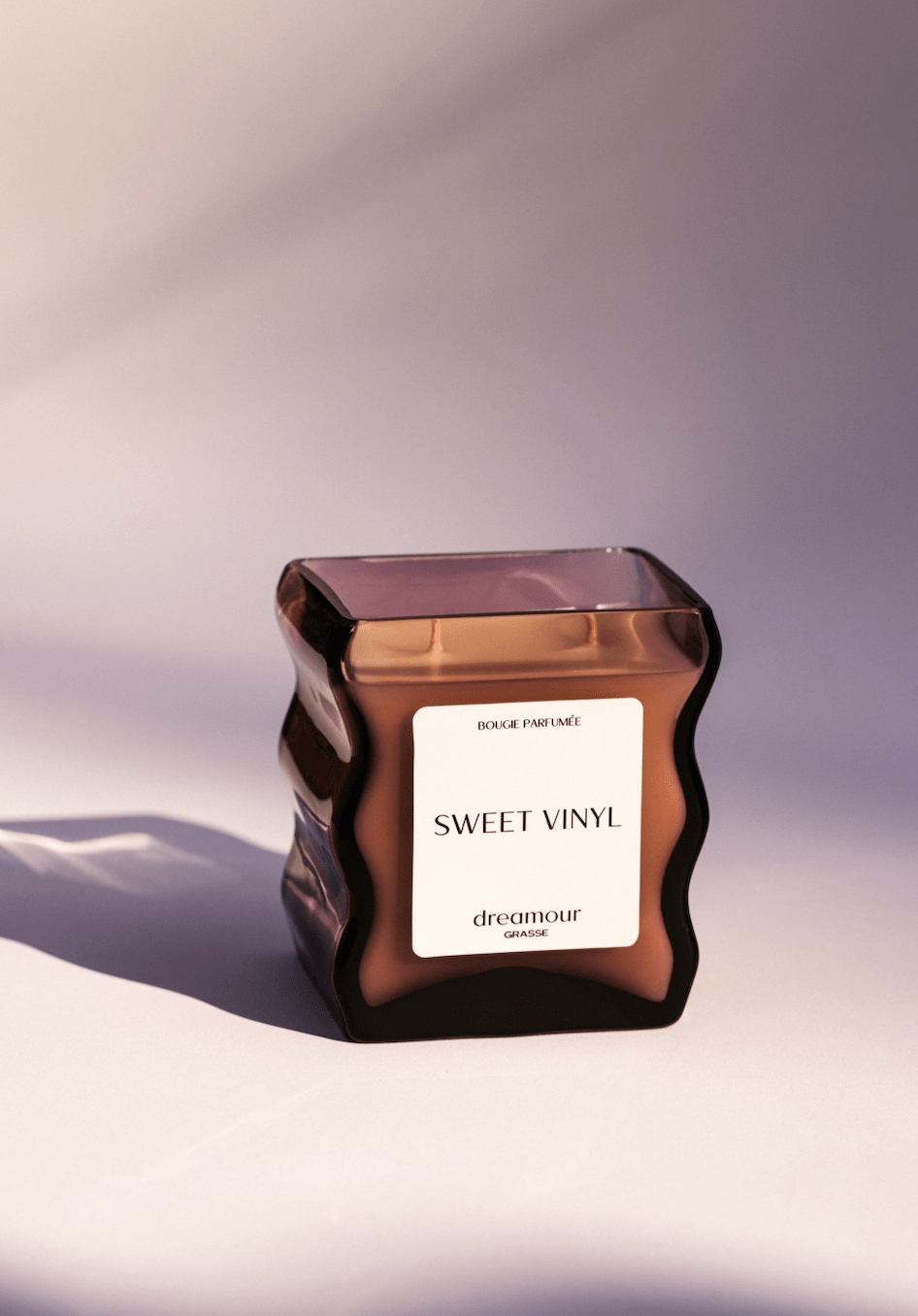 What happens when two immensely talented visionaries come together to create elegance and ingenuity in a sculptural glass fragranced candle? Dreamour. That is the long and short version of how Dreamour was created. Founded by Karissa Rowe and Neal Klotsman in late September 2022, Dreamour was founded with the goal of creating a luxury fragrance brand that operates at the intersection of functional art in the candle market space.
Rowe, a Parsons School of Design graduate, set out to fill the niche of integrating design in the candle marketplace. Unlike most candle vessels that are mass-produced, Dreamour's founders desired to prioritize the artisanal craftsmanship of glass in their production processes of the sculptural glass designs. This resulted in a long timeline of sourcing the globe for talented glass artisans who could transform a sketch into a functional and sophisticated candle vessel. Each and every candle vessel is hand-blown, inherently resulting in a one-of-a-kind product and unique experience for the consumer. These functional fragrant candles also act as a piece of décor due to its sculptural and alluring appearance.
Sweet Vinyl, Dreamour's first candle scent, fills the room with musky & leathery notes combined with earthy notes of vetiver and cypriol, topped with a citrus touch of bergamot and mandarin. The founders worked with master perfumers in Grasse, France, to create a scent that invoked notes of memorable moments, emphasizing high quality ingredients in the fragrances in a soy wax blend. This resulted in candles that consist of clean ingredients, a vegan formula, and is entirely cruelty-free.
It is the personification of the glass blowers' spirit, the heart of Grasse imprisoned in a bottle, and the narrative of two visionaries that sets Dreamour at the top of the candle market pedestal. Dreamour embodies the sophistication and savior-faire French perfumery as a luxury brand, while being a NYC based brand. Dreamour is currently stocked at Patron of the New in New York, along with other major designer luxury known brands. Rowe and Klotsman are currently expanding their production lines and will drop new fragrances and designs in early 2023. Don't expect anything ordinary with Dreamour, as they will continue to bring a unique perspective to the marketplace of home fragrances.
To find out more about Dreamour and their newest releases, you may visit the business's website dreamour.com or follow the company via its Instagram handle @dreamourshop.