Meet Gregory Allen Page, Martin Mooney, and The Vanguards Of Modern Impressionism
Market demand for modern impressionism has experienced a sharp uptick within the past decade.
Redolent of 19th century french impressionism, a cadre of young gifted modern impressionists has risen, buttressed by the substructure of a flourishing market underneath to support its advance into the contemporary art scene.
Today's impressionism- which like its 19th century French counterpart- is distinguished by its small, threadlike brushstrokes often depicting natural landscapes with a range of movement or passage of time- is best embodied by fashionable artists such as Martin Mooney, Kerry Hallam, Duaiv, and Gregory Allen Page.
The driving thrust of these works are the subtle, yet emotionally stirring portrayal of the dynamism in nature. Powerful scenes of rolling natural forces as interpreted through the perspective of the human emotions they elicit.
Duaiv and Gregory Allen Page's work– in particular- capture this dynamism with particular vigor.
Page's works- which are housed across leading galleries internationally- are known for establishing a flowing style of movement realism that has been a spark for other contemporary artists to try to echo in their own works.
Notable works of Page's – such as Giraffe's In Africa (as seen above) and the America's Cup Sailboat Race (see below) have set new touchstones for a charged depiction of movement within modern impressionism.
Other notable artists- such as Martin Mooney- take softer, more soothing approaches to landscapes.
In Mooney's paintings, the mood is less charged, more languid.
What defines value for each of these artists and their collector constituencies seems not to be the gusto of their works, but more precisely, how well they are able to execute on their own unique viewpoint of the wold.
So for the discerning collector seeking vitality, a Duaiv or a Page is a great place to start, and for the pleasant and picturesque look no further than Mooney.
Erika Mejía is an Immigrant who Proved that Anyone can Achieve the American Dream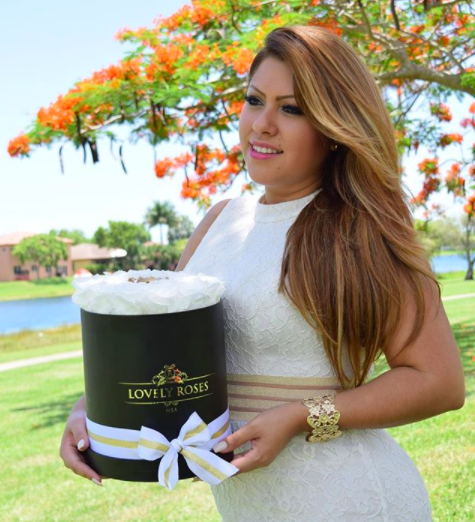 Erika Mejía is unlike any woman you have ever met. She is hardworking, dedicated, and ambitious. And these are the qualities that made her successful. Like many migrants, she came to America with big hope in her heart.
She is from Honduras, and now she lives in Miami. When she first came to the state of Florida, she had only $200 in her name and nothing else. But she worked really hard to make ends meet. Erika worked as a secretary, a domestic worker, a saleswoman, and a shop assistant.
While working all these jobs, she was inspired to do more. She did not want to work for somebody for the rest of her life. During one of her duties she learned about floristry trade. She worked on her talent for many years and perfected it. That is when Erika decided that she was ready to become a professional florist.
Now, Erika Mejía has her own florist shop called Lovely Roses, which has A-list clientele. Prominent celebrities like Demi Lovato and Camilla Cabello are her clients. She offers authentic bouquets of roses, both luxurious and exclusive to her clients. That is why she is popular among Miami's rich and famous.
Even though Erika (@erikamejia_oficial) has become extremely popular among the people of Miami, she is still proud of her roots and respects her family. She shared that her family was the force behind her drive, that led to her success.
Erika Mejía is a respected figure in Miami's Latino community because of what she has achieved. She is indeed a prime example of what a working-class person can achieve through sheer hard work.