Nicolas Angeloni – Freeride Snowboarder from the Italian Alps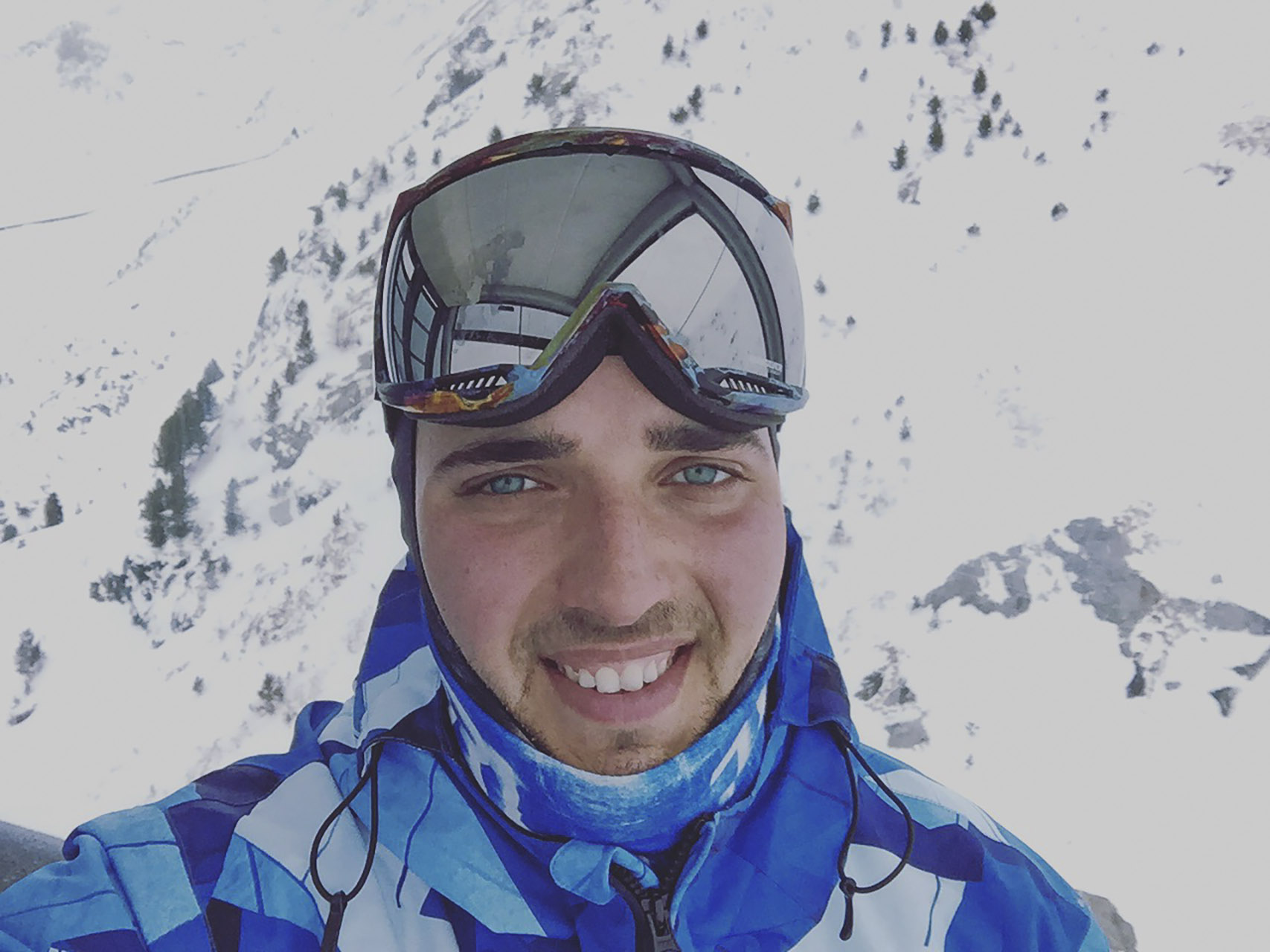 Quick Facts
Intro: Italian snowboarder
Country: Italy
Occupation: Athlete Snowboarder
Type: Sports
Gender: male
Birth: 22 May 1992
Star sign: Gemini
Nicolas Angeloni (born May 22, 1992) is an Italian Freeride snowboarder, specializing in Backcountry snowboarding.
Nicolas competed at the Freeride World Qualifier 2018 (FWQ) representing Italy.
INTERVIEW:
2018 Season Highlights
One of the professional highlights of my year was competing in the FWQ. I also spent 2 months riding in Italian Alps and at the end of the season, I went to Switzerland Stubai I had been looking at this mountain for a long time.
Favorite Snowboard:
Currently, I ride Explorer Jones snowboards for regular use. It's pretty good on all types of terrain and snow. My second board its the LIb Tech skunk ape this board it's for charge hard in the powder and also Bottomless powder days in the woods.
Why do you snowboard?
It's my way to be happy, it makes me feel alive every day. Riding gives me a reason to continue, all my energy its balance in the mountains. When I snowboard I don't think. My mind goes empty and at that exact time, I am living the moment to the fullest. I think that's a door I open in my mind every time that I am snowboarding and takes me to places I would never be available to go, it's like another world.
When I snowboard I feel the contact I have with nature and all the connections to it. Snowboarding allows me to have that connection with nature, to appreciate the world from another point of view, in the end, it's a unique experience of mind, soul and heart.
What's one lesson or reminder you learned in the backcountry recently?
To always respect the mountain, and be focused to see what's going on with the snow and general conditions. I have been traveling around the globe in the search for snow and one thing I can say its that snow it's changing every year and it's unpredictable. Never take anything for granted in the mountains.
What's your dream line look like?
My dream line would be in a field full of powder with a few pillows. The line would start with high speed going down, few massive turns accelerating, after a mandatory jump through a Cliff in the middle of the line. After the drop, a few more big turns, then into a wide field of infinite snow.
How do you stay calm + confident when riding exposed lines?
My secret is to empty my mind, stay alert and focus on my line. Imagine the line I am about to make in my mind and be confident, few days prior I know I did my job checking the line and all the spots to make my perfect line. I trust in the work done and I trust the mountain.
Also its always Good to have snow experts to learn how to "read" the snow to minimize the risk.
Facebook – https://www.facebook.com/AngeloniNicolas/
Instagram – https://www.instagram.com/angeloninicolas/
YouTube – https://www.youtube.com/c/nicolasangeloni
Pinterest – https://www.pinterest.it/angeloninicolas92/
Twitter – https://twitter.com/angeloninicoo
Pest Control Service Providers are Now Being Hired to Avoid Diseases caused by Bed Bugs
Bed bugs are making their presence alive again in several parts of Jenks, Tulsa, and Owasso. Bed bugs production in these areas is due to people's dirty habits such as bringing used clothing, furniture, bedding, and luggage.
People are facing many health-related issues after the bed bugs are reported taking residence in living places. Luckily Pest Control Tulsa is there for running many pest control projects in homes, hotel rooms and other living spaces. It is implementing effective and quick actions to identify these bugs before they spread everywhere.
According to pest control services providers, they often encounter tiny nocturnal pests in the customers' residence where these pests live in beds and become active during nights. They are like mosquitos and walk around 100 feet to feed.
Bed bugs can move around eight feet of their food sources. People surrounded by bed bugs are finding many problems such as anemia, itchiness, stress, allergies, sleep disorders and sickness. Pest control service providers are doing tremendous job to eradicate these bed bugs.
First of all they clean the entire space and then apply some human-friendly pest control solutions to kill the bugs.
Living homes are habitant places of pests. And these pests are difficult to remove once they expand their areas in the living spaces.
To get rid of them, homeowners are looking for pest control companies that are licensed and have expertise to offer high-quality solutions against pests. The pest control companies are using eco-friendly solutions to kill the pests and remove the chances of their existence again.