Pixie O'Harris's 60 Years Old Paintings Found in a Hospital Storeroom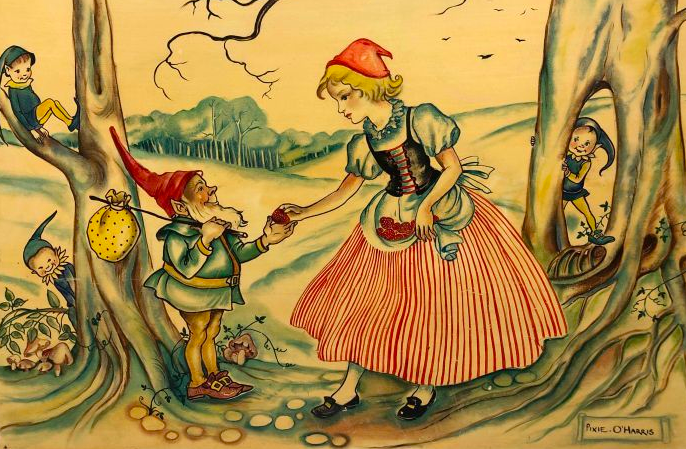 New South Wales – Sixty years old paintings of Pixie O'Harris were mysteriously found at a Manning based hospital in New South Wales. Taree resident, Janine Roberts, discovered the paintings when she visited the hospital. The paintings were made by the famous painter, Pixie O'Harris, in 1957 for the hospital. All the paintings are based on children stories, including The Babes in the Wood, Cinderella, and Little Red Riding Hood. The theme of these paintings is similar to the Great Wave of Kanagawa, which is one of Japan's best works till date. That particular painting depicts the contrast between transient human life and the imposing nature.
Ms. Roberts was already familiar with Pixie O'Harris' art, and she saw the paintings ignored in the hospital's office floor. She got very excited and emotional after discovering the paintings. Ms. Roberts asked the hospital staff about their existence in the hospital, but nobody could tell her how long the paintings are there.
She went back to the hospital with her fellow, Penny Teerman, to collect the late artist's rare paintings. There she found 13 more paintings, kept randomly in the hospital's storeroom. There were a total of 17 paintings in the hospital. Ms. Robert told that eight more paintings are missing from the collection of 25 paintings. To find them, she put a call on social media but did not get any clue.
Ms. Roberts Said, "The day I found them, I packed them into the ute very carefully and drove to the art gallery straight away. We were all here, and it was very exciting unpacking each one and looking at it."
After the full collection of the paintings would be available, they will be featured in an exhibition in January 2020. Previous paintings of Pixie and Olaf O'Harris will also be a part of the exhibition.
The exhibition curator, Sue Mitchell said, "it was rare to have a full series of Pixie and Olaf O'Harris hospital paintings. It's like finding lost treasure."
Renowned Aesthetic Doctor in Singapore Launches New Skincare Brand

SINGAPORE – Radium Skin Pte. Ltd., a skincare start-up in Singapore, made its debut 2 weeks ago with a wide collection of luxury beauty products for different skin types.
"After years of intensive research and development, it is exciting to see the range of Radium Skincare come to fruition", Dr. Siew Tuck Wah, Director of Radium Skin.
"With more than 12 years of experience in treating skin issues and leveraging on our team's expertise in formulating scientifically proven products with efficacious ingredients, we hope to design a range of products that can inspire confidence."
The brand launch is accompanied by a new e-commerce website, radium-skin.com, which features Radium's inaugural 6 skincare range, complete with cleanser, toner, moisturizer, and serum:
SERENITY: Best for people with sensitive skin. This range is specially designed to be gentle on the skin, yet provide deep cleansing and keep the skin moisturized at the same time.
AGELESS: The Ageless range contain skin-nourishing benefits to age-proof the skin to achieve anti-aging effects by replenishing the moisture and restoring weak, saggy skin.
GLOW: With 6 items in this range, the Glow range has the most number of products, including Liquid Gold Eye Gel. The Glow range contains powerful anti-oxidants to help your skin fight against free radicals and break down stubborn dark pigments at the same time.
LIBERTY: The most popular range among teenagers and young adults who battle with pesky acne on a daily basis. The Liberty range focuses on restoring balance to oily skin by gently removing dead skin cells and unclog pores at the same time.
BALANCE: Best for normal skin. The Balance range best suits people with normal to dry skin. They contain calming and nourishing active ingredients to restore the skin's balance without drying the skin.
SELF DEFENCE: Overall anti-aging skincare routine cannot be complete without a preventive care. This range of products contain strong anti-oxidants and protective agents to shield your skin from the daily exposure of harmful pollutants.
Dr. Siew is a familiar face in Singapore. On top of designing and developing Radium Skincare, he is also the Medical Director of Radium Medical Aesthetics. In addition to his impressive portfolio, he is also an appointed regional trainer for a range of dermal filler treatments using a range of hyaluronic acid fillers and collagen-stimulating fillers. He also performs laser treatments for pigmentation and thread lift treatments for non-surgical skin lifting procedures.
Outside of work, Dr. Siew is also actively involved in animal welfare and charity work. He is the President of SOSD, one of the largest animal welfare groups in Singapore. This should also give consumers comfort that Radium Skincare products are not tested on animals!