The Art Industry's Next Big Street and Graffiti Artist Star, Dr. Nicholas Toscano On his Dual Career Path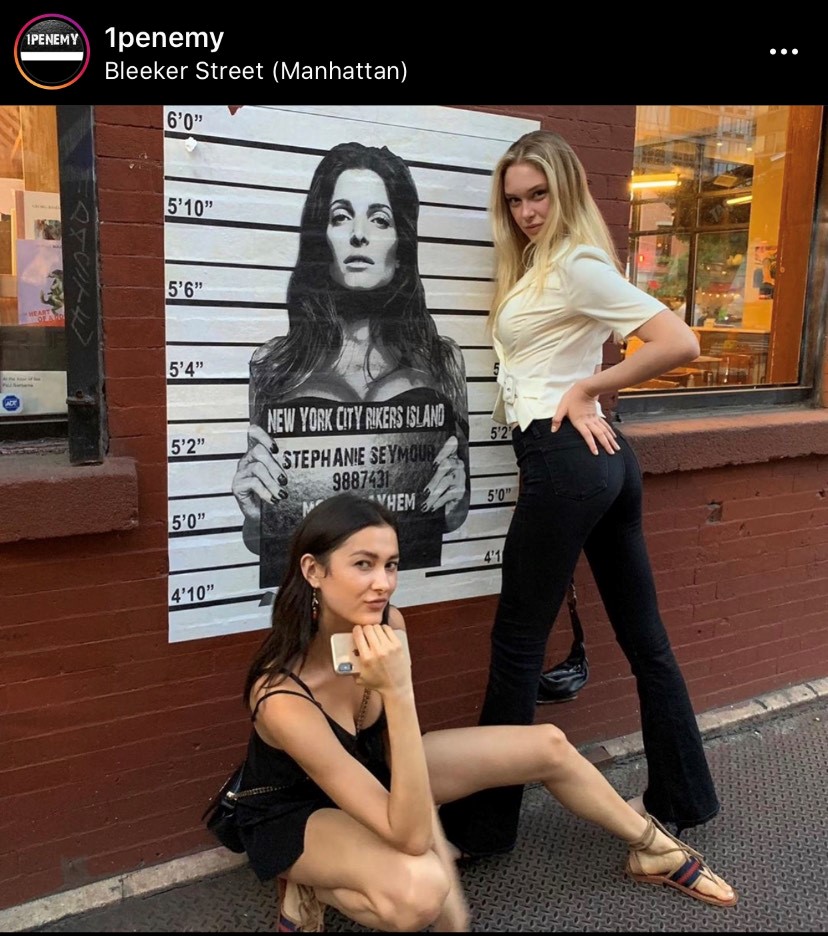 Dr. Nicholas Toscano, a former decorated US Naval Dental officer and current NYC celebrity dental surgeon is no stranger to the spotlight.  Dr. Toscano is currently the official dentist for roughly 25 modeling agencies in NYC and LA which include Lions, Wilhelmina, One Model Management, Marilyn, Storm, Major models, Heroes, Fusion, and others. His patients include some of the most famous models in the world including Victoria's Secret models, Candice Swanepoel, Helena Christensen, Jasmine Tookes, Romee Strijd, Josephine Skriver. High fashion models Andreja Pejic, Vittoria Ceretti, Bambi Northwood Blyth, Greta Varlese, and other stars like Real Housewives of NYC, Sonja Morgan and Countess Luann de Lesseps. What was shocking to learn that Dr. Nicholas Toscano is also the famous street graffiti artist known as 1Penemy.
Q: How does a famous dentist and surgeon like yourself become a street graffiti artists?
A: Well that's an interesting question, in addition to the famous models I treat in my office, I also take care of over 100 artists in NYC, Miami, and LA which include such famous artists as Bradley Theodore, Jeremy Penn, Layer Cake, Tripp Derrick Barnes, BY Flore, Producer BDB, Jason Ackerman, Alan Jeffery and many others. Over the years these artist where very generous with me not only giving me their art but also inviting me out to their shows and many became my close friend. Through their influence I developed a natural passion for the arts and decided to give it a go.
Q: How did you come up with the name 1penemy?
A: Well Street art and graffiti art is not exactly legal, so I decided to come up with a name reflective of that, the name 1Penemy stands for Number 1 public enemy.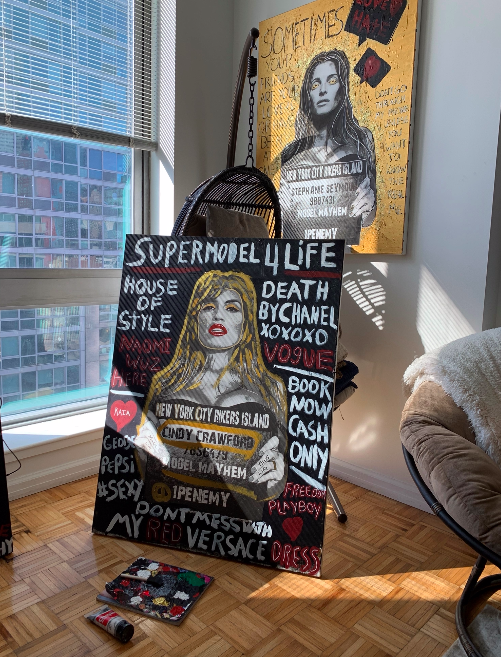 Q: Why Mugshots of famous models as the centerpiece of your street art?
A: There is a lot to this question. I consider street art also in the spirit of Andy Warhol Pop iconic art. His art also centered on figures he hung out with on daily basis or whom he associated with. Since the majority of my dental practice involves treating some of the worlds most famous models and model agencies it was natural to center my art on Models I grew up on or treated in my practice. In 2016, I came up with my first designs of my SOHO model Line up street art of supermodels of the 90's I grew up on and loved which are Cindy Crawford, Kate Moss, and Stephanie Seymour.  The mugshot is meant to symbolize women's struggles they have occurred throughout history. I began wheatpasting my art all over NYC and started my art instagram @1penemy profile.
Q: Why did you keep your art such a secret for so long considering your Surgical Instagram profile @drtoscanodds has 170,000 followers.
A: Well Art is balanced with science in my office with countless client-tailored artistic smile reconstructions, makeovers, and recreations. Art is a passion of mine that obviously makes sense from my surgical recreation of a patient's smile to my street art, being artistic is in my blood. However I wanted to keep the graffiti street art part of my life a secret as I built my art brand 1Penemy which is still growing so I decided to keep my dental life separate from my street art until recently. I started my art in 2016 and from 2016 to 2020 people would take pictures next to my famous 1penemy SOHO model line street installations and they would tag my art instagram. As my art page grew so did the requests for people to buy my art.
Q: Have you sold you art?
Yes but mostly at charity auctions to benefits causes such as children's hospitals and save arts programs in NYC. Currently any sale of my art a portion of his profit will be donated to organizations that assist in diminishing women's struggles such as Model Alliance and the Me Too Movement. I currently have over 30 active commissions and 50 more requests.
Q: How has covid 19 and the stay at home order impacted your street art and art career?
A: It hasn't. It actually has allowed me to step away from my busy dental practice and focus 100 percent on my art. I have enhanced my canvas work, which is mixed media and I love the use of acrylic paint. In 47 days of my lock down in New York City I have completed over 24 mixed media canvases for clients.
The Benefits Of Staff Training And Development In Geriatric Care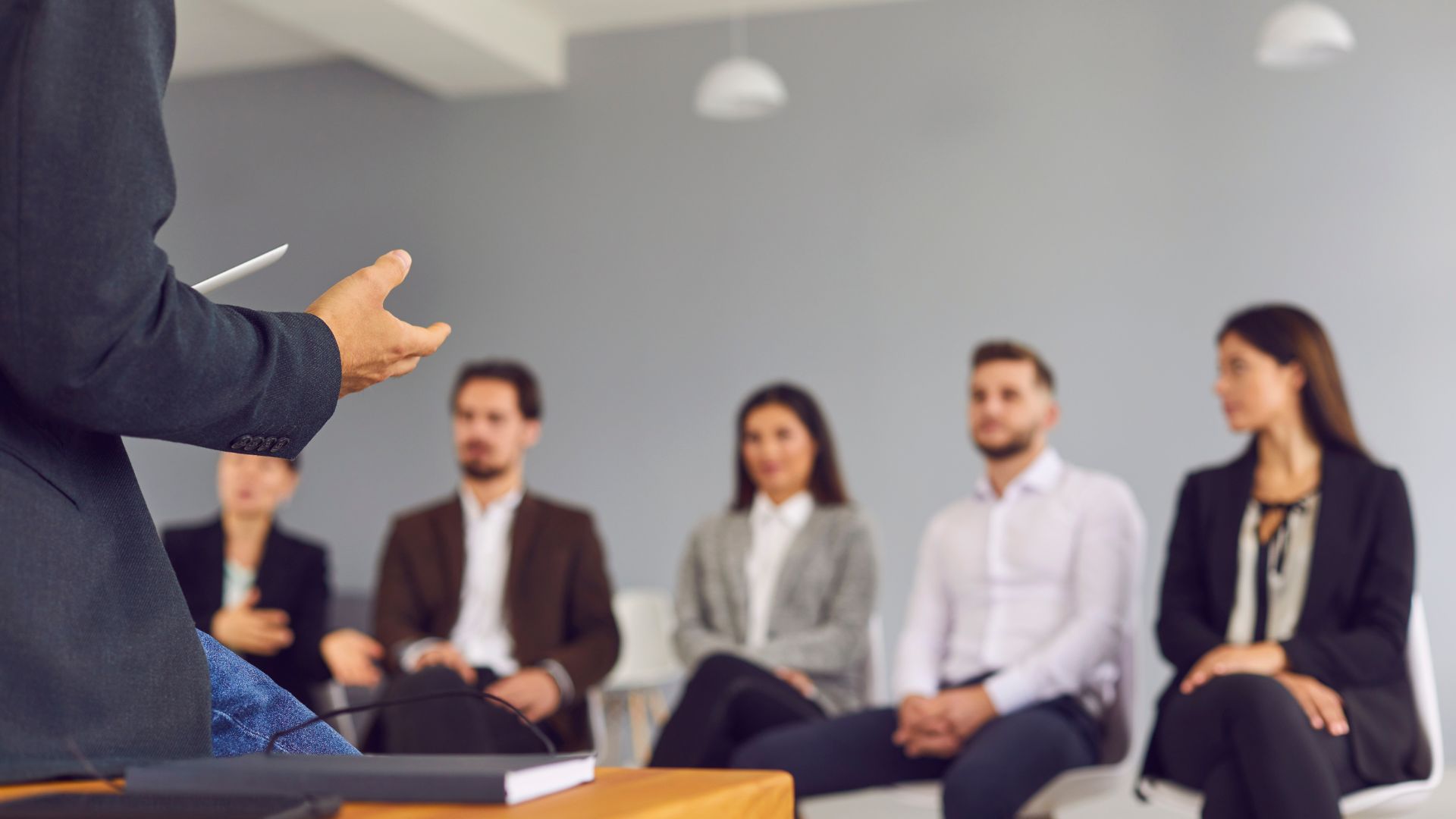 Staff training and development are critical in the senior care industry to ensure high-quality care for elderly patients. As the population ages, the demand for senior care is increasing, and the quality of care provided by staff can significantly affect patients' physical and mental health. Therefore, business owners must invest in staff training and development to ensure optimal patient care and achieve business success. Lisa Winters, New York City, explores the benefits of staff training and development in geriatric care.
Enhance Patient Care
The primary focus of senior care is to provide quality care to elderly patients, and staff training and development contribute to this aspect significantly.
Properly trained staff understand the unique needs of elderly patients, such as medication management, mobility assistance, and specialized therapy. Training ensures staff knows the latest techniques and best practices for geriatric patients.
Staff development also helps employees recognize factors that affect an elder's physical and mental health, enabling them to provide personalized care.
Better Healthcare Outcomes
Proper staff training and development can lead to better healthcare outcomes for seniors. Employees who understand managing chronic health conditions can provide better care and help prevent complications.
Additionally, staff who are trained in fall prevention can reduce the number of falls that occur in the facility, leading to reduced hospitalizations and improved resident health.
Improve Staff Productivity
Training and development allow employees to learn new and refine old skills, making them more productive in their work. Regular training sessions help employees stay updated with new tools or procedures that could help them perform their job more effectively.
Increased productivity eventually translates into better patient care, reduced employee turnover, and improved business operations.
Retain Employees
Staff development programs give employees a sense of career development, vital to retention. Opportunities to advance and broaden their skills through training can motivate employees to stay within the company.
Employers can benefit from reduced staff turnover, improved productivity, and a stable workforce.
Increased Staff Confidence
Training and development can increase employee confidence by providing new skills and knowledge to perform their job correctly.
When properly trained, employees are more willing to take on new responsibilities and more challenging tasks, avoiding mistakes that can lead to poor patient care or safety hazards. Confidence in their abilities improves staff morale, leading to better teamwork and more effective operations.
Improved Communication
Effective communication is crucial in senior care, as employees must work together to meet the needs of residents.
Staff training and development can improve communication skills, helping staff members communicate effectively with residents, families, and coworkers. Improved communication can improve care coordination, increase resident satisfaction, and reduce misunderstandings.
Compliance With Regulations
The geriatric care industry is highly regulated to safeguard patients and the staff. Refresher training on regulatory requirements is essential to avoid violations that could harm patients and result in significant fines.
Training and development around sensitive issues such as patient confidentiality or infection control can also ensure that staff follows the established guidelines, protecting patients from harm.
Reduced Costs
Although investing in staff training and development may seem expensive, it can result in cost savings in the long run when well-trained staff is better equipped to identify potential issues before they become significant problems, reducing the need for expensive interventions.
Improved Reputation
Providing high-quality senior care requires a team of well-trained and knowledgeable staff. When staff are well-trained and developed, this can lead to an improved reputation for the organization providing the care.
Families and seniors are more likely to trust an organization that invests in its staff and provides quality care.
Conclusion
Lisa Winters, New York City, believes staff training and development are central to the success of geriatric care facilities. Investing in employee education can improve patient care and business operations, increase employee retention, higher employee morale, and adherence to regulatory compliance. Business owners should prioritize staff training and development to ensure optimal patient care and provide a supportive work environment.