The Space Café in Palolem is all about Food and Yoga
Aligning your chakras is all that yoga is about. But many just want to lay back and relax- savasana seems the fitting asana for that. Many of us are lazy bums and don't want to bend our body out of proportions. But all those health nuts will be happy to hear about The Space Café in Palolem.
It not just involves chakra balancing yoga, but also good food. Talk about a package! This joint in Palolem is a yoga centre as well as a health café. It isn't a popular tourist spot yet but it may become popular soon. Space Café is six years old.
It has a set of assorted therapy rooms, a boho garden and eclectic yoga studio. This Café is unique because it isn't part of any big hotel chain but it has local taste. Also it has so many delights on sale that you will want to buy all. It offers herbal oils and baked items.
But the sad thing is the café closes off at 5:30 pm which is really early. Space Café is on another level because of its location too. It is away from all modern inhibitions, and literally "Far away from the maddening crowd".
The Space Café is more like a boutique hotel. It has regular movie screenings and sound healing therapies. It also has yoga  gurus whom you can book up for a quick session. Gurus or the psychic healer provides chakra balancing, painting and conscious eating classes.
They offer a luxurious and healthy menu of salads, mezze platters and desserts. You can pop up in the café any time before 5:30 PM and have your share of fun. It is located in 261, Devabag, Palolem, Canacona, Goa.
How Chase Campbell's Brand 'Size Up' Changed The Entire Scenario Of The Supplement And Apparel Industry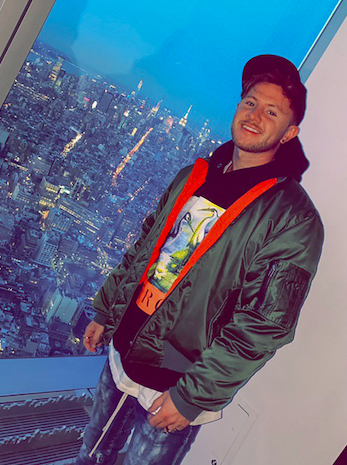 Staying fit and living a healthy lifestyle is not an option but a choice. Fitness goals have become primary in people's lives and they usually love to invest in anything and everything to be in that perfect shape. The gym-goers in general mostly require supplements to maintain their fitness level and today, the supplement industry has been plagued with fake and low-quality products. To bring an end to it, Chase Campbell established his own supplement and apparel brand named Size Up which offers the best and genuine supplement and fitness products to the masses at a very reasonable price. Founded in 2011, Chase's journey was an uphill task. In his early years, Campbell's family became homeless after his father lost his job due to it being outsourced overseas.
With the responsibility coming entirely on Chase's shoulders, he decided to sell supplements which were a requirement for all the people working out then. He understood the concept of drug dealing and implemented the idea in the legal field to make more money. By selling genuine and authentic supplements below the market price, he built a loyal base of customers which then led Chase to sell his products online on eBay and Amazon where he got more than 100 orders in a single day. However, to curb the commission charged by the marketplace, he started his own website followed by a physical store. To attract more customers, Campbell had a grand opening of Size Up which offered free merchandise and tees to the ones who made it to the launch.
This not only promoted the brand's goodwill but also made people aware of the authentic products at a reasonable rate. With its strong online presence, Size Up operates 8 stores across the USA out of which 6 are in Michigan and one each in Florida and Las Vegas. Right from BCAA to pre-workouts and fat burners to other fitness equipment, the store offers everything to its consumers. The only thing that keeps Size Up ahead than everyone is its excellent customer support. Besides fitness products, the brand also offers the best apparels to its customers. Building an empire of his own, Chase Campbell has truly made Size Up a one-stop destination for all the fitness freaks across the USA.