Blacc Cuzz "Stretch It" is Sure to Leave you Wanting More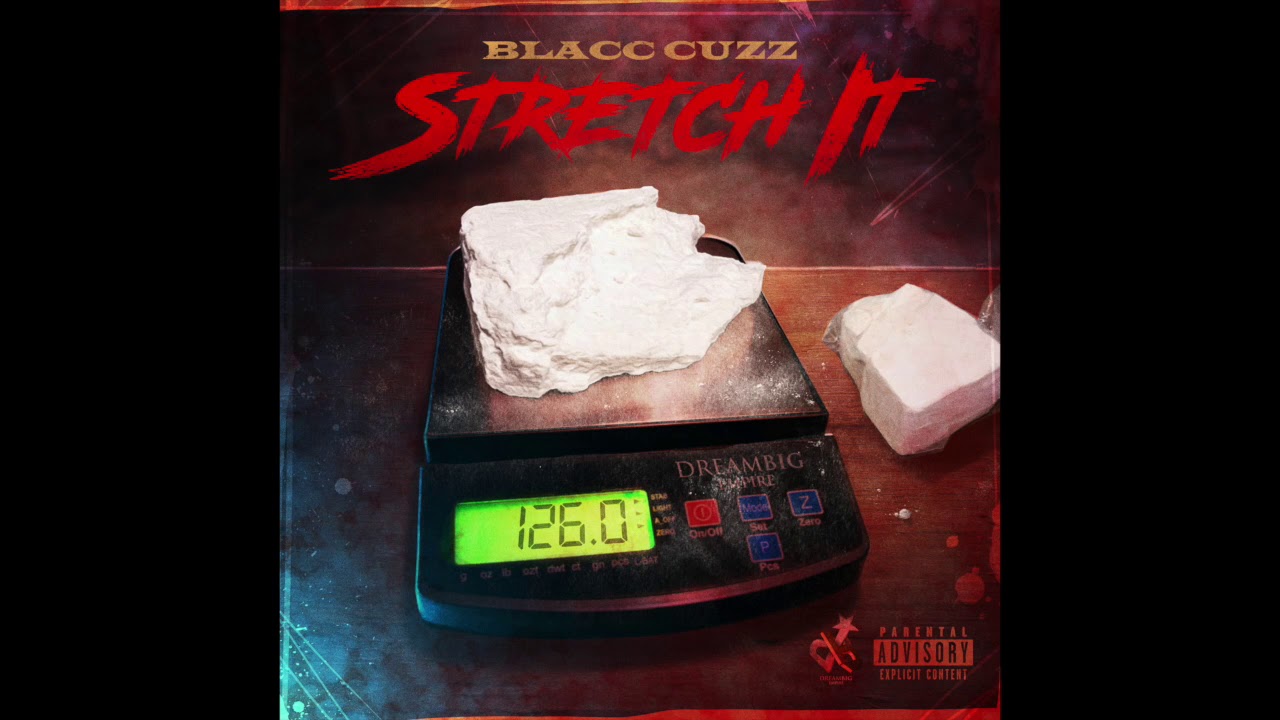 It might seem like creating compelling music is easier than ever, but the reality tends to be a little more complicated than that. Making music that moves people is the ultimate goal, but to do that you have to have an authentic story that needs to be told. Without that, the music in question is often rather lifeless and stale. With that said, there are some incredible new artists on the scene, especially those creating trap rap music, who are offering listeners a truly incredible experience. Blacc Cuzz is the best of the best, and his newest album "Stretch It" is sure to leave you wanting more.
The Artist
When it comes to artists who understand how to create memorable music that rings true to its audience, Blacc Cuzz ranks at the top. His music is both refreshingly unique and subtly reminiscent of genre greats like Yeezy and Gucci Mane, and many listeners find themselves immediately vibing with his quickly-expanding music catalog. And because his releases are based upon his own experiences growing up in PA, Blacc Cuzz paints truthful pictures that are important to hear.
The Inspiration
Blacc Cuzz didn't have an easy youth. In fact, it would be fair to say that he was a tumultuous coming of age story, complete with an attempted federal indictment and even time behind bars. He lost two of his brothers, one to a murder, and took two bullets to the chest (his left lung, specifically). Given the sheer number of obstacles he had to face, it would have been understandable for Blacc Cuzz to give up and embrace street life as opposed to reaching for something more. He didn't fall into that way of thinking, however, and never stopped fighting for a platform from which to share his experiences.
The Music
Today, Blacc Cuzz is known for his authentic tunes that frankly discuss aspects of street life that other artists might avoid. He embraces the challenge of creating something truthful and creative, and his music reflects that tenacity. For listeners tired of "authentic rappers" who haven't experienced the life about which they're rapping, Blacc Cuzz pours his experiences into every song that he creates. He wants to reach as many people as possible and spread the most positive message possible.
The Message
Blacc Cuzz is creating music with a purpose. He hopes to inspire people who are currently in the situations he faced as a young adult. His main goal is to motivate them to continue to fight to better themselves and to find a more stable way of life. He knows firsthand how difficult that transformation can be, but he also knows that it's one that can be accomplished with hard work and a drive to succeed. And his latest album "Stretch It" is an undeniably catchy release that is sure to leave listeners wanting more.
Make sure to give "Stretch It" a listen, and if you're interested in learning more, consider visiting Blacc Cuzz's website.
Break Media: Giving a lifetime opportunity to up & coming artists with their entertainment company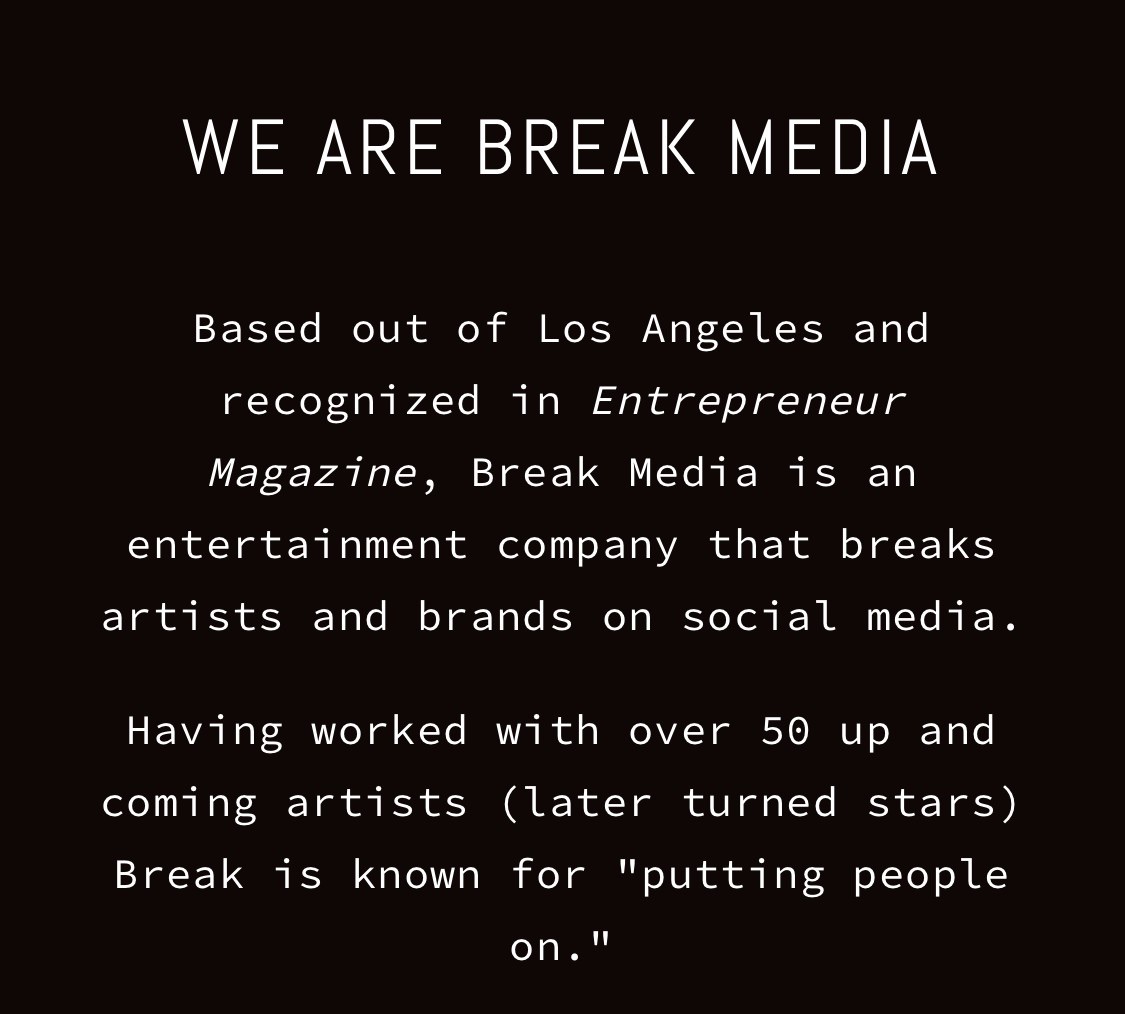 Considered to be the best in the USA, Joey Hickson's Break Media is both learning & a path-breaking platform for artists.
The way the world of social media has seen a rise, especially in the past few years is staggering. The number of people who have joined the bandwagon on social media is incredible knowing the various opportunities & admiration that the online platform offers an individual. When you are aware of such advantages of the medium, it is natural that some companies use the same to provide opportunities to clients who associate with them. Break Media by Joey Hickson is one of the best entertainment companies in the US that works for the growth & betterment of up & coming artists, athletes & influencers, who have talents that the world must know about.
Break Media is a visionary company created by Joey Hickson that provides the ultimate solutions to many artists & influencers across the world looking to get a chance of their lifetime to showcase their talents globally. Hickson, who is also a renowned social media influencer in the US, knows how to effectively use social media platforms to carve a path for talented youngsters & give them a platform which can turn out to be fruitful for their careers.
Hickson's company works for placing these talented people in front of huge audiences by helping them create an image on social media & in the outside world. The social media world is already crowded with many such similar companies & to still make a special place in the online world is something Hickson has achieved with his determination & hard work. Break Media is also unique because the work they do for influencers & artists; they do not claim any credit for their increasing popularity amongst the masses & the classes.
Today with his consistent efforts, Hickson has been able to take Break Media to the peak of the media industry, which is popularly recognised as a company that guides & supports talented artists & influencers.
Providing top services in influencer personality management, music promotion, collaborations on the agency's 350 million network & many more such amazing services, Break Media has been successful in giving a break to artists worldwide. Looking at the rate the agency is growing along with its clients, it won't come as a surprise if the agency develops many other things through social media platforms for the artists & influencers.
If you too wish to make your dreams a reality, you can connect with them on Instagram @break or can visit their
Website : breakmedia.us
Instagram : https://instagram.com/break