Bone Marrow Transplant in India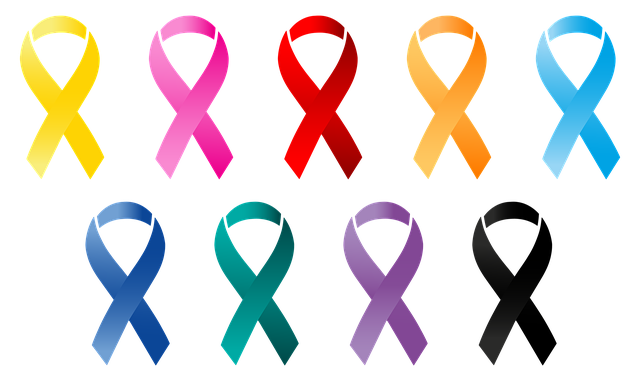 Cancer treatments are always very complicated and complex procedures. There are different techniques, methods and line of procedures the oncologists follow after very thorough diagnosis. Some of them include surgery, chemotherapy, radiation therapy, immunotherapy etc.
Procedures like bone marrow transplant require very specialized infrastructure and training that are scarcity in the world. This is also a very expensive and sometimes unattainable for some people.
India has been a ray of hope for many patients when it comes to the cost of Cancer treatments as they are lower compared to other developed countries but the quality of the treatment is on par with them.To learn in detail about the cancer hospitals and cost comparison of bone marrow transplant in India, you can click here.
Clinicspots is a medical facilitator and a Q&A platform that strives to make medical knowledge more accessible to everyone. So if you have any doubts and queries related BMT or blood cancer you can click on "ask an expert" button and leave your questions.
Bone marrow transplant is one of such many important cancer treatments.  It is a treatment that is used against many in blood cancer and disorder.  In this article we will learn about the process of bone marrow transplant in India, why India is the best place to opt for to get this treatment and which diseases can be treated with this.
Why choose India for Bone Marrow Transplant?
As we all know, bone marrow transplant is very expensive in many countries. India is one such country where you can get the quality treatment at affordable cost.
You should prefer India for following reasons:
Highly skilled doctors:
The doctors available in India are highly experienced and skilled in their profession. They have attended many trail sessions and published many articles on bone marrow transplant.
Quality treatment:
The treatment given in India uses latest technology.
Affordable cost:
The bone marrow transplant cost in India is very reasonable as compared to other developed countries.
Bone Marrow Transplant cost in India
If you think that cost of bone marrow transplant can drain all your money, then you may be wrong.
Well, bone marrow transplant cost in India lies in between ₹15,00,000 ($21,000) to ₹40,00,000 ($57,000).
Now, we will see the bone marrow transplant cost in different countries.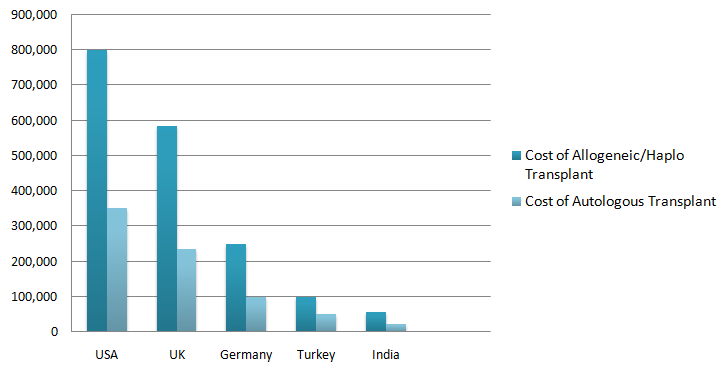 Well, you may be wondering:
What makes the bone marrow transplant cost in India so affordable?
Indian currency :
The currency in India as compared to dollars, pounds, etc. is less thus, making it cost – effective.
Way of living :
The way of living in India is quite low as compared to other countries thus, cost of facilities is less.
Presence of large number of BMT units :
India has high number of BMT units present thus, increasing  competition and reduction in bone marrow transplant cost in India.
What is BMT (Bone Marrow Transplant)?
Bone Marrow transplant is the procedure in which unhealthy or damaged bone marrow are replaced with the healthy bone marrow. It is also called stem cell transplant.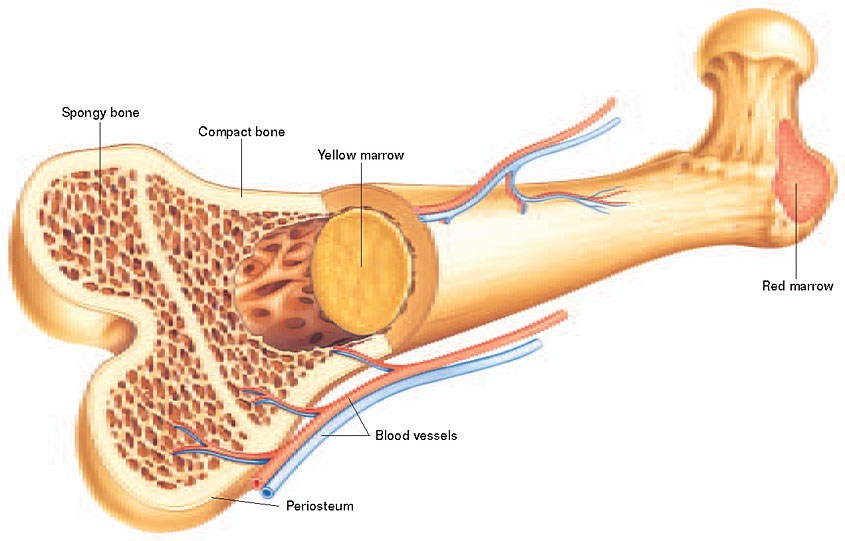 Bone marrow is a spongy tissue present in some bones that consists of cells called stem cells. It is responsible for forming red blood cells, white blood cells and plateletsand also helps in storing
When Bone Marrow Transplant is done?
The bone marrow transplant is done when your bone marrow has stopped working or destroyed by radiation or chemotherapy.
Your doctor may recommend bone marrow transplant if you are suffering from any of the following:
Cancers like lymphoma, leukemia, myeloma or myelodysplasia.
Certain blood disorders like severe aplastic anaemia, sickle cell disease (SCD) multiple, etc.
Why a person suffering from cancer may require bone marrow transplant?
In some cancers, high dose of chemotherapy is required to kill cancer cells. But this high dose of chemotherapy can also kill the stem cells resulting in bone marrow to completely stop forming blood cells. This is where bone marrow transplant come in the picture.
A bone marrow transplant from another person can also help in treating certain types of cancer. Donated stem cells, at times, can kill cancer cells better than the cells of the person who has cancer. This is known as graft – versus – cancer effect.
Types of Bone Marrow Transplant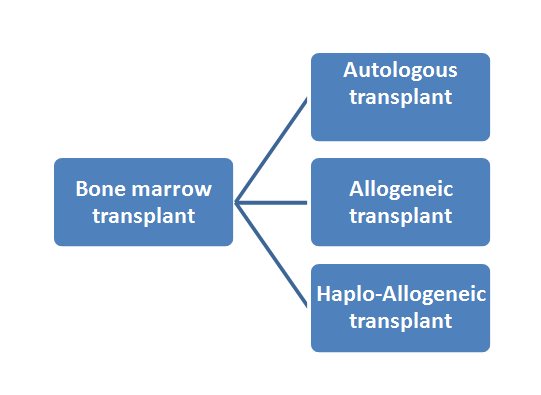 Autologous Bone Marrow Transplant
Auto means self. In case of autologous bone marrow transplant, the stem cells used are of the patient himself or herself.
Allogeneic Bone Marrow Transplant
Allo means other. The stem cells used in allogeneic bone marrow transplant are of a donor whose tissue type matches with the patient's. The donor is a family member, generally brother or sister.
Haplo – Allogeneic Bone Marrow Transplant
The stem cells used in haplo – allogeneic bone marrow transplant is a half – matched or partially – matched.
Procedure of Bone Marrow Transplant
Before the treatment
You will go through a physical exam and will have to undergo many tests before your bone marrow transplant.
Before the transplant, you will have a tube inserted in the blood vessel of your neck or arm. This tube will help in the treatment by receiving the medicines and sometimes nutrients.
You will undergo high doses of chemotherapy or complete body radiation or both to destroy the bone marrow and cancer cells.
During the treatment
The day, when the bone marrow transplant will take place, is also called day zero. The stem cells are infused through the central line in your body. The process of infusion is painless.
After the stem cells are transferred into your bone marrow, they will start creating new blood cells. The blood cells will take few weeks to produce.
Apart from this, you will also be given medications just before the transplant in order to reduce the side effects that may be caused after the transplant.
After the treatment
Once the stem cells will enter your body, they will start making new, healthy blood cells. This process is also called engraftment.
To monitor your condition, you will have to do regular blood tests. You will require follow – ups and have to extend your stay depending on the complications you may face.
Side Effects of Bone marrow transplant
You may experience side effects due to bone marrow transplant.Some side – effects occur just after the transplant while other occur after some time.
Side – effects that may occur just after the transplant:
The side – effects that occur just after the transplant come from having bone marrow removed by medicines or radiation and from the treatment itself. Following are the side – effects that may occur later :
Mouth and throat pain
Infection
Nausea and vomiting
Bleeding and transfusion
Lung problems
GVHD
Graft failure
Diarrhea
Fatigue
Side – effects that may occur later :
The problems or side – effects that occur later are because of many reasons like type of the transplant performed, the patient's health and age, the conditioning treatment used, whether GVHD is present or not, etc. Following are the side – effects that may occur later :
Organ damage
Infertility
Abnormal growth of lymph tissue
The cancer may come back
There may be origin of cancer
Hormonal changes
Cataract
Samuel Leeds Buys Shares In Property Tribes; Says He Wants To Make It Better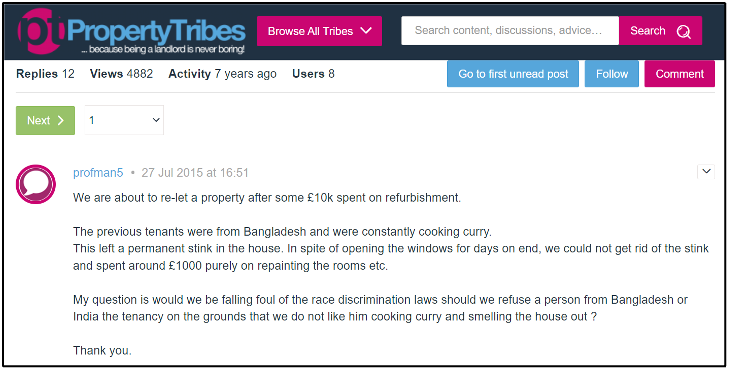 People in UK property circles may be familiar with the very public dispute between former MTV presenter, property investor, and community manager of the company Property Tribes, Vanessa Warwick, & property investment trainer and owner of the company 'Property Investors', Samuel Leeds; as Leeds has accused Warwick of assisting with racism and discrimination against ethnic minority tenants. In recent news, Samuel Leeds was reported to have bought a 35% share of the company Property Tribes, making him officially now a person of significant control at Property Tribes.
Warwick established Property Tribes to accumulate wisdom from various property owners and landlords to create a place of guidance for people in the industry to do business better. According to the company,
"We wanted to create a free use, safe, and agenda-free place for landlords to get information from a "hive mind", not a singularity, so that they could learn and grow their property business."

However, in one of his recent videos, Samuel Leeds pointed out blatant support of racism in some of the advice coming from Warwick herself. As one of the landlords asks on the forum – if they would be implicated by the race discrimination laws in the UK for refusing tenancy to Bangladeshi families as the landlord is not fond of the smell of their staple food, curry; Vanessa Warwick herself is seen advising against mentioning the reason for said refusal, thus averting the legal repercussions altogether.
In the video, Leeds points out several more situations where Warwick has behaved in a racist manner. In fact, she has become a new advisor on the panel of the UK's Property Redress Scheme and has been under criticism in their forum as well for supporting discrimination against ethnic minorities.
Warwick also expressed strong disapproval of Leeds as a property trainer citing the reason that his students came from the "vulnerable" demographic. Leeds called out the racist mindset in this reasoning, as in reality, his students predominantly come from ethnic minorities and don't fall in the "vulnerable" category. He began drawing attention to the issue over his YouTube channel and his website, and ended up facing severe disparagement from Warwick and her followers. Leeds finally sued Warwick for defamation and she brought a counter lawsuit for six-figure damages.
In an attempt to put an end to the battle once and for all, Samuel Leeds reports to have bought a share, 35% to be exact, of the company, Property Tribes. Even though he is only a minority shareholder and will have limited control, Leeds believes he can make a difference in "cleaning up the company" and reduce racism in the forum.
He jokingly adds,
"Because they trolled me, I wanted to at least get paid… Like Michael Jackson did to Eminem."
Leeds pledges that any money he makes off this transaction will be donated to charitable organisations that tackle racism and online bullying. In addition, Leeds will donate an extra £50,000 to organisations that fight hatred in the UK. With this move, he is determined to take a strong stand against all discriminations in the property sector or any other industry.