Celebrity Creative Director Bagio White Tells Why Having a Mood and Vision is Important
Bagio White has said he based creative direction on mood and vision. If you've ever came across a cover of DOPENESS magazine you can derive from a clear directive and mood from the visual. We had the chance to briefly stop by a DOPENESS photoshoot to take a peak into Bagio's style of creating visuals.
"It's important to have a clear direction of what you want to create, even if you don't have a concise form at least have an idea to build that form up from" Bagio stated.
White's says his ways of coming up with ideas aren't always set in stone, but rather most of the directive is formed in post-production.
"Most of my mood boards almost never comes alive at our shoots [laughs]. Honestly most of the ideas to I want to convey to our readers, I create after I get my hands on the photos themselves" Bagio admitted.
White states that most artists don't really have an idea set in stone but rather they create it base on their moods.
"I make my best creations based on my mood, and I think most artist do. I've had many instances where I create stuff just wholeheartedly by looking at the talent in the photograph" Bagio said with a smile.
White recalled when he had the chance to work with Comedian King Bach and reminisced that his entire spread was based on how the photos felt to him.
"I remember a time where we covered King Bach and actually that issue was our last print issue as we changed thereafter to digital. So, I remembered that particular shoot was in Los Angeles and my hectic schedule with prior projects with DOPENESS couldn't allow me to be present for that shoot at the time. So I coordinated with my LA team to get the shoot done and the photography ask me for a specific mood that I wanted to convey, but at that time for the life of me I couldn't think of anything other than the mood that Bach already has, which was humor. So, after the shoot was completed, I received the photos and they were great but again there was a specific mood of humor I was trying to convey but it wasn't hitting me at the time. So, after some hours of just staring at those photos I just started to create each individual design from the photos themselves. It wasn't planned at all it was almost like I was freestyling, and It came out perfect. So, in hindsight I say if your and artist you can create beautiful art without an idea but never without a vision or mood." Bagio stated.
We had a very insightful time at the DOPENESS shoot where we got to see Bagio in his element, there's no doubt we can't wait to see wait he will cook up next.
SPOTLIGHT: Sweet vinyl by DREAMOUR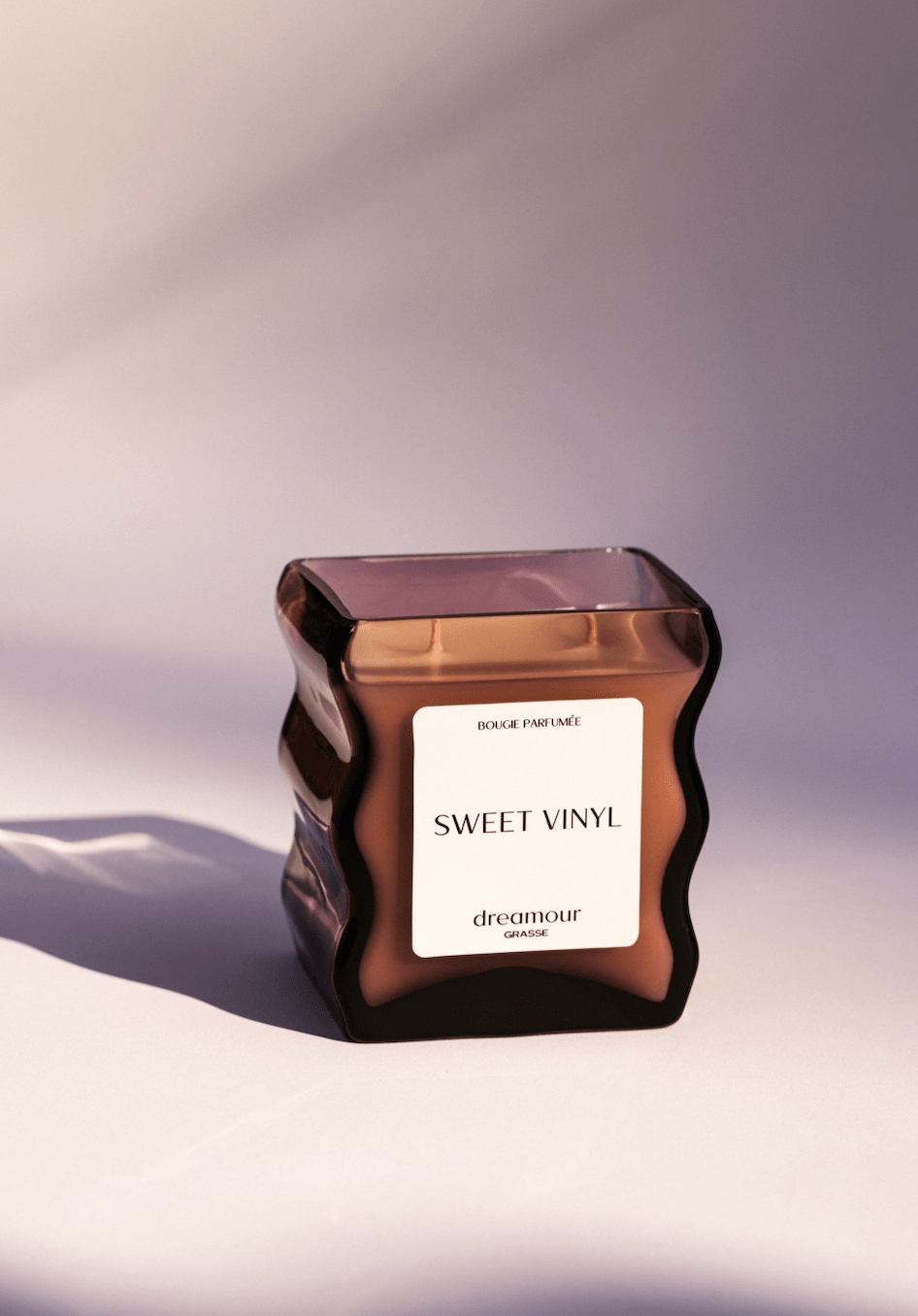 What happens when two immensely talented visionaries come together to create elegance and ingenuity in a sculptural glass fragranced candle? Dreamour. That is the long and short version of how Dreamour was created. Founded by Karissa Rowe and Neal Klotsman in late September 2022, Dreamour was founded with the goal of creating a luxury fragrance brand that operates at the intersection of functional art in the candle market space.
Rowe, a Parsons School of Design graduate, set out to fill the niche of integrating design in the candle marketplace. Unlike most candle vessels that are mass-produced, Dreamour's founders desired to prioritize the artisanal craftsmanship of glass in their production processes of the sculptural glass designs. This resulted in a long timeline of sourcing the globe for talented glass artisans who could transform a sketch into a functional and sophisticated candle vessel. Each and every candle vessel is hand-blown, inherently resulting in a one-of-a-kind product and unique experience for the consumer. These functional fragrant candles also act as a piece of décor due to its sculptural and alluring appearance.
Sweet Vinyl, Dreamour's first candle scent, fills the room with musky & leathery notes combined with earthy notes of vetiver and cypriol, topped with a citrus touch of bergamot and mandarin. The founders worked with master perfumers in Grasse, France, to create a scent that invoked notes of memorable moments, emphasizing high quality ingredients in the fragrances in a soy wax blend. This resulted in candles that consist of clean ingredients, a vegan formula, and is entirely cruelty-free.
It is the personification of the glass blowers' spirit, the heart of Grasse imprisoned in a bottle, and the narrative of two visionaries that sets Dreamour at the top of the candle market pedestal. Dreamour embodies the sophistication and savior-faire French perfumery as a luxury brand, while being a NYC based brand. Dreamour is currently stocked at Patron of the New in New York, along with other major designer luxury known brands. Rowe and Klotsman are currently expanding their production lines and will drop new fragrances and designs in early 2023. Don't expect anything ordinary with Dreamour, as they will continue to bring a unique perspective to the marketplace of home fragrances.
To find out more about Dreamour and their newest releases, you may visit the business's website dreamour.com or follow the company via its Instagram handle @dreamourshop.