Enjoy autumn full of colour with gemstone jewellery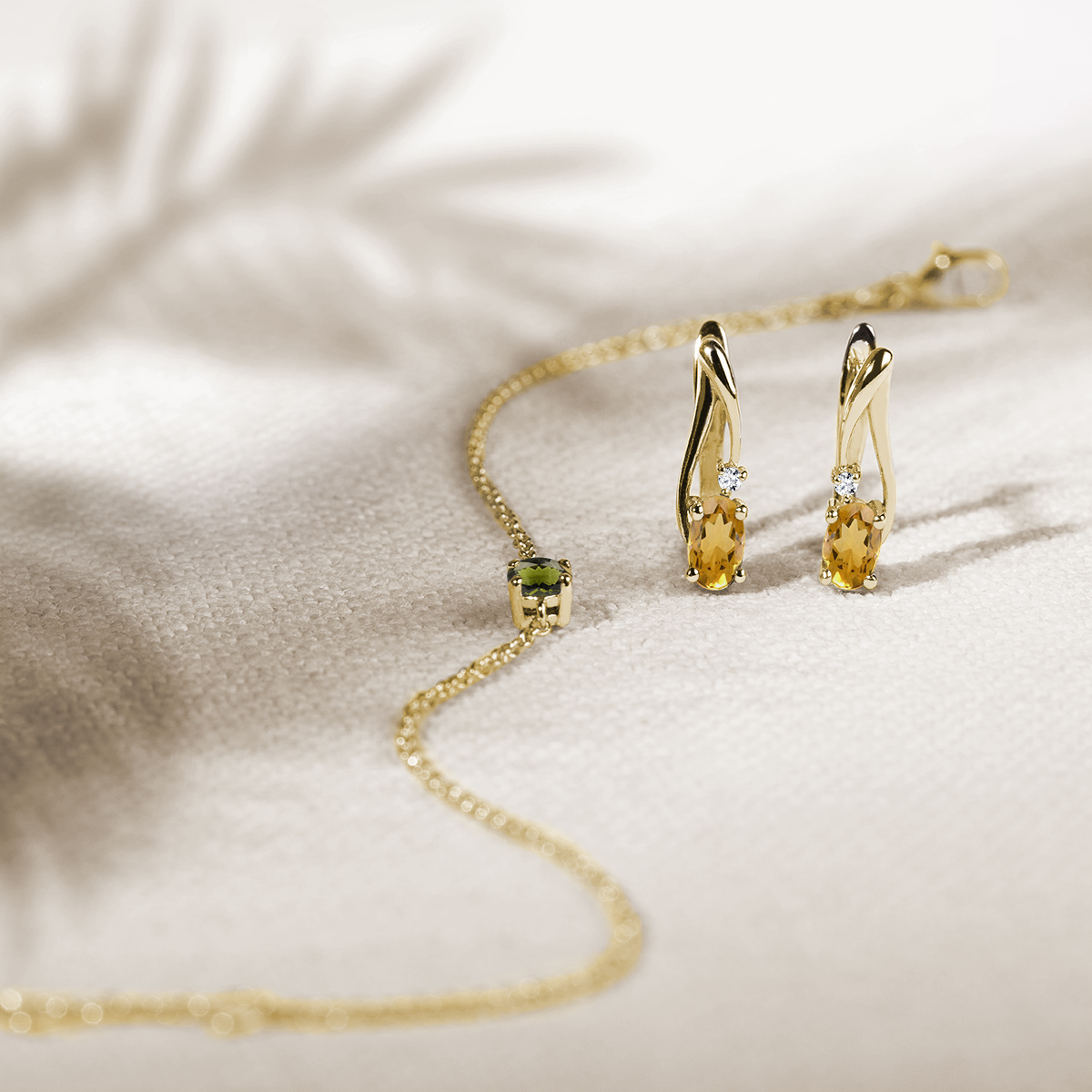 Once again it's that time of year that encourages playfully mixing various colours and being creative with outfits and jewellery. If you're one of those people who love autumn and you feel like surrounding yourself with beautiful jewellery with colourful gemstones that will brighten up any outfit, then this article's for you. Be inspired and enjoy the autumn with these natural wonders.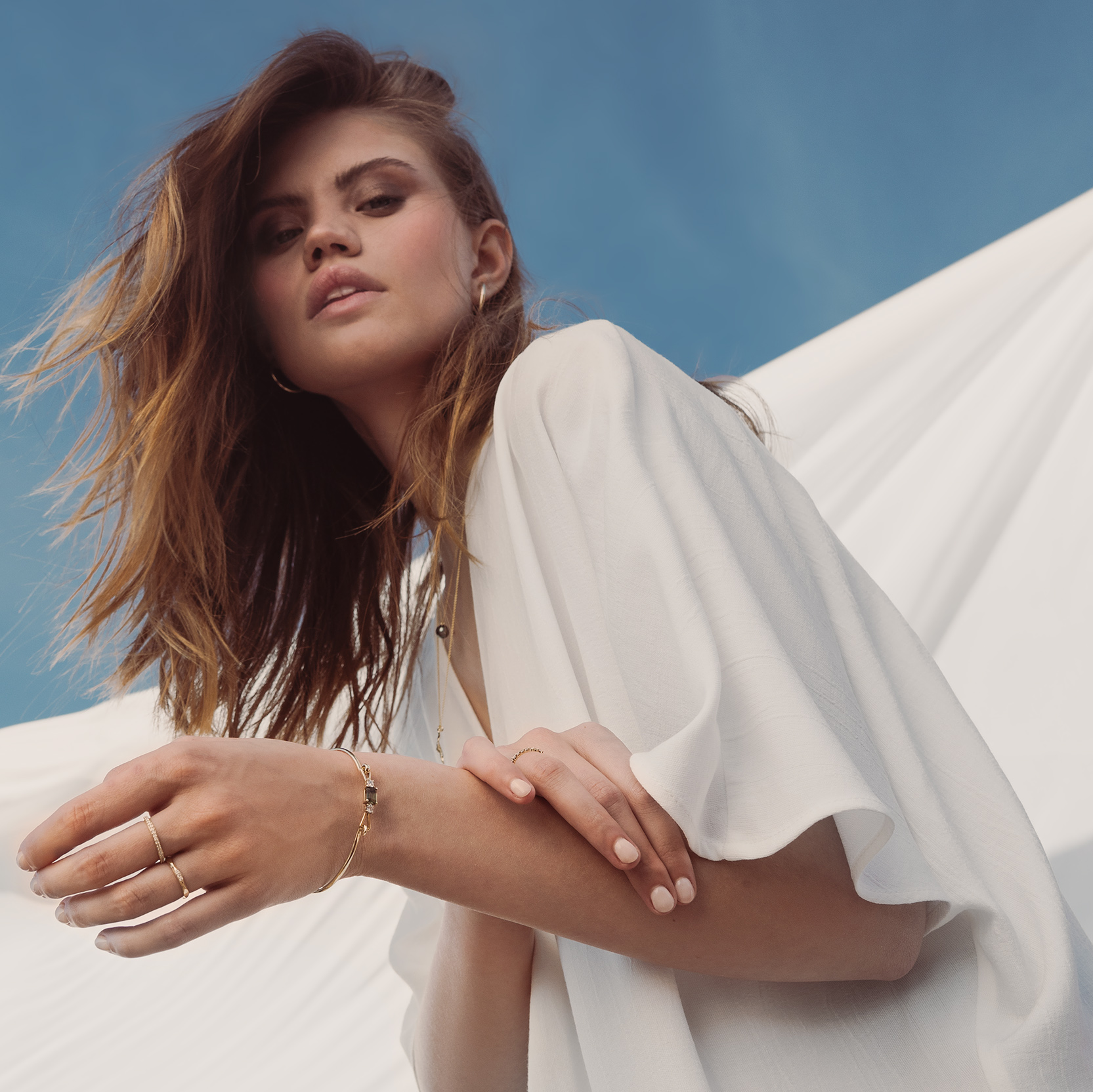 Gemstones are just made for autumn
autumn jewellery is all about fresh colours and bold combinations and if you want autumn jewellery with long lasting quality, then look for gold jewellery with precious stones. Blue sapphires, blue-violet tanzanites, purple and green amethysts, green moldovites and yellow citrines are all popular.
If you're tempted by combinations with a number of stones, a gold aquamarine ring complemented by gold morganite earrings would go well with a multi-coloured autumn dress. The soft colours of these two gemstones would also suit winter types since pale blue aquamarines accentuate blue eyes and pink morganites go well with sun-kissed skin. If you're a brunette and maybe have green eyes, an emerald gold bracelet would be perfect for you.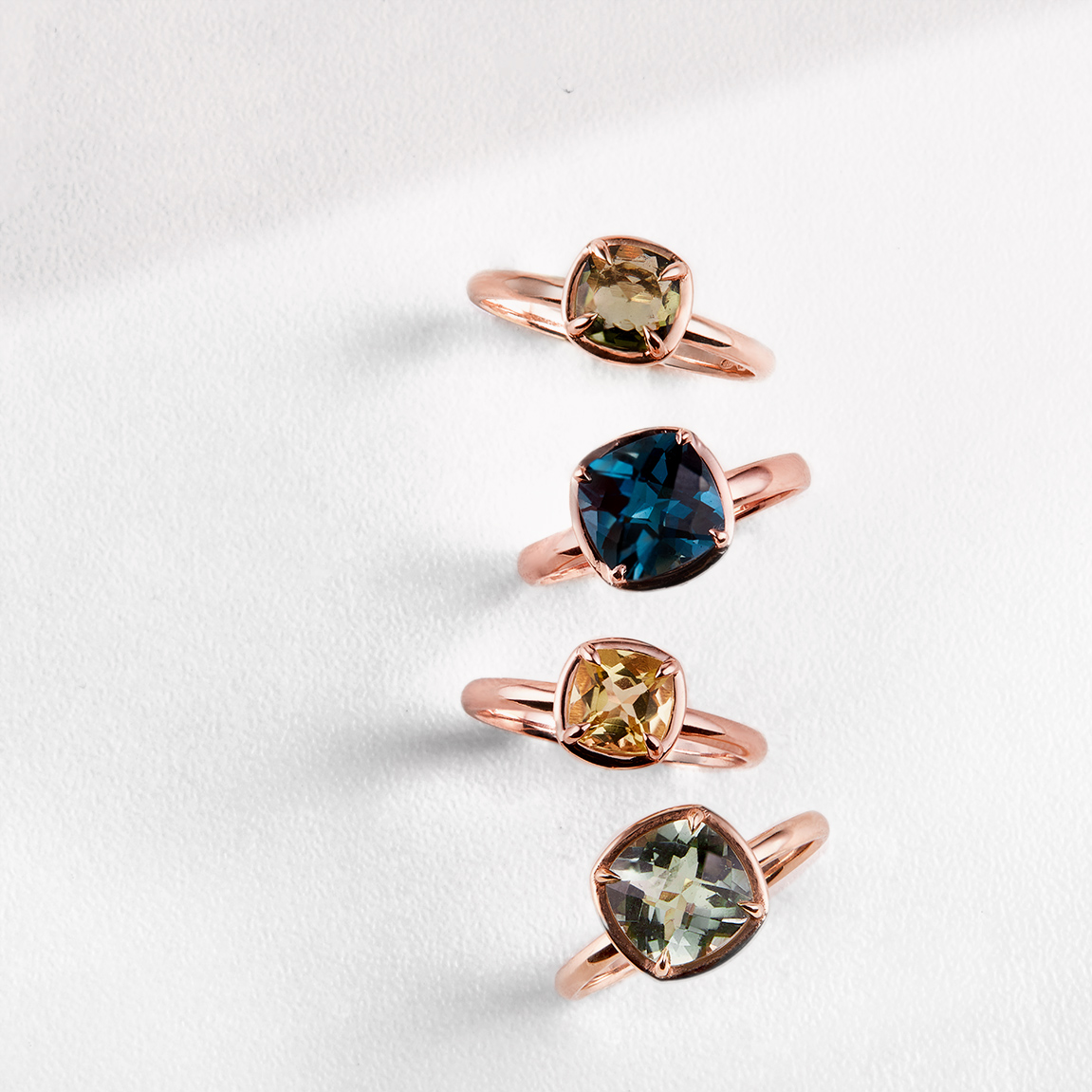 A hit in the form of mineral bracelets
You may have noticed this trend in recent years too, but if not, it's definitely worth paying attention to. What are we referring to? The trend for luxury boho style mineral bracelets. These are the perfect autumn accessory with a touch of glamour. They will likely please all those creative and individual ladies who love colours and unusual patterns.
These bracelets go well with single colour outfits which they liven up and immediately attract attention to. But they also allow room for you to be creative, they stand out with more colourful pieces from your wardrobe and encourage innovative layering with gold bracelets since they really stand out next to these.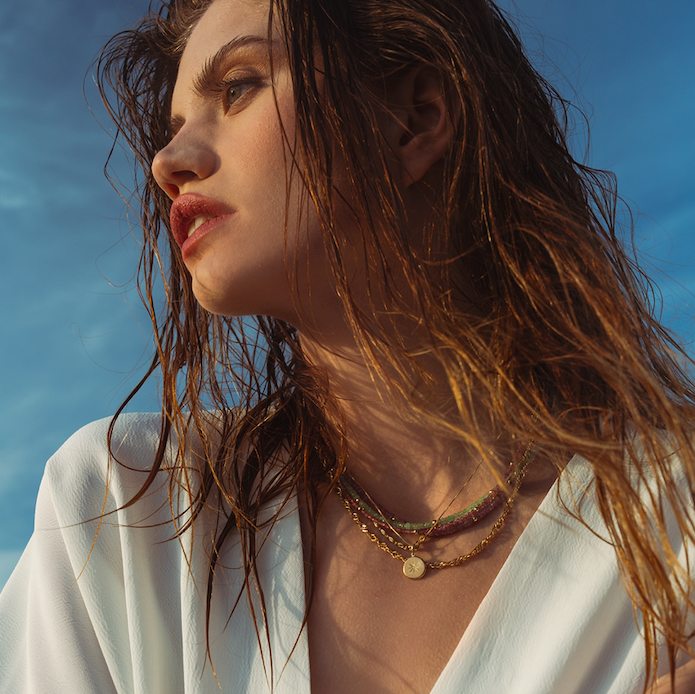 A minimalist collection full of warm, modern colours
The KLENOTA jewellery studio has created an entire collection inspired by autumn. It's called VIOLET and it incorporates the whole palette of colours from reddish-maroon rhodolite through purple and green amethyst and distinctive peridot all the way to pale yellow-green lemon quartz. All jewellery is crafted from 14ct gold and the beauty of the gemstones stands out thanks to their cushion cut. The vibrant colours in the gemstones are accentuated by the classic design of this cut.
The whole collection has a minimalist feel to it, placing an emphasis on details and offering a variety of options for mixing, matching and layering. The jewellery in this collection looks good as solitaires, but it will also allow enough room for your creative expression. You could complement two necklaces with pendants which have different colour gemstones with drop or stud earrings or a gold ring. You also don't need to be afraid of wearing different colours of gold simultaneously.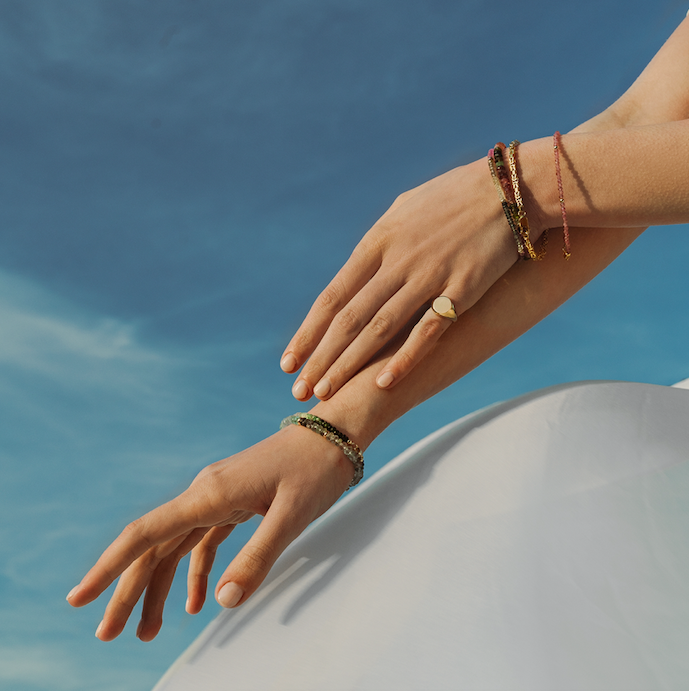 Express your personality with jewellery and be seen this autumn
Combining colours and themes is just perfect for autumn and if you take care when doing this, your jewellery won't just be a nice looking accessory but it will also be a form of self-expression that complements your personality.
Which jewellery will you choose to do this with?
Healthy Home Upgrades That Won't Break the Bank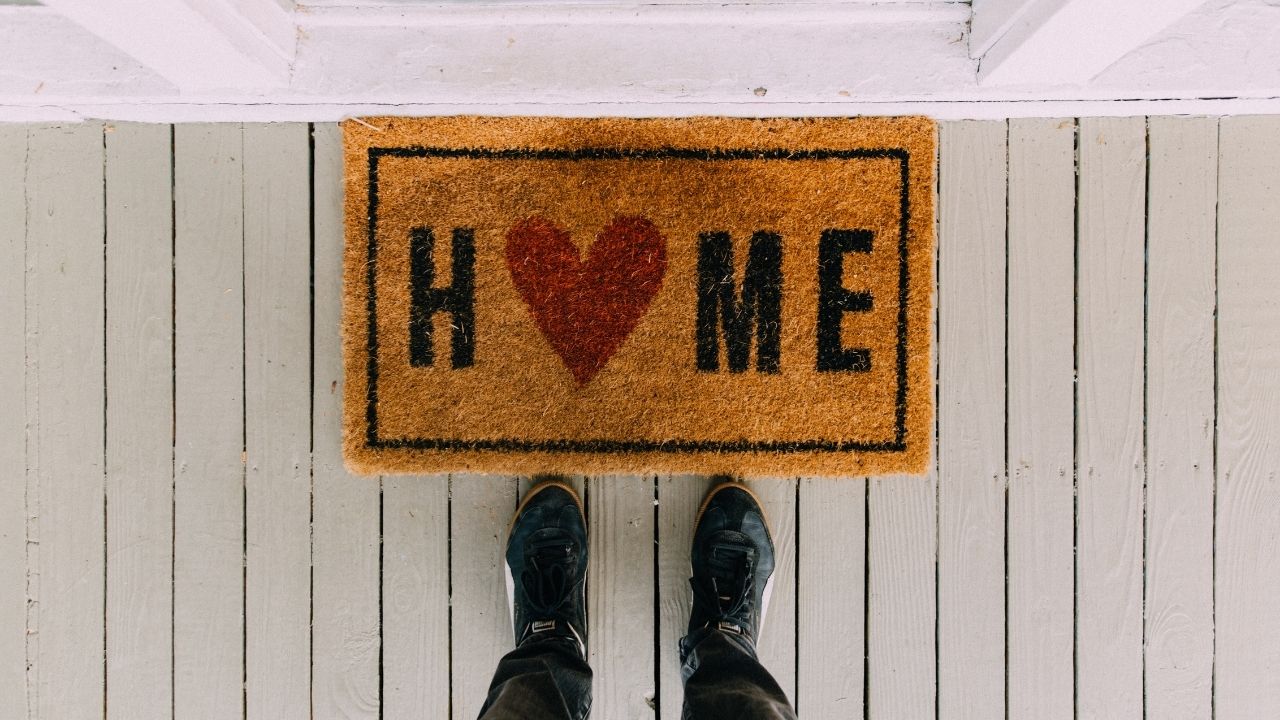 Health and happiness go hand in hand, when you invest in your wellbeing, you open the door to endless benefits, from reduced stress to better resiliency, and even increased productivity. While committing to regular exercise and ensuring you get checkups is important, there are also ways you can improve your health by making changes at home. Today, we're going to look at some of the home upgrades you can consider if you want to enhance your lifestyle, improve your health, and even potentially improve your home's value. 
Invest in New Kitchen Technology
Your kitchen is a crucial tool in your quest for better health. It's where you'll prepare healthier, nutritious meals to match your diet requirements, and even pursue positive hobbies. Some kitchen upgrades, like motion sensor faucets can significantly improve the value of your home too. Others are great for simply improving your health in a variety of ways. An intelligent oven hood can help to remove unwanted contaminants from your kitchen while you cook. Smart kitchen gadgets, such as air fryers, can cook your favorite foods without infusing them with additional fat, helping you to lose weight, and save time on cooking.
Consider a Home Lift
Sometimes, the best way to invest in better health is to think about the future. If you want to stay in your home for as long as possible, purchasing a home lift is a great way to ensure you can still navigate the various floors of your house easily, even when your mobility begins to dwindle. 
Home lifts can also be extremely useful when you're still young, making it easy to move things around your home (like heavy boxes), without risk. These days, the cost of a home lift in the UK can be much lower than you'd think, and there are many styles and designs to choose from. Plus, installing one of these lifts will help to give you an edge in the real estate market when you decide to sell your home. 
Improve Your Air Quality
Few things are more important to your quality of life than good air quality. Unfortunately, most of us don't realize just how many contaminants and dangerous fumes we're exposed to every day. Simple changes, like choosing non-toxic and sustainable cleaning products can make a huge difference, but you're more likely to see major results with a significant upgrade. Installing an air filtration system in your home, or a dehumidifier will help to banish various allergens and unwanted substances from the air, so you and your family can breathe a little easier. You can even consider installing your own HEPA filtered heating and cooling system. 
Healthy Lives Start at Home
While there are plenty of ways to invest in your health and wellbeing from exercising more frequently, to meditating, seeking out counselling, or even changing your diet, it pays to start close to home. If you're thinking of upgrading your property anyway, or you want to live a more luxurious lifestyle, consider the strategies above to boost your home's value and your health.