Expert 38% – A Carbamide Peroxide Based Teeth Whitener by Dr. Martin Schwarz Brightens the Teeth for up to 8 Shades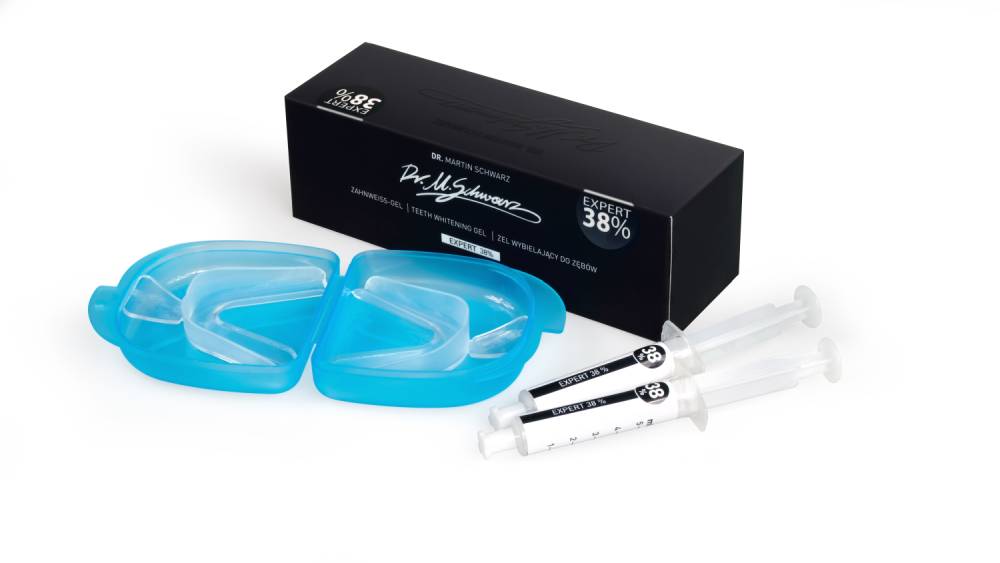 Last month Yahoo announced that Dr. Martin Schwarz – oral care brand from Frankfurt has launched a new type of dental product – Bioscaling gel. According to Yahoo the novelty of Biosclaing lies in removing dental plaque independently at home which is supposed to bring oral health standards to the new level.
Dental products
Bioscaling – is not the only Dr. Martin Schwarz's dental product acclaimed to be revolutionary. In its portfolio, Dr. Martin Schwarz offers a range of teeth whiteners that are said to provide extraordinary teeth brightening results without common for such procedures tooth sensitivity and discomfort.
Dr. Matthias Berg from Dr. Martin Schwarz's R&D department explained that "Expert 38% was developed to deliver extraordinary whitening results comparable to those achieved by professional whitening treatments in dental clinics." He said that "Whitening results delivered by Expert 38% are visible after the very first application and might be up to 8 shades. At the same time, the unique formula based on carbamide peroxide as an active ingredient prevents post-treatment tooth sensitivity to occur." Expert 38% is suitable for both in-office treatments and at-home procedures with the use of mouth trays.
Oral care in numbers
According to dental statistics, the population of over 3.5 billion individuals worldwide (about half of the global population) suffers from oral diseases.  17% of adults experienced negative feedback from a family member about the appearance of their smile, and 10% of respondents received such a comment from a stranger.  23% of adults brush their teeth only once a day and 33% of them declared they never floss. The same source of information claims that the UK's industry of cosmetic dentistry is valued at £2.2 and it's estimated to increase by 8% within the next 3 years. In 2016 the global market of teeth whitening products was valued USD  5.56 billion and is expected to reach USD 7.7 billion by 2024.
Image source: Expert 38% – Dr. Martin Schwarz
What are #SecretVeneers by Sonrisa Italiana's Dr. Daniel Zabaleta? Your Key to a Naturally Perfect Smile!
Veneers can be a great way to treat various cosmetic concerns including discolored, chipped, broken, or misaligned teeth. They're often the best fix to achieve your "dream smile" since they practically guarantee perfect pearly whites. But you may have some concerns about the installation of veneers and their results, so we're here to introduce you to a world-renowned dentist's secret to achieving the best natural-looking smile on the market.
"Secret Veneers" are a newly-designed version of the traditional veneers as introduced by leading and award-winning Colombian dentist, Dr. Daniel Zabaleta. A veneer consists of a thin shell that is placed in front of a natural tooth to alter its appearance. Secret Veneers differ slightly from traditional ones in application technique as Dr. Zabaleta's are meticulously customized layer-by-layer, and they are made out of 100% dental porcelain. Each veneer is carefully made to fit the patient's tooth and colored to match the rest of the patient's smile (unless they request the pieces to be whiter in color). They can be made to alter a tooth's size, shape, and color. In several cases, veneers can also correct gaps, chips, and minor alignment issues.
Dr. Zabaleta's holistic approach aims to seek the best results for the patient in terms of a natural-looking smile. His dental office in Barranquilla, "Sonrisa Italiana", prides itself on making sure the result is always your ideal smile, and not thick, bulky, or "fake" looking teeth. Dr. Daniel Zabaleta holds a DDS from the Fundación Universitaria San Martin and has over 17 years of experience in dentistry. He has obtained over sixty internationally-recognized post-graduate degrees and certificates and has won over four top-merited international awards. His newly designed version of the veneer has been performed over 50,000 times and has a 99% patient satisfaction rate.
Many potential candidates for the procedure share concerns that the veneers may damage their natural teeth or are fearful that the procedure requires their teeth to be shaved down, but Dr. Zabaleta tells us that neither is true, and the procedure is, in fact, nearly painless.
Assuming a patient's teeth are properly cared for, the veneers can usually last a minimum of 25-30 years. In most cases, however, the installation can last up to a lifetime. Proper maintenance for veneers is just like proper maintenance for natural teeth, which includes routine visits to the dentist's office every 4-6 months, bi-annual cleanings, and of course, daily dental care such as toothbrushing and flossing.
Costs for the cosmetic procedure tend to cost an average of $40,000 in the United States with a leading dentist, but in Dr. Zabaleta's home office in Colombia, it'll cost you nearly a quarter of that. Their Secret Veneers start anywhere from $6,500 and can vary depending on each patient's case.
For more information on Dr. Daniel Zabaleta's work, testimonies on his Secret Veneers, and answers to more frequently asked questions, visit www.sonrisaitaliana.com or follow him on Instagram at @sonrisaitaliana.