From marketing memes to marketing brands, Ahmad Yasir's journey to perfection
Ahmad Yasir, a serial entrepreneur, an investor and an LLC holder has proved himself as a reliable power in the realm of Instagram and beyond. With the rise of guerilla marketing, Ahmad availed of an opportunity to jumpstart his career at a very young age. From a degree in Biology to coding in Javascript, Ahmad started delving into the universe of sophisticated social media algorithms and viral content. Ahmad creates ad campaigns for companies on Instagram, Facebook, YouTube, and now Tik Tok, simultaneously managing his Instagram meme pages. As a familiar face in slapstick comedy, Ahmad knows that there are specific legal and precautionary measures to be taken prior to working with any client, organization, or entity. Ahmad Yasir has self-employed himself as a CEO and an expert of Instagram trade through the usage of social media platforms like Instagram influencer group chats, Discord, and Telegram. 
Bouncing Back
Six years ago, when Instagram was the hottest topic for surpassing Twitter, Ahmad took the opportunity to create his Instagram meme pages. Aa a youngster, Ahmad's childhood was humbly active and predominantly studious. He excelled in Maths and Science and so forth chose to graduate in Biology.
At the age of 22, he opted out of Biology to carve his career path. Instagram came as an extraordinary opportunity. He started his Instagram pages @reactions and @ghetto in 2015 to add a bit of humour in people's mundane lives. Filled with hilarious videos, memes, quotes, photos, and captions, @reactions and @ghetto will take you down a veritable rabbit hole of web comedy. Connecting with people from all over the world through a single platform, each one packs big comedy into the smallest of places. Indeed, it's not easy evoking laughter with a few seconds of video or a single photo, but Ahmad Yasir makes it happen over and over again. That's what his Instagram meme accounts are all about.
Ahmad grew both of his pages organically starting from zero. With captivating content, broad audience appeal and consistent aesthetics, @reactions gained its first exponential growth with a whopping 5 million active followers. @ghetto is slowly gaining its pace as at 2.7 million active followers. With an enormous base of positive referrals, organic reach, and an impeccable reputation, Ahmad expanded his meme factory by acquiring @EPIC and @hood.
From Memes to Marketing
With the ability to go viral and increase brand exposure, Ahmad soon founded his company Instareach LLC, introducing brands to meme marketing. His mastery in viral content, meme marketing and sales in conversion has helped him handle high profile brands' social media marketing. In no time, he started creating and coordinating paid advertisements for PUBG (Player's Unknown Battle Grounds) and promoted 'Game of War' app to gain high downloads. Ahmad's meme pages were recognized as an alternative to connect with a brand's audience.
He further collaborated with Fashion Nova, a notoriously-edgy fashion brand worn by athletes, actors and artists and expanded its online reach. With his niche to grow brand reach through his skillsets, Ahmad gained a strong reputation for himself as a professional marketer.
Keeping up his harmony with the Biology degree and Instagram, Ahmad believes in expanding his boundaries to diversification. Ahmad's scores in Biology were decent enough to help him land on a career, safe and sound. However, he chose a creative and flexible path for himself. Ahmad's rational pursuit of Instagram algorithms is remarkable and innovative. The way he has mastered ROI, sales conversion tactics and engagement methodology is no less to rocket science. From funny memes to marketing brands, Ahmad stuck to one niche and strategy to fine-tune brands' online presence. After having achieved so much, Ahmad has more he wishes to accomplish. From an ice-cream chain to making real estate investments, he does not want to have an ultimate goal.
Staying consistent on Social Media is a tough nut to crack. However, when you perceive your content as your audience, you'd exactly know their requirements. Ahmad Yasir @amad is one such example. 
Life At Home: How Families are Spending Their Time at Home Durning COVID-19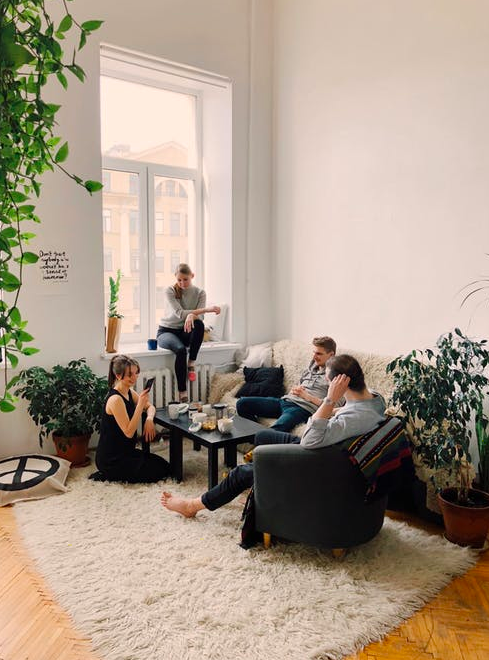 The outbreak of COVID-19 has sent shockwaves through everyone in the entire world. The virus tends to favor those with weakened immune systems but also thrives in healthy individuals as well. Because of its rapid spread, government officials have implemented city lockdowns to flatten the curve of the virus. And although the lockdown has forced people all over the world to stay at home, it has also made families get creative in how they spend their time at home.
You have to admit, this extended time at home might have been a little painful at first, but now that you've adjusted to home life for a few months now, it's really not that bad. In fact, according to axios.com, COVID-19 is reshaping family dynamics.
While families are cooped up together under one roof, they're, of course, going to bicker and moan, but history also tells us that when families endure hardships like what the coronavirus is putting families through, it helps families build strong connections.
Everyone, of course, has their own opinion on how coronavirus is impacting their family life, but there's certainly no denying the fact that it has forced families to find alternative ways to spend their time at home TOGETHER!
Because of the virus, it has forced people to do most things virtually that they would normally do in-person. Nonetheless, people are adjusting just fine and making the best of the situation… that's really all you can do if you think about it.
So how have you and your family been spending time together to make things fun? Here are some ways other families have been making the most of their time at home and having fun.
How Families are Spending Their Time at Home During Coronavirus
Cooking: Bringing Meals From Their Favorite Restaurants to Their Own Kitchen
With COVID-19 not only impacting families but businesses too, it has made the restaurant industry take a hard hit… All businesses, including restaurants, have been shut down in efforts to prevent the spread of the virus.
Because restaurants are closed, it's forcing families to blow the dust off of pots, pans, and skillets that they haven't used in ages. There are some restaurants that have been doing food deliveries but most times, it's your favorite restaurants that need a food delivery app of their own but they don't and that's why you have to recreate those meals on your own.
Places like hibachi grills, Mexican restaurants, and burger joints are all being recreated in the homes of families all over the world. An electric griddle is what has been saving the lives of families all over the world!
You can buy an electric griddle at most grocery stores or supermarkets for as little as $19.99. And for $19.99, you can sautee your vegetables just like you see at hibachi restaurants. You can make grilled burgers that taste just like the ones at your favorite diner; And let's not forget about breakfast… With a griddle, you can make a big batch of pancakes for the whole family in less than 10 minutes!
Patio Installation: Keeping the Fun Going From Indoors to Outdoors
Remember how you've been saying that you want to have a patio deck installed but never got around to it? Well, there's no better time than now to have this particular home renovation project done. You just need to find the right contractor to install it for you. If you need a patio contractor in Kansas City, you have a wide selection of reputable and trustworthy companies to choose from.
By having a patio installed, you have the ability to fully enjoy your outdoor space whether you want to have a barbecue or simply enjoy the warm weather and pretend you're on a beach. The biggest perk with a patio, especially during the coronavirus outbreak, is that it gives your family a change in scenery… Even though you're still at home, you're at least outside, and that's something.
Tik Tok Challenges: Seeing Who's the Better Dancer of the Family
Tik Tok has taken the world by storm during these challenging times and it has been a reliable source of entertainment for all ages. You see everything from grandparents doing the "Savage Challenge" to frontline nurses doing the "Flip the Switch Challenge."
Because we're in trying times and are seeing every day how COVID-19 is taking the lives of those we love on a daily basis, it's sometimes a refreshing mental break from the sadness of life as we know it. Whether you decide to make TIK Tok videos with your pet or with your kids, take the time out to do it…
It might be silly to you but once you get the swing of how it works, you'll look up and realize your family is having a great time together just being silly, and for that, coronavirus has brought a silver lining for lots of families.