How Beauty Industry Icon Ani Goulayan Paved The Industry And Created Her New Makeup Line, Vanity Makeup Cosmetics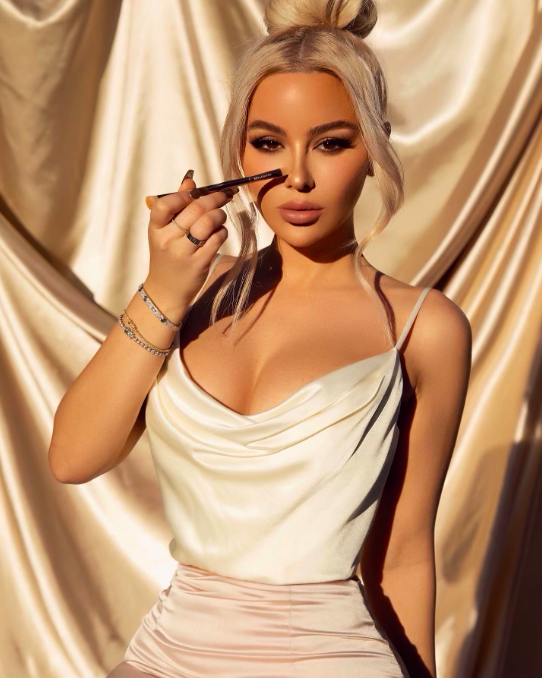 Meet Ani Goulayan– AKA @vanitymakeup– the down-to-earth instagram influencer and self-made #bosslady that has helped paved the way of the immeasurably influential modern-day beauty industry. Her internet success has geared her to not only open a makeup academy of her own in Los Angeles, but it's also given her the foundation to become the recent founder and creator of a cruelty-free and fully-inclusive cosmetics line named Vanity Makeup Cosmetics.
Goulayan's very first makeup gigs as a late teen consisted of photoshoots she'd work on for free in exchange for prints to add to her portfolio. Shortly after, she landed her first salon job in which her makeup career began to take its course. At first intimidated by the intensity of the industry, she began to feel that perhaps makeup wasn't going to be a part of her long-term career. But when she joined her second salon job and took advantage of an unseen opportunity, her life changed forever.
Instagram had just started gaining popularity, which gave the 20-year-old the brilliant idea to use the platform as a digital portfolio. Her posts consisted of makeup looks she'd create at home and 15-second videos of the looks she'd give her clients at the salon. It didn't take long for her talents to take the social channel by storm and go viral. Posts of her dramatic eyeshadow creations constantly gained enough popularity to be featured on the "popular page", now known as the application's Explore page. Back in the day, the posts chosen by the algorithm remained on the app's highlighted tab for 24 hours, susceptible to hundreds of thousands of viewers a day.
"Every time I landed on the popular page, I'd gain two to three thousand followers," the makeup icon shared. "That inspired me to create consistently so I could post everyday. I'd say 9 out of 10 times, my work would land on the popular page, so I was constantly going viral… There was a point where I was growing forty to fifty thousand followers on my page a month. It was absolutely insane."
Over the last 9 years, the hard-working beauty influencer has grown over 1.3 million followers on Instagram. Back in 2012, the beauty industry was nowhere near the digital monster it is today. And despite not having any guidance or precedent to follow, it was the perfect moment for the young artist to make a breakthrough on the social platform.
Although her journey to success has been anything but easy, Goulayan says she's thankful for the hardships in her life that have gotten her to where she is today. "A lot of people would look at me when I was younger and think I would only be doing makeup because I wasn't capable or smart enough to do anything else. They'd look down on me and ask if I was doing badly in school, or they'd simply just make me feel bad for choosing makeup as a full-time career as opposed to like, a business degree," she says. "But once everyone started seeing how much money I was making, they couldn't believe it. And once the beauty industry became a trend, those people started using my content as a resource."
Followers began to learn how to recreate Goulayan's looks by following step-by-step video tutorials she'd post on her page. But even with that, hundreds of local followers would continuously request the influencer to teach in-person makeup lessons. Initially, she hosted 20-40 student classes at the salon she worked at. But as her followers grew, so did her client base, and it wasn't long before she found herself selling out a 120-student masterclass in downtown Los Angeles. Seeing a clear business opportunity at hand, the artist then proceeded to opening up her own studio and makeup academy in 2016 called Vanity Makeup School.
Aside from being one of the first beauty gurus to go viral, Goulayan was also one of the very first artists to showcase and explain the process of 'contouring' online. It only made sense that, once she launched her long awaited makeup brand, the first product she'd release would consist of a custom-formulated contour palette. After almost two years of production, Vanity Makeup Cosmetics launched in February 2020 with the Sculpt & Glow Contour Palette.
"When I had just started out, I used to say to myself, 'imagine what it would be like if I could make my own makeup'. I never in my wildest dreams thought that I'd have the opportunity to do half of the things I've done in my life, let alone make that dream a reality," the creator said. "I could say I've been really lucky, but that's not really true. I know my hard work is what has made all this happen for me, and I'm grateful I have a tough personality and I never let anybody's negativity get in my way."
Vanity Makeup Cosmetics is set out to launch two more exclusive products by the end of 2021, which you can follow along at @vanitymakeupcosmetics on Instagram. The #bosslady also admits she has a secret project up her sleeve, which she plans on releasing by Summer 2021. When asked if she ever plans on taking a break, she said, "discomfort and struggle are what keep me alive… I'm never satisfied staying still, it's not in me." If she's already conquered the beauty industry before the age of 30, we can't wait to see what she does in the next 10 years.
SPOTLIGHT: Sweet vinyl by DREAMOUR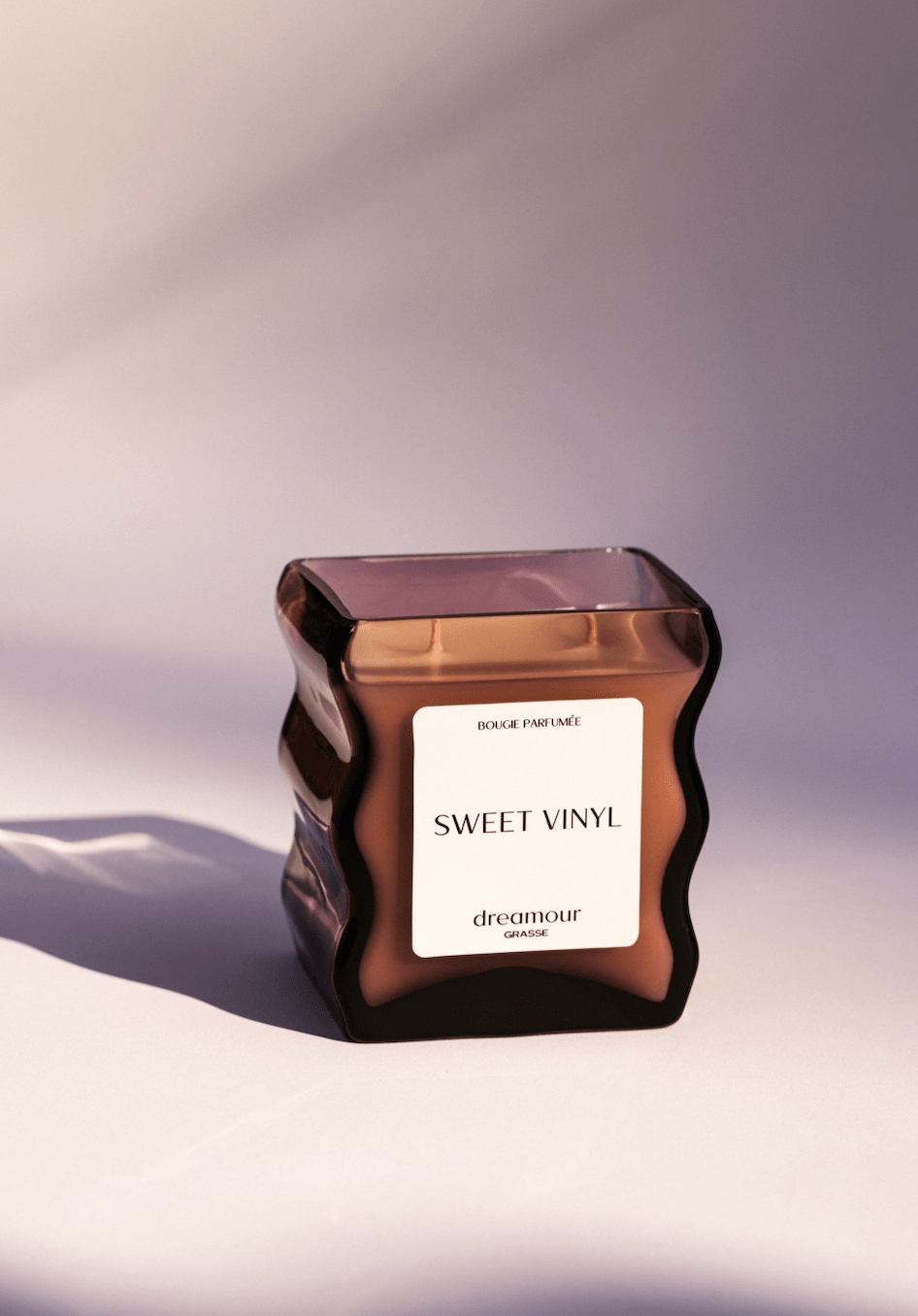 What happens when two immensely talented visionaries come together to create elegance and ingenuity in a sculptural glass fragranced candle? Dreamour. That is the long and short version of how Dreamour was created. Founded by Karissa Rowe and Neal Klotsman in late September 2022, Dreamour was founded with the goal of creating a luxury fragrance brand that operates at the intersection of functional art in the candle market space.
Rowe, a Parsons School of Design graduate, set out to fill the niche of integrating design in the candle marketplace. Unlike most candle vessels that are mass-produced, Dreamour's founders desired to prioritize the artisanal craftsmanship of glass in their production processes of the sculptural glass designs. This resulted in a long timeline of sourcing the globe for talented glass artisans who could transform a sketch into a functional and sophisticated candle vessel. Each and every candle vessel is hand-blown, inherently resulting in a one-of-a-kind product and unique experience for the consumer. These functional fragrant candles also act as a piece of décor due to its sculptural and alluring appearance.
Sweet Vinyl, Dreamour's first candle scent, fills the room with musky & leathery notes combined with earthy notes of vetiver and cypriol, topped with a citrus touch of bergamot and mandarin. The founders worked with master perfumers in Grasse, France, to create a scent that invoked notes of memorable moments, emphasizing high quality ingredients in the fragrances in a soy wax blend. This resulted in candles that consist of clean ingredients, a vegan formula, and is entirely cruelty-free.
It is the personification of the glass blowers' spirit, the heart of Grasse imprisoned in a bottle, and the narrative of two visionaries that sets Dreamour at the top of the candle market pedestal. Dreamour embodies the sophistication and savior-faire French perfumery as a luxury brand, while being a NYC based brand. Dreamour is currently stocked at Patron of the New in New York, along with other major designer luxury known brands. Rowe and Klotsman are currently expanding their production lines and will drop new fragrances and designs in early 2023. Don't expect anything ordinary with Dreamour, as they will continue to bring a unique perspective to the marketplace of home fragrances.
To find out more about Dreamour and their newest releases, you may visit the business's website dreamour.com or follow the company via its Instagram handle @dreamourshop.