How Chase Campbell's Brand 'Size Up' Changed The Entire Scenario Of The Supplement And Apparel Industry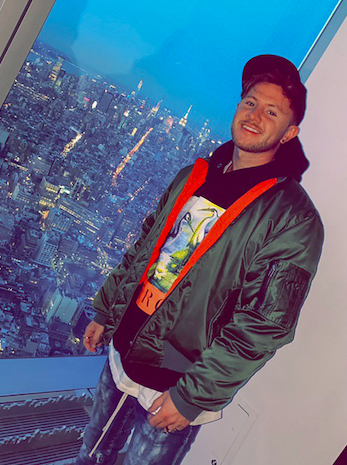 Staying fit and living a healthy lifestyle is not an option but a choice. Fitness goals have become primary in people's lives and they usually love to invest in anything and everything to be in that perfect shape. The gym-goers in general mostly require supplements to maintain their fitness level and today, the supplement industry has been plagued with fake and low-quality products. To bring an end to it, Chase Campbell established his own supplement and apparel brand named Size Up which offers the best and genuine supplement and fitness products to the masses at a very reasonable price. Founded in 2011, Chase's journey was an uphill task. In his early years, Campbell's family became homeless after his father lost his job due to it being outsourced overseas.
With the responsibility coming entirely on Chase's shoulders, he decided to sell supplements which were a requirement for all the people working out then. He understood the concept of drug dealing and implemented the idea in the legal field to make more money. By selling genuine and authentic supplements below the market price, he built a loyal base of customers which then led Chase to sell his products online on eBay and Amazon where he got more than 100 orders in a single day. However, to curb the commission charged by the marketplace, he started his own website followed by a physical store. To attract more customers, Campbell had a grand opening of Size Up which offered free merchandise and tees to the ones who made it to the launch.
This not only promoted the brand's goodwill but also made people aware of the authentic products at a reasonable rate. With its strong online presence, Size Up operates 8 stores across the USA out of which 6 are in Michigan and one each in Florida and Las Vegas. Right from BCAA to pre-workouts and fat burners to other fitness equipment, the store offers everything to its consumers. The only thing that keeps Size Up ahead than everyone is its excellent customer support. Besides fitness products, the brand also offers the best apparels to its customers. Building an empire of his own, Chase Campbell has truly made Size Up a one-stop destination for all the fitness freaks across the USA.
Chillout Radio is Offering the Best Music to Relax to

Research by Stanford music just proved that listening to music can relieve stress; that's what Chillout Radio does. With the schedule everyone is keeping, working nine to five, life becomes stressful. People visit doctors and therapists to relieve their stress.
Music is also an excellent way to get rid of all the stress, and now there is a research to prove it. According to the study, listening to music between 8 to 5 hertz can cause relaxation and can also induce sleep.
Chillout Radio is a great place to listen to the music of your choice. One can download the app on android as well as the iPhone. It has different types of music for everyone.
Students who want to get into a study zone can listen to music that increases their focus. People who are at a spa can also use Chillout Radio and listen to spa music. There is chillout music for work as well. It will make work more fun and exciting.
The motto of Chillout Music is to let go of the stress and worries and do what makes you happy. That's why they offer music as a soothing balm. Their music and articles are highly curated and have the finest details that benefit the visitors.
Chillout Radio station is the best place to visit after a stressful day. One can just turn up the volume and enjoy a chill session. A visitor can enjoy the chillout radio services in the UK, New Zealand, United States, Canada, and Australia only. There is a mobile-friendly app of Chillout Radio, and one can get it from play store or apple store easily.