Insider's Look Ashlynn Skyy: A Self-Made Social Media Star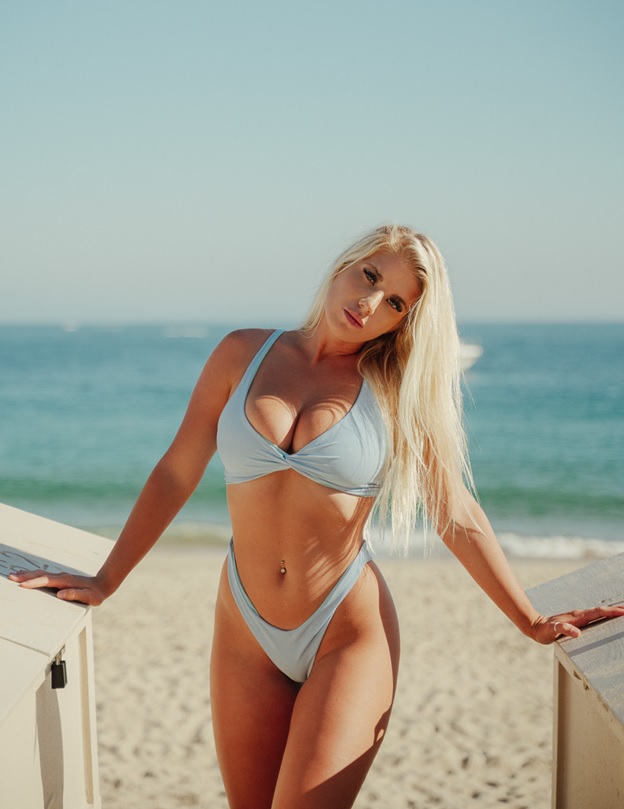 Ashlynn, like every 26 year old girl, was constantly enthralled by the charm of Instagram as she built her way through her early twenties and navigated her way through the world. The first time she encountered social media was as a child, and it was a completely new experience for her. Ashlynn Skyy did not realize that one day she was going to have this career and passion, but it ended up being the case.
 Ashlynn Skyy is passionate about bikini modeling, which she absolutely adores. While many of us think that becoming a model can be accomplished with just a pretty face, Skyy proved that there are many skills involved in achieving this. The world of modeling is a professional one, and a lot of hard work goes into making sure that it is recognized by those who employ models.
A person must work hard to reach the goals they have set for themselves in life, just as they would in any other profession. As a result of dedication and sincerity, this requires going above and beyond what is expected.
Ashlynn is distinguished from the rest of the models in the industry by her genuineness, honesty, and trustworthiness. Although she may have been hurt in the industry and became a fool by many people, Ashlynn's mantra remains the same: to act with kindness and honesty no matter what.
In order to complete the decision to relocate far from all the comforts and familiarity of home, friends, and family, to move to a place that has a brighter future, one must devote themselves to their job and make everything worthwhile. Skyy possesses all of those qualities without a doubt.
She moved to Newport Beach after leaving her home in the Inland Empire.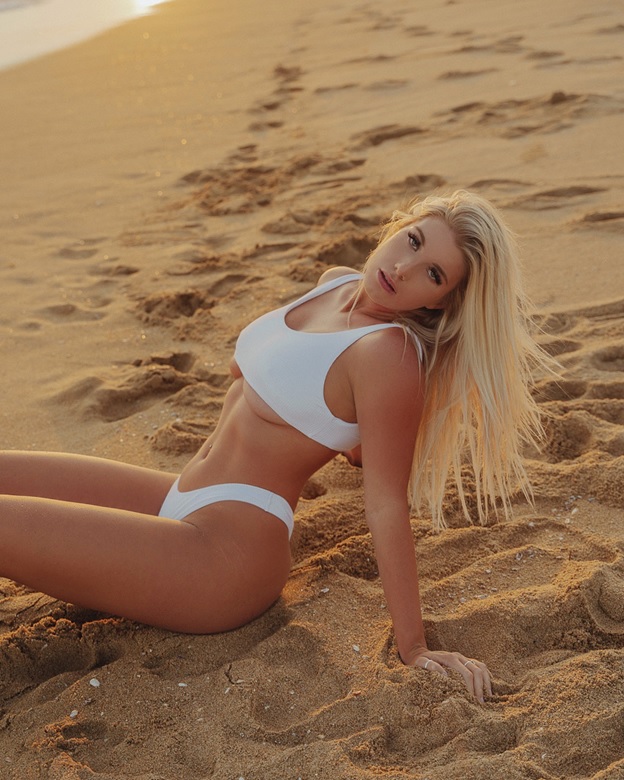 Like many other models in the industry, she loves to tan. According to her, during bikini shoots the body is given a natural look that gives natural effects.
One of the challenges she faces in the industry is being compared to every other model. Due to the fact that every individual is different, each individual can be considered unique in their own way.
"I am one of a kind, there isn't one other person in the world exactly like me." She stated.
 Ashley has decided to become a bikini model and has put in all the effort required to be the best. In order to maintain a healthy body, Skyy consumes the right diet, exercises when necessary, and drinks plenty of water so that she can give her best performance in front of the camera.
As a bikini model, Skyy follows an extremely strict regime and makes sure she indulges barely at all to stay fit. While staying away from your favorite food is a big sacrifice, her commitment is evident in her photo shoot where she looks phenomenal in a bikini, just like any top model would.
Ashlynn's perfect body tone makes her one of the best options for any brand trying to showcase their bikini products in an aesthetic fashion.
It is difficult to become one of these bikini models, which is why they perform a very difficult job. The reason that it is so challenging for most people is that it is basically living without the food they love, and doing workouts they despise with all their hearts. But nothing is all that matters in the end, right?
In Ashlynn's portfolio it is evident that she has the type of model portfolio that should make any model hiring agency want to consider her. We are certain that she is going to be the one bikini model you have been looking for to represent your brand!
For more information:
Twitter @ashlynnnskyyy
TikTok @ashlynnskyy
Instagram @ashlynnskyy
Sustainable Animal Management Practices for Small Farms: Minimizing Environmental Impact and Maximizing Profits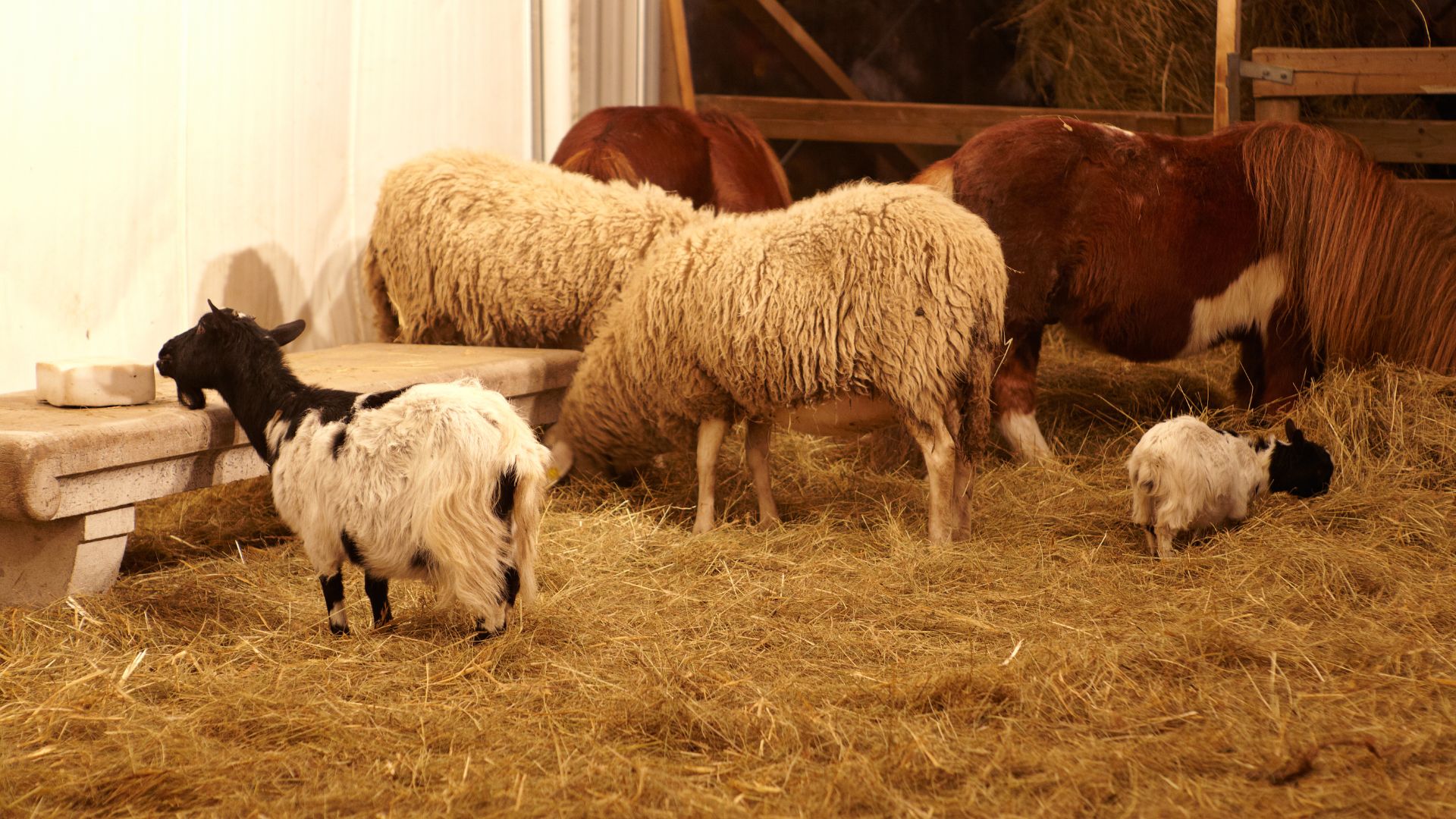 Small farms play a vital role in our food system, providing locally-grown produce and meat to communities across the country. However, these farms face challenges in terms of sustainable animal management, as they may lack the resources and infrastructure of larger operations. In this article, we will discuss some sustainable animal management practices that small farms can adopt to minimize their environmental impact and maximize their profits.
Implementing a Rotational Grazing System
One issue that small farms may face is managing the waste produced by their livestock. Manure and other by-products can contribute to air and water pollution if not properly managed. One strategy for addressing this issue is to implement a rotational grazing system. This involves dividing a pasture into several smaller sections and rotating the livestock between them. This allows the animals to graze on fresh grass while also allowing the grass to recover and reducing the amount of manure in any one area. The benefits of this system include improved soil health, increased biodiversity, and reduced need for chemical fertilizers.
Using Natural Remedies and Preventative Measures
Another sustainable animal management practice for small farms is to use natural remedies and preventative measures to reduce the need for antibiotics and other medications. For example, probiotics and essential oils can be used to promote gut health in livestock, while natural fly repellents can help keep pests at bay. This not only reduces the use of antibiotics and other chemicals but can also improve the overall health and well-being of the animals. Moreover, animals that are raised naturally and without the use of antibiotics or growth hormones may fetch higher prices in the market.
Investing in Efficient Infrastructure
In terms of infrastructure, small farms can benefit from investing in equipment and facilities that are designed to be efficient and low impact. For example, a cattle gate system can be used to manage the movement of livestock between pastures without the need for manual labor. This system involves a series of gates and fences that can be opened and closed remotely, allowing the farmer to easily move the animals to different areas of the farm. This reduces the amount of time and energy required to manage the livestock, while also minimizing the risk of injury to both the animals and the farmer. Similarly, investing in solar-powered water pumps, energy-efficient lighting, and eco-friendly insulation can help reduce the farm's energy costs and carbon footprint.
Collaborating with Other Farmers
Small farmers can also benefit from networking with other farmers and industry professionals to share knowledge and resources. This can include attending workshops and conferences, joining farmer networks and associations, and connecting with other farmers online. By working together and sharing ideas, small farmers can learn from each other and develop sustainable animal management practices that are tailored to their specific needs and resources. Moreover, collaborating with other farmers can help small farms gain access to new markets, shared resources such as equipment, and increased bargaining power with suppliers and buyers.
Conclusion
In conclusion, sustainable animal management practices are crucial for small farms to minimize their environmental impact and maximize their profits. By implementing strategies such as rotational grazing, natural remedies, efficient infrastructure, and networking with other farmers, small farms can thrive while also contributing to a more sustainable and resilient food system. And with tools like the cattle gate system, small farmers can manage their livestock with ease and efficiency, allowing them to focus on what really matters: growing healthy, happy animals and producing high-quality, locally grown food.