NYC Fans Say Kim Kardashian Using Plastic Surgery In Order to Be Beyonce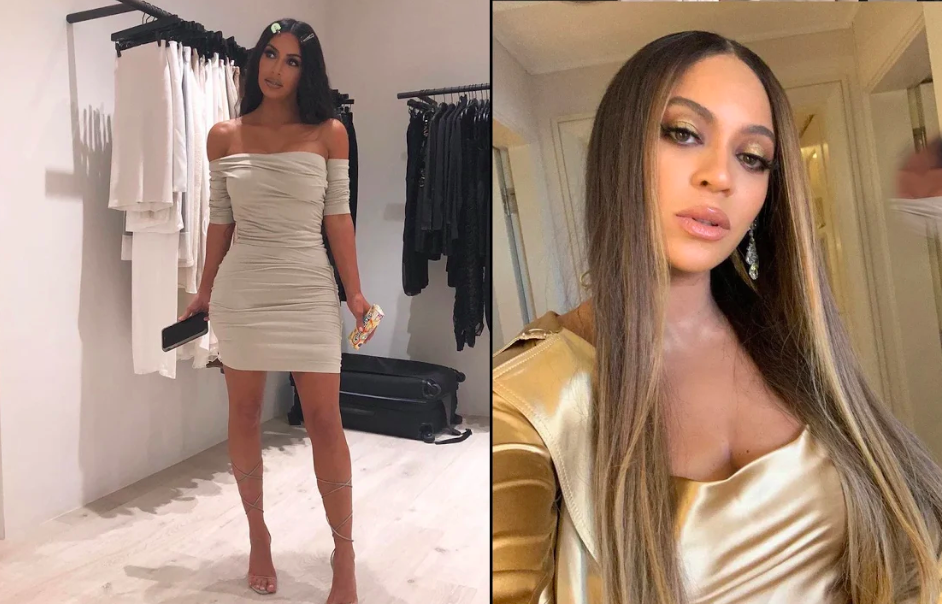 It's not unusual that Kim Kardashian is appearing in headlines, but the reason for her name showing up this time is definitely strange. In August, users on Twitter and other social media sites began commenting on Kim's appearance, which they say has been intentionally changed to imitate the iconic look of music superstar Beyonce. In particular, fans of both women are focused on Kim's face, which shows possible signs of plastic surgery to the pop culture icon's nose and lips. These changes can easily be seen when one compared newer photos from the fashion queen's Instagram to her older posts – many fans have commented on the apparent changes to her physical appearance. 
Is It Definitely Plastic Surgery?
As is, it's unclear whether or not Kim has actually had work done, as neither she nor any plastic surgeons have confirmed any procedures. So is it just a change in makeup styling? A darker setting on the tanning bed? Or has the 37 year old Kardashian actually had work done to resemble music icon Beyonce? It's difficult to find any proof, but when one looks at side by side comparisons, it becomes easier to understand fan's perspectives that the look is purposeful by Kim K. Whether or not this is the case, it's pretty suspicious when Kim copies looks that Beyonce posts on her social media, or debuts at red carpet events. 
If it is plastic surgery, then it was likely done by either a Los Angeles or New York City surgeon. One glance at the work of a doctor from these two competitive markets, would prove why. A doctor like Dr. Sachin Shridharani, an NYC plastic surgery specialist, only serves the best.   This includes Hollywood A-listers who can afford it and 'heavy-pocketed' individuals usually, though he's not tied to Kim Kardashian. 
While other cities have higher numbers of plastic surgeons, the quality level is higher in these two metropolitan centers, due to a high number of celebrity and upper class clientele. Kim has admitted to having fillers and Botox put in, so what's a small rhinoplasty or collagen implant after those procedures?  
On the other end of the totem pole, there are many women heading to the Dominican Republic for 'back door' plastic surgery jobs. However, the risk of infections and other medical issues are extremely high in the country. However, the so-called "Chapiadoras" are taking full advantage of the usage of a renovated body (see rap video of enhanced Dominican girls).
But What's the Gain?
So, assuming that Kim is purposefully imitating Beyonce, why would she do that? Well, the answer could be a lot of things, but the most likely one would be brand appropriation. Similar to cultural appropriation, brand appropriation is when someone takes aspects of a brand and incorporates that into their own. Kim K copying Beyonce's outfits and looks is if anything, a blatant appropriation of Beyonce's iconic fashion. The music artist's looks are certifiably iconic, and Kim, reasonably, would probably like to profit off of that recognizability. 
Again, this is all postulation, but there is some evidence to support these theories. Check out these images showing the striking similarities between Kim's 2015 Met Gala gown to one worn by Beyonce at an earlier point in time: 
That's basically the same dress, and Beyonce wore it first. Kim responded directly to accusations that she was trying to steal Beyonce's look, claiming that her outfit was instead an homage to Cher. Similarly, she also spoke outright against similar claims made by publications like People and E News that accused Kim's bondage-themed dress being a ripoff of a look worn in 2011. However, Kim responded swiftly on her app and website, where she wrote that she wasn't basing her look on Beyonce, but instead on Versace model Helene Christensen, who originally wore the dress in 1992. The dress was also famously worn by Donatella Versace, so Beyonce fans can't really say Beyonce owns the look. However, next to the other examples of Kim K borrowing Beyonce's looks, of which there are many, it certainly begins to look pretty suspicious when Kim borrows the same outfits and makeup over and over again.
Suspicions Aside, It's Happened Before
This isn't the first time that Kim has been accused of "borrowing" the fashion and outfits of other celebrities. In March, an article was published which showed off the many times that Kim has worn the looks of Naomi Campbell. It seems pretty clear at this point that Kim understands that the best way to look good is to look at other good-looking people and see what they're wearing. Whether or not you're a fan of the famed Kardashian sister, Kim has proven herself to be a wily businesswoman, and is certainly unafraid of being accused of fashion theft, or even using plastic surgery to alter her appearance. 
Music Driven by Life Experiences – Di Higrade's Unique Style and Vibe
Parents, a word synonymous to protectors and guardians, are people who go to the greatest extent to provide their children with a stable ad beautiful life. Imagining a life without the guidance of parents seems impossible. However, not everyone is as lucky and are deprived of this form of love and compassion. 
Parents serve as the light during the dark days and guide their children towards the right direction in life. They teach their little ones the ways of differentiating between things that are good for them and things that might lead them to destruction. Di Higrade was one of those kids who had to spend a life without having someone to guide him. When it was time to make big life decisions, he had to take the risk and decide for himself. 
Adding to his problems was the pressure of the society, to work and establish a stable future. Being surrounded by all these problems forced him to search for an escape, which he did. He found his comfort and his escape in the form of music.
GETTING PAST A TOUGH CHILDHOOD
Roger Akutcha, better known as Di Higrade, was born on August 26, 1989, in Tema, Ghana. His childhood wasn't like what one usually dreams of, and life was hard on him from the start. The child lost his parents at a very young age and had to look after himself from the very beginning. Growing up alone in a developing country was not easy on the boy. Di Higrade had to face every single problem, from health to shelter, all on his own, as he had no one to offer him a helping hand. Before the child could even dream about good days,  he found himself crushed under the brutal burdens presented by his life.
FINDING COMFORT IN MUSIC
Even when life was harsh and all Di Higrade could see was darkness, the ray of hope for the boy was music. Clinging on to his silver lining, Di Higrade lost all his worries and troubles whenever he stepped into his music world. He spent elaborate hours all by himself just listening to music, singing along, and humming to the beautiful tunes. His fondest memories include listening to Bob Marley, Vybz Kartel, Movado, Shaggy, Sean Paul, and many others. Di Higrade was more than often alone in times of need, and he found that it was only music that helped him move forward.
Soon, he turned to writing and composing his own music. After dedicating a great deal of time coming up with something extraordinary, Di Higrade finally created a masterpiece. At the time, he was just ten years old! The boy performed his song for his friends, who helped him realize that music to him was much more than just comfort; it was his passion. Di Higrade came back home, feeling victorious and accomplished for then he knew music was a part of him and he wanted to keep that piece alive by sharing it with the rest of the world. 
STEPPING IN THE MUSIC INDUSTRY
Now that he had a clear vision as to what he wanted to do, the rest just flowed. Di Higrade decided to craft music pieces by fusing the Afrobeat and Dancehall genre. Drawing inspiration from the artists he listened to and his life experiences, the artist began working on his craft. The artist believes that music might be something personal, but it is also something that the whole world can relate to, which is why he uses his tunes and lyrics to bring his experiences and emotion under music in a big way. His songs are like a tribute to his life but are something everyone can relate to.
His singles gained immense recognition throughout the world and were loved and admired by thousands that helped him earning significant traction. 2015, gave the world Di Higrade's first single, Hello To My Lover, that was acronym HTML. The song is a narration of emotion and heartache, for everyone who years of seeing their lover. 
The Christmas of 2016 brought two party rocker singles, named, 'Obsession,' and 'Party Time.' Three other tracks, 90's, Prove Dem Wrong, and Enemies, were released the same year. His unique voice and the moving music helped him earn a stream of admirers.
A TECH JUNKIE
Apart from being so exceptionally well at creating music, Di Higrade realized that he needed a second option as well. From the age of 17, Di Higrade had been repairing computers at a shop. He instantly decided not to let the skill go to waste and instead use it for the better.
Soon after he had released his first single, Di Higrade joined the Business Information Technology Undergraduate Program at NCC Education UK. Upon finishing the program, he got admitted to acquiring top IT Certifications three years later, in 2018. Di Higrade finished several IT Certifications, which included; Cisco Certified Network Associate Routing and Switching (CCNA), Microsoft Certified Solutions Associate (MCSA), CompTIA A+, and CompTIA security+. He worked hard in polishing his skills and soon earned a reputable name in the IT sector.
AN ARTIST, HUMANITARIAN, AND AN INSPIRATION
Having to face the cruelties of life made Di Higrade a humble human. Knowing the difficulties a person has to face in poverty, his heart grieves for the poor. He says, 'Can you imagine what it's like not to have enough food to eat and go to bed hungry at night? Poverty is not a joke.'
After spending so much time in shaping himself, today, Di Higrade is a fitness model, musical artist, a technician and, serving the US Military. But most of all, he is an inspiration for all those who need a little push and courage to move forward with their lives and take their passions to greater heights!