People Confused about giant breast balloons on April Fools' Day London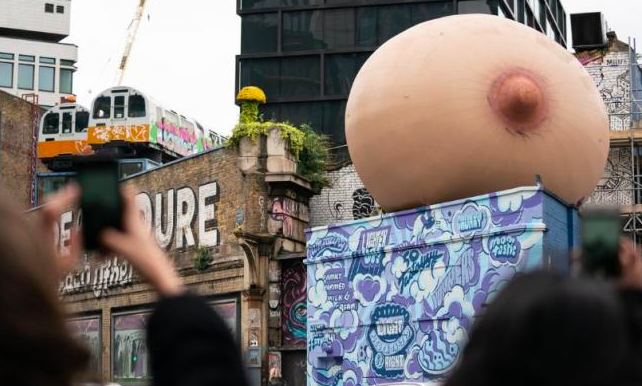 LONDON – Last Sunday, four giant inflatable balloons were displayed on rooftops as part of UK's Mothering Sunday Celebration although its April Fools' day. This was in a bid to promote breastfeeding and pumping in public. This act has sparked online reactions as it wasn't taken as a joke worldwide.
The breastfeeding and public pumping campaign was launched by Elvie and tagged #FreetheFeed. Elvie is a smart technology company for women and claimed the campaign is aimed at making women feel comfortable and confident while nursing their child anytime, anywhere.
According to Elvie's CEO, Tania Boler, they were expecting the reactions towards the inflatable breasts but still went ahead to ensure no one sees nursing mothers who breastfeed or pump as fools.
Recently, a lot of headlines have encouraged women to cover up while nursing in public. Statistic results from a survey conducted by law firm Slater and Gordon have shown about 33% of nursing mothers can only pump in the restroom while at work while about 50% of nursing mothers in a five year study time could only pump in staff rooms, at their desk or even in the car. This is a massive pointer towards the absence of workplace support for nursing mothers.
Because of this difficulty nursing mothers face, about 33% of surveyed women reported having anxiety, milk supply issues, and infections. And because of these problems and others, up to 30% of women stop breastfeeding earlier than they would have preferred.
According to the United Kingdom's employment law, firms are expected to provide a resting place for nursing mothers although the law doesn't include having paid breaks for breastfeeding or pumping milk.
The #FreetheFeed campaign's inflatables appeared at four points namely Tanja's roof in London East, Ely's Yard in Brick Lane, Neutral on Colombia Road and Huntingdon Estate, Shoreditch.
The campaign organizers sincerely hope the campaign will spark positive reactions towards breastfeeding and public pumping.
Beats and Rhymes Played an Important Role in Senegalese Politics This Year
SENEGAL, AFRICA – Hip Hop, Beats and Rhymes have become the language of youth in the politics of Senegal. The campaigns that took place last month, for presidential elections, witnessed a huge involvement of hip hop artists and rap beats. And the reason for that is Demographics.
The average age of Senegal person is around 19 years. And this age group comprises of mostly the rappers. In the last elections of 2012, country's largest social movement took place. Rappers were among the major founders of this social movement. That is the reason why this year's election also includes a lot of rappers. All the leading candidates are running their campaigns with at least one rapper by their side.
One of the professors at Vassar College, Zachariah Mampilly, shares, "Many young people turn to hip-hop artists as being kind of the voice of the streets and providing them with a way to think about politics. Especially in the most recent presidential election, the use of rappers was a remarkably cynical attempt by these politicians to gain popularity with youth."
Hip Hop is being used as a powerful medium to influence the youth. And this kind of power is not just limited to politics.
Journal Rappé, a newscast for people of Senegal, raps the news to the beat. It does not produce any new information. Rather, it picks the news that is already shared on televisions and mix it with a taste of music to reach the youth in an entertaining manner. Initially started out through YouTube, it soon caught the attention of mainstream media, just with its talent to attract wide number of netizens. And that shows how important beats have become to the youth of Senegal.