Review Time: Does EngagementBoost.com Work? Let's Find Out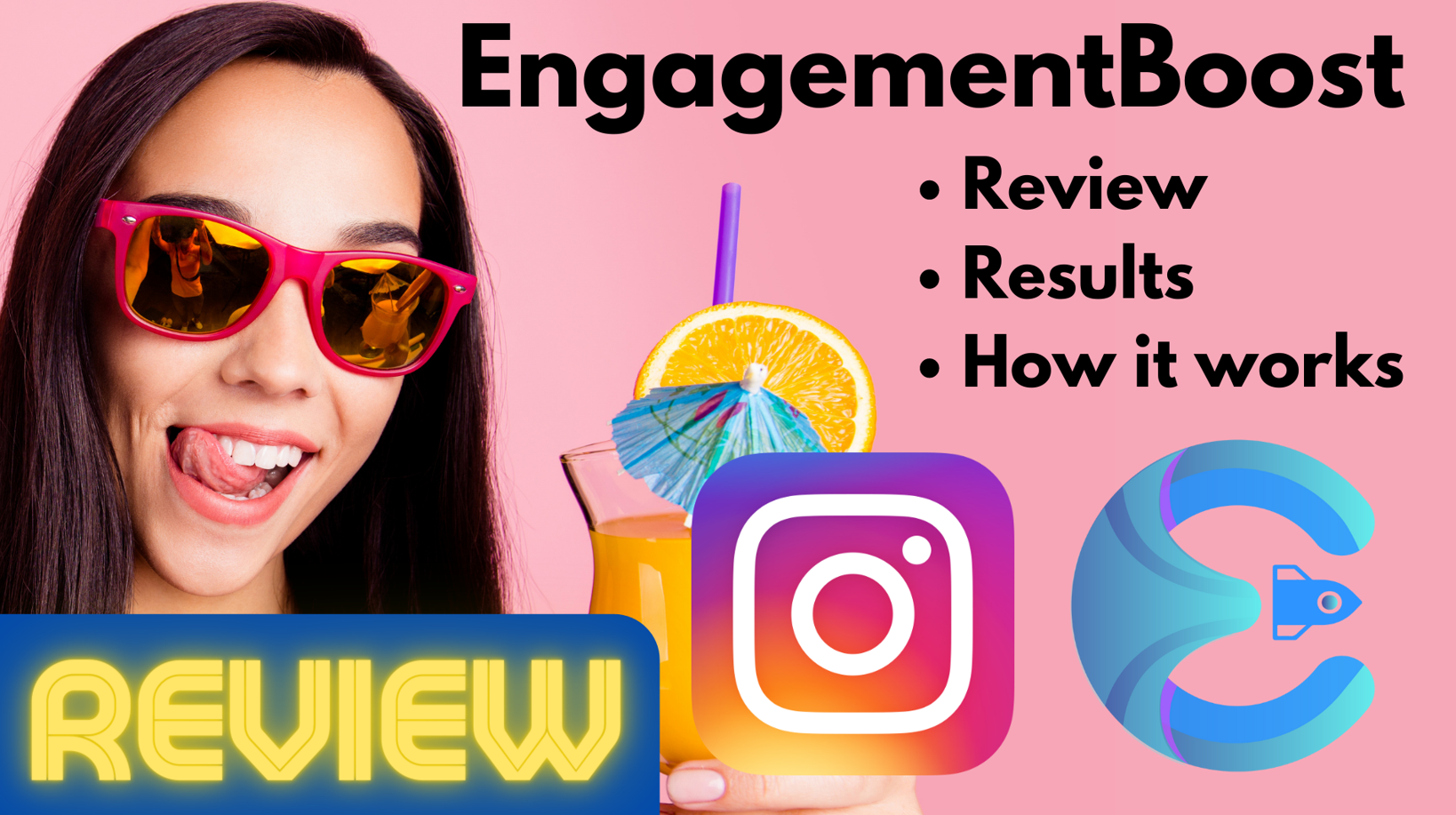 Engagement Boost is a company that helps grow Instagram accounts with real followers and builds an active online presence over time. 
Growing an Instagram account has never been more important. It enables you to reach a large number of people, engage with people with similar interests as well as advertise your business. The larger the following the more successful your goals are. With a lot of competition from both large and small brands, It has become increasingly difficult to grow a large following manually thus people have begun turning to third-party companies to help them grow their Instagram following.
Most of these companies are scams. Instagram growth companies come and go, their software stops working, they run their client's accounts with fake followers and bots, fail to do adequate consulting on clients' needs and desires for their accounts, and fail to deliver on their promises. It is therefore important to carefully narrow down which companies are scams and which are legit.
When choosing a growth solution for your Instagram account, it is important to choose a team that you can trust, a team that does its research and knows exactly how to cater to your needs. A company that cares and can deliver the best results while keeping your account safe from fake followers and bots. 
What Is Engagement Boost?
Engagement Boost is one of the only working Instagram growth solutions that help grow Instagram accounts anywhere from 1,000-10,000 real and targeted followers every month. Engagement Boost helps clients grow likes, followers, and comments organically without the use of bots and fake followers. 
Engagement Boost helps connect clients with people in the same location or who are interested in the same things i.e. books, health products, lifestyle, politics, and beauty products, etc. this can be a great way to find a community of people who are interested in the same things you are or a market for your business. 
How It Works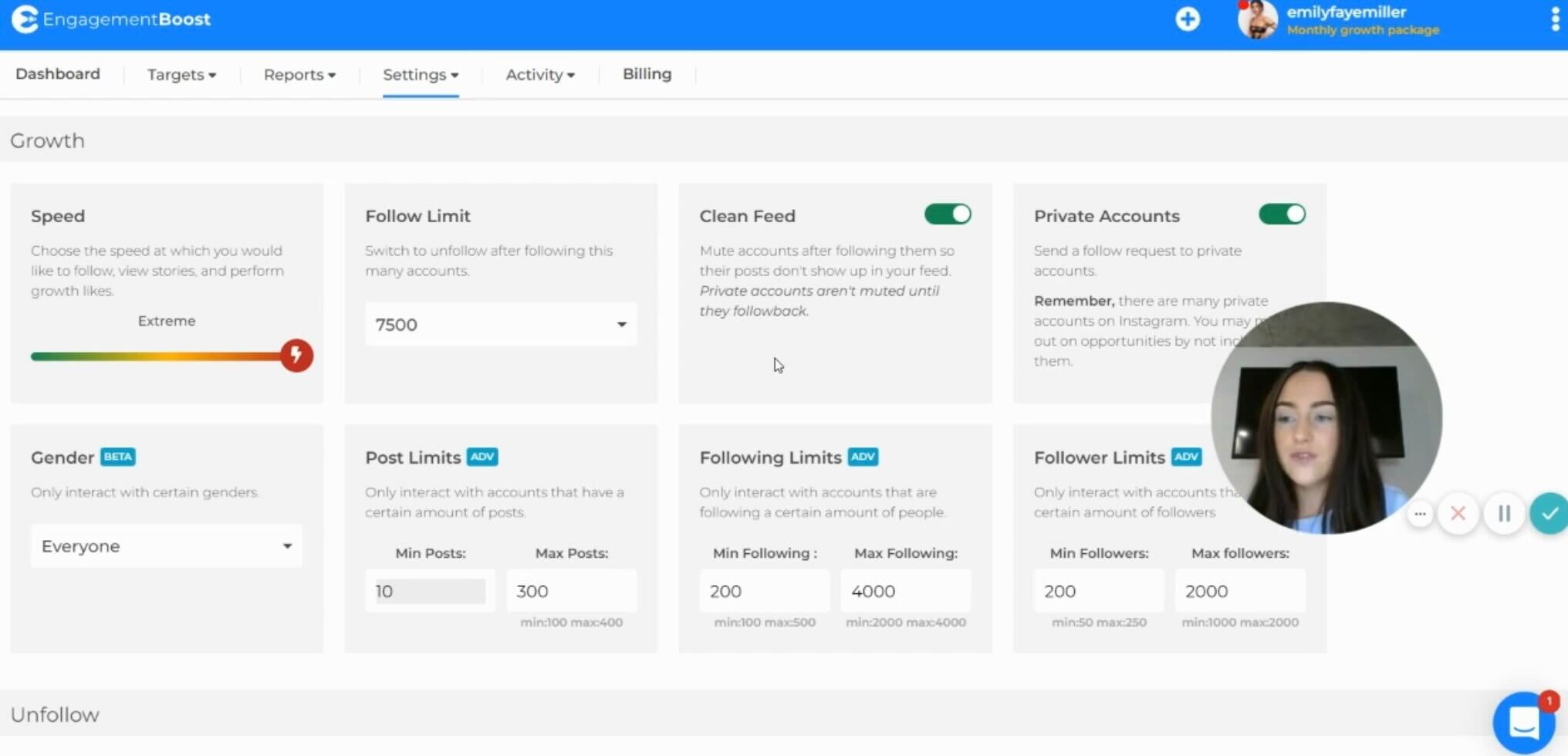 Engagement Boost connects the user to other Instagram users who are interested in their kind of content and engages them automatically drawing their attention to the user's account boosting their followers, likes, views, and comments.
It works by automatically engaging with other Instagram users in a particular location or niche that the user selects.
Step 1: Select your target audience. The client selects target users by interest, specific locations, and similar accounts. The client also whitelists and blacklists certain users to ensure privacy and protection of their account information.
Step 2: The engagement app engages you with potential followers. The client has control of engagement settings and engages with 100 percent guaranteed real followers, no bots, or fake followers. These are targeted fans that are guaranteed to engage back. 
Step 3: 24/7 growth with analytics and tracking. The client receives detailed monthly reports on their progress, results improve each month by the use of a quick learning AI and the client has to make new targets for the new month based on the reports.
What Makes It Different?
Engagement Boost prides itself in being an honest company run by real people that you can speak to and connect with on social media. 
Engagement Boost does not use fake engagement, automation, or bots. Engagement Boost helps clients grow their Instagram accounts by hand and helps them get real engagement with real people. 
Why You Should Choose Engagement Boost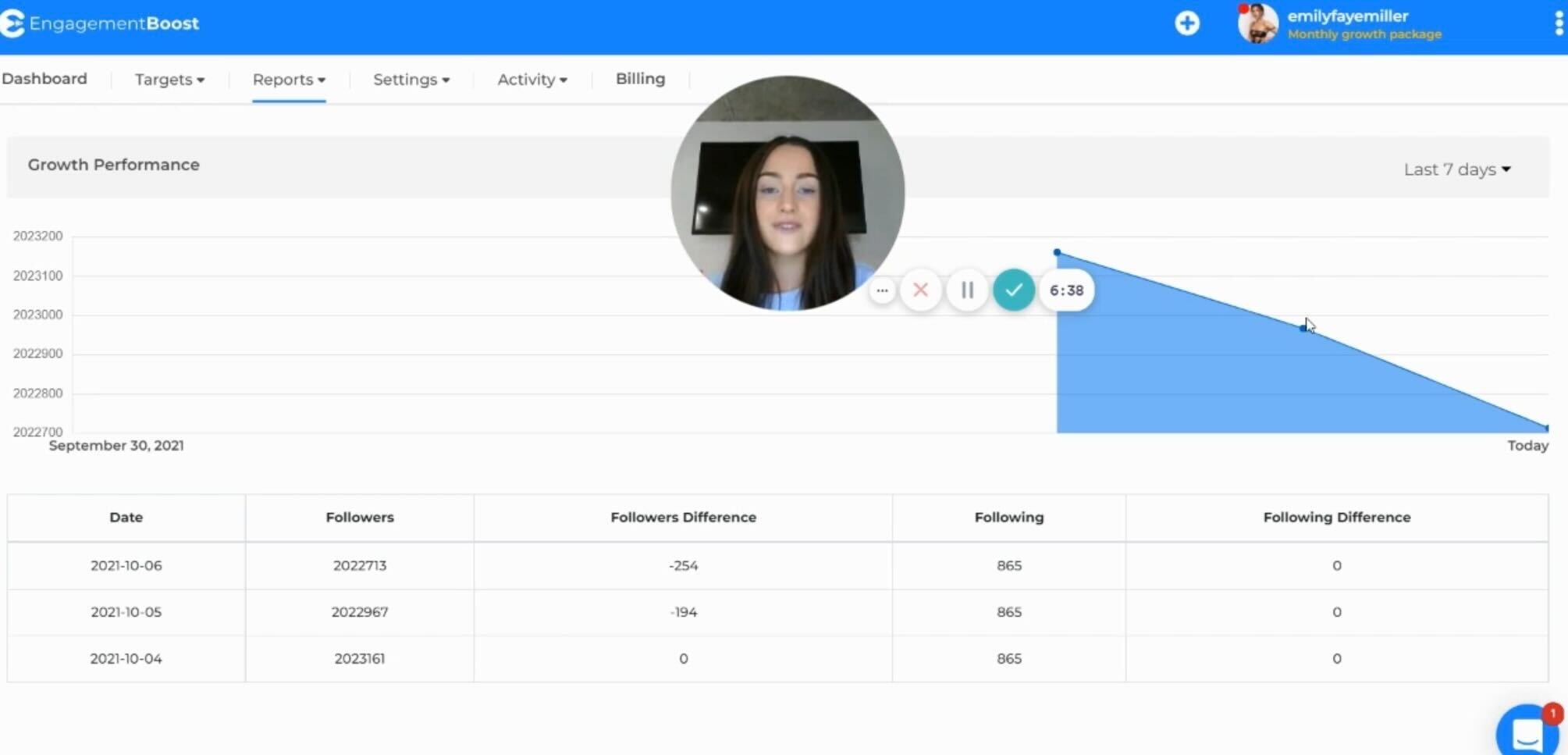 Engagement Boost is a personal growth assistant that helps you grow a strong online presence and connects you to real people on Instagram. It enables you to engage constantly with your many followers even as you gain more, giving you that personal touch with your many followers online. 
Every experience is personalized and a significant amount of effort is put into your success. Although Engagement Boost has tens of thousands of clients, every client has a team that helps them achieve their goals. They offer personalized services as they understand every client is different and has different goals.
Engagement Boost provides you with constant support and updates. Engagement Boost understands that maintaining a strong online presence and keeping track of your progress can be a lot of work thus providing you with the assistance you need as well as updates on what you have done and what needs to be done to achieve your goals. 
Engagement Boost provides you with detailed reports every month so you can track your progress and adjust your target and goals for the following month to make sure that you are always improving.
Engagement Boost is trusted by thousands of Instagram users all over America and Australia. It is essential for anyone wanting to grow a strong online presence and get real likes, followers, and comments from real people.
Website: https://www.engagementboost.com/?fbclid=IwAR0f6mF9f8vz9ECB6pLm_U4xnWX3cIGR3_E1obi7Zlc11j4mWNscKUXUlgY 
Outsourcing Front-End Development Services: Insider's Guide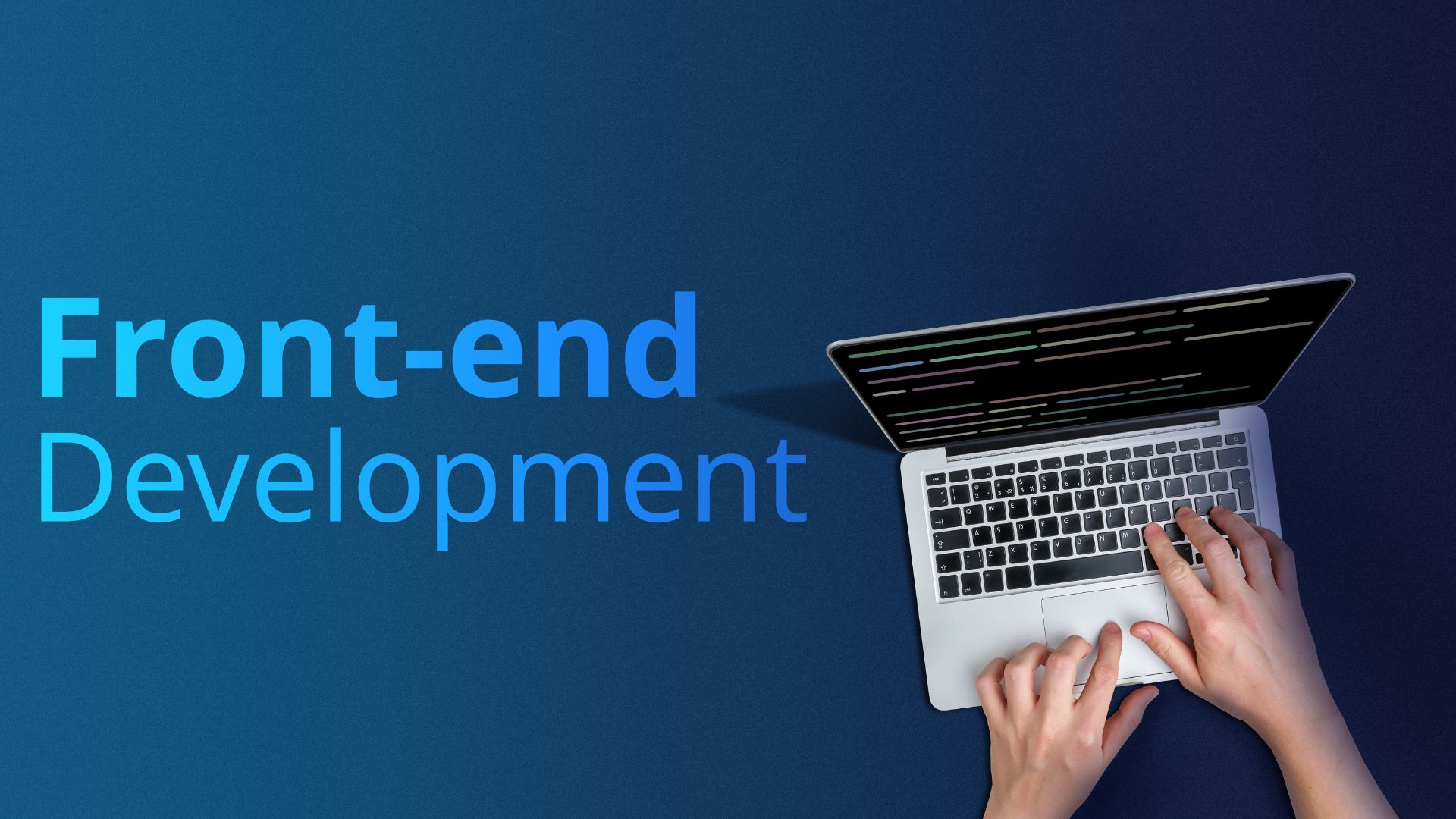 Outsourcing front-end development services has become increasingly popular in recent years as companies look to access specialized skills and expertise, and save on labor costs. According to the Global Outsourcing Survey made by Deloitte, the top reasons for outsourcing front-end development are to access specialized skills (57%), cost savings (50%), and to free up internal resources (49%).
This article will cover some frequently asked questions (FAQs) in a Q&A way to help you make an informed decision when considering outsourcing front-end development services. We'll address concerns such as how to find the right vendor, how to communicate effectively, and how to manage the project to ensure success. By the end of this article, you'll have a better understanding of the considerations and best practices for outsourcing front-end development services.
What is front-end development?
Front-end development, or client-side development, refers to designing and implementing a website's or application's user interface (UI). It involves creating the layout, visual design, and interactive features that users interact with when they visit a website or use an app.
Front-end developers use a variety of programming languages and technologies to build the UI, including HTML, CSS, and JavaScript. They also need to have a strong understanding of user experience (UX) design principles and be able to create visually appealing and intuitive interfaces that meet the needs of the target audience.
Front-end development plays a crucial role in the user experience of a website or application, and it's an essential part of any digital product. The work of a front-end developer often intersects with that of a UX designer and a back-end developer.
Why should I consider outsourcing front-end development services?
As mentioned in the intro, there are several reasons why outsourcing front-end development services may be an excellent option for your company. One of the main reasons is cost savings. Outsourcing is often more cost-effective than hiring in-house developers, especially if you only need front-end development services for a specific project. 
Also, a company can benefit from a vendor's specialized skills and experience and the ability to scale its development resources as needed. This can be especially useful for companies with fluctuating project demands or in need to quickly ramp up or down their development efforts.  
In addition, outsourcing front-end development can allow a company to focus on its core competencies and improve the overall quality of the product, as well as save time by delegating the development work to a vendor. 
How do I find the right front-end development company to work with?
Finding the right front-end development company to work with is crucial for a successful project. Start by defining your project goals, timelines, and budget, and research potential vendors with experience in the technologies and frameworks relevant to your project. 
Review the company's portfolio and case studies to get a sense of their past work and the types of projects they have experience with. Glassdoor, Trustpilot, LinkedIn, GoodFirms or Clutch are some platforms to do this. Consider the company's culture and values. You can also request references and speak with past clients to get an idea of the company's track record and how well they handle challenges like yours. 
What should I consider when choosing a front-end development company?
There are several factors to consider when choosing a front-end development company. Technical skills and experience are crucial, as the company will be responsible for building and implementing the UI of your website or application. Check if the company has experience with the technologies and frameworks you need for your project.
Effective communication and collaboration are also essential. Verify that the vendor has a track record of working well with clients and can effectively communicate and collaborate with your team. Cultural fit is also important, as you will be working closely with the vendor for the duration of the project. It's a good idea to have a face-to-face or video call meeting to get a sense of the company's culture and see if it aligns with your own.
Finally, consider the company's pricing and business model. Make sure the company is transparent about its rates and fees and that they align with your budget. Also, consider whether the company offers flexible pricing options or packages that may be more suitable for your needs.
Once you've narrowed down your options, it's a good idea to request proposals from a few different vendors. This will allow you to compare and contrast their approaches and determine the best fit for your project. 
Bringing it all together
In summary, outsourcing front-end development services can be an easy, cost-effective, and efficient way to access specialized skills and expertise. By carefully considering factors such as technical skills, communication and collaboration abilities, cultural fit, pricing, and business model, you can find the right vendor to meet your needs and achieve success with your project.