The LA Chargers 'Charged' to Take the AFC West
Can the Los Angeles Chargers streal the AFC West away from the Kansas City Chiefs in the 2021-2022 season?
If you remember last season, the LA Chargers handed the Kansas City Chiefs a 38-21 loss on January 3rd.
This was one of just two losses for the recent Champs and back-to-back Super Bowl participants. The other came at the hands of Jon Gruden's Las Vegas Raiders, the black sheep of the AFC West.
The other game the Chargers played against the Chiefs went right down to the wire as well. In Week 2, the Chargers and their stud of a rookie QB took KC into overtime and lost 23-20.
One thing is for sure, even if the Chargers don't win the division this year, this is a team that is coming up in a big way.
Odds on the AFC West
The market from top bookmakers at Illinois opened with the betting lines showing the Kansas City Chiefs at -455; the LA Chargers at +525; the LV Raiders at +1400; and the Denver Broncos at +1500.
These lines showed that sportsbooks around the globe thought the Chargers were poised to be the second-best team in the AFC West and significantly more likely to win the division than the Raiders or Broncos.
But even though no announcements have been made, bookmakers believe that Aaron Rodgers will find his way to Mile High in 2021. So much so that the Denver Broncos have jumped the Chargers on the boards at most betting outlets and currently hold that No. 2 spot. The Broncos now have odds as short as +400 to win the west.
But how much will it matter? Even if Aaron Rodgers does move to Denver, the offensive line isn't great—rated by Pro Fantasy Football at No. 25 in the league—and Rodgers still doesn't have the most outstanding targets. Sure, the potential is there, and some experts are touting the Denver receiving corps as high as No. 6 in the NFL … but let's be honest, Cortland Sutton missed most of the season, and we are not sure what the Broncos will be getting back at this point. Then there are two highly touted young receivers in K.J. Hamler and Jerry Jeudy but what we have seen from them is just handfuls of dropped passes—or figurative handfuls, because they can't keep the ball in their hands.
As far as the O-lines are concerned, the Chargers look much better than Denver. Bryan Bulga is back and healthy and is continually graded at 75.0 or better. On top of Bulga being back to top form, the Chargers grabbed another former Green Bay big-man in Corey Linsley. This snapper was, in many eyes, the top free-agent center on the market.
The Chargers also have some solid back-ups on the line, namely Brenden James. The young guard needs to work on his run-blocking but is a solid pass protector, which is just what Justin Herbert needs when Oday Aboushi takes a breather or goes down with a stinger.
Although the Chargers are far from boasting the best offensive line in the league, they may have the most improved line in the entire NFL.
If the Chargers win the games they need and split wins with the KC Chiefs again; they could take the AFC West. After all, the LA Chargers are tied for the 3rd most manageable schedule in the league when the SOS is based on current season win projections—using the win/loss over/under totals for each team on the schedule instead of last season's record.
Will they actually win the AFC West? Probably not; the Chiefs are loaded. But hey, you never know. That said, I believe the Chargers are poised for a wild card berth in 2021-2022, and this team will continue to surprise with upset wins over teams that are better on paper.
What are the odds that the Chargers will get nine wins and make a solid run on the division but fall short to a 12-wins Chiefs squad? We will find out.
What is Adventure Sports Travel Insurance and Who Needs It?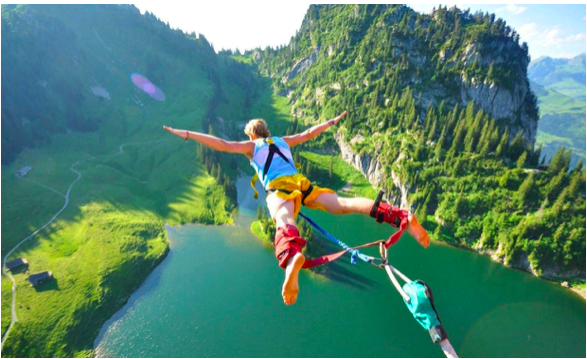 It isn't a surprise that odd things happen, especially during travel. And, when you're engaging in adventure sports or activities, you invite a lot of risks in your life. This is where you need to invest in adventure sports travel insurance. Why? It gives you a little backup when situations go out of control.
Life's unexpected events occur when we least expect them. No matter whether you're a travel freak or an athlete, you'll never wish to cancel a trip or call off adventurous sports participation. A travel insurance plan will cover you from all sides, saving your hospital charges and medical expenditure in a foreign country.
What is adventure sports travel insurance?
Adventure sports travel insurance saves you from extensive hospital bills when you are far away from your homeland. These sports travel insurance plans cover accidents, sickness, travel assistance, accidental deaths, and repatriation of remains, medical emergencies and evacuation, lost luggage, dental care, prescriptions, hospitalization, doctor visits, urgent care, and even COVID-19.
However, there're multiple policies- all of them are designed to protect you financially in a foreign land when things go awry.
Which sports are covered in sports travel insurance?
Various hazardous sports are played all over the world. Archery, swimming, golf, tennis, cross country, volleyball, track, cheerleading, fencing, karate, gymnastics, hockey, basketball, polo, soccer, ballet, rowing, polo, rugby, equestrian, and lacrosse are some of the sports that are included in sports insurance plans.
Besides, some insurers also offer coverage to extreme sports and high-risk activities like, paragliding, ice climbing, bungee jumping, parachuting, mountaineering, caving, snorkeling, fishing, scuba diving, running with the bulls, wind surfing, zip lining, hot air ballooning and skydiving- all of them ensuring medical protection.
Who needs sports insurance?
Sports can be either passion or a profession for you. Adventure sports insurance plans are generally purchased by sports fanatics, athletes, runners, players, and even adrenaline junkies. Getting severely injured while playing will not only ruin your future game or trip but will also cost you an arm a leg to get treated.
Sports medical coverage becomes exceptionally crucial when you are traveling outside your country or taking part in perilous activities. Be particular when choosing an insurance plan because not all may fit your needs. Most comprehensive travel plans can cover everything that you need. It's recommended to talk to your insurer before making a final call.
Any perks?
A lot! Sports health insurance policies cover all activities, from basketball, tennis and golf to river rafting, mountain climbing. No matter which sports you are into, the comprehensive programs can guard you entirely.
Another benefit of getting insured is the protection of luggage and documents. Traveling from one country to another involves various risks, and loss of baggage is one of them. On purchasing medical coverage, you can rest be assured that your belongings are safe.
Additionally, you receive an extended medical benefit that includes doctor fees, hospital charges, prescription drugs and COVID-19 support. Apart from shielding you from a sports injury, the plans safeguard you from other illnesses and unfortunate events.
Let's sum up!
Adventure sports coverage is essential for everyone, even if you are not a sportsperson. When your sports coverage included in your travel insurance, you can enjoy a stress-free trip and indulge in all the adventurous activities that have been on your wish list.
Overseas adventures can be risky, especially when your friends or families do not accompany you. The best part about this is you can opt for any plan from any part of the country. Review the programs, get the quotes, and then settle for the one that gives you the maximum coverage.