A day in the life of Ria Serebryakova – 285K+ Instagram Followers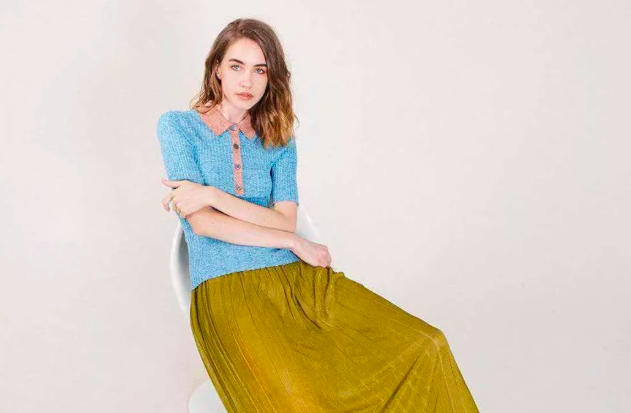 The Model Ria Serebryakova – known on Instagram as Riasalvation, quickly wrapped up more than 285K followers on Instagram. We take a look at why she's so popular and if there are any social media lessons to learn from her:
Ever since I first saw Ria's face in the AG Hair commercial on TV, I sat up and took notice, realizing that this girl is going to get far in the modeling world. Her fresh-faced innocence combined with her natural beauty and brooding gaze was all that I needed to instantly go searching into where she had materialized from and to want to follow her every career step from that moment on.
Well, part of that wish was literally realized when I was asked to spend a day with Ria at a photoshoot somewhere in New York. This was a perfect opportunity to learn more about her and to watch her at work.
Even though it is 8 am when we meet in front of the studios she looks ready to tackle the day. The studios are abuzz with people carrying in clothes, shoes, accessories. People are setting up cameras, lights, hair styling accessories, makeup pallets and beverages.
I cannot reveal any details about the shoot as these are to be announced later, but the clothes, shoes and accessories are gorgeous and expensive. Ria has worked extensively with some of the best designers and photographers in Europe and the U.S. since she was first discovered at the age of 18 in Russia.
Within that first year, she had already moved to New York and at her first fashion week in Paris, she did MIU MIU exclusive, both these are great achievements for a new face in the modeling world.
Ria has featured in the New York Times, The Wall Street Journal, and Harper's Bazaar, while she has also appeared on the 2016 "Never Hide" campaign for Ray-Ban and the 2018 L'Oreal Color & Co campaign. Her other clients so far include Forever 21, and Tory Burch.
In an interview a few weeks back Ria spoke about what the highlight of 2019 was so far for her. "Milan, 2019 the Dolce & Gabbana show at Fashion Week. We were surrounded by a fantastic team of hairstylists, makeup artists and the atmosphere was filled with excitement and anticipation."
I know that the photoshoot that stands out most for her so far in her career was the 'Stranger Things' inspired fashion shoot for Harper's Bazaar. Ria says that working with the two young stars of the series, Finn Wolfhard and Noah Schnapp was far more fun than she expected. "I was afraid that they would be bored, but they were both as intent as I on making sure that we have fun as we shoot." She continues on why it is still so memorable for her, "It was fun to see the contrasts of the featured high-fashion with the weird and the set was filled with dirt bikes, pools, wheels, Christmas lights, and beautiful outfits by Moschino, Versace, and Celine."
As I watch the activities, I notice that Ria is quietly listening to directions from what appears to be the cameraman, while she calmly allows the hairstylist to get on with her hair.
The photoshoot begins and it is amazing to watch the progress of the day's work. Everyone is working at a fast pace, but calmly and in harmony. Since this is the first time that I am watching one, I must admit that I was expecting to see the opposite of calm and a bunch of temperamental people.
During one of her breaks I catch up with Ria, and she says that usually, fashion shows are far more hectic than photoshoots. I notice that she does eat something light and ask her about how she keeps her 178 cm frame in shape. "I make sure that I eat a well-balanced diet and when busy like this it's important to keep up my energy levels with light snacks and plenty of liquids."
After six hours the photographer finally expresses that he is pleased with the day's work and results. As everyone starts wrapping up, I reflect on what I know about her career so far and from what I see she not only has beauty on her side, but also the personality and temperament that make her easy to get on with, a huge bonus in the world of modeling.
Ria heads off to change out of the stunning outfit that she has been modeling into her own casual outfit that she came in earlier in the day. When she appears, face free of makeup, I am amazed at how her unusually beautiful features and blue eyes stand out. As we leave the studio together and I greet her, I notice that she doesn't hail a cab, but walks away with a spring to her step. Now I realize how she stays in shape and forego the cab for a brisk walk back to work!
Beautiful Hard Work: Drilleys Eco Bags on Miss Korea Competition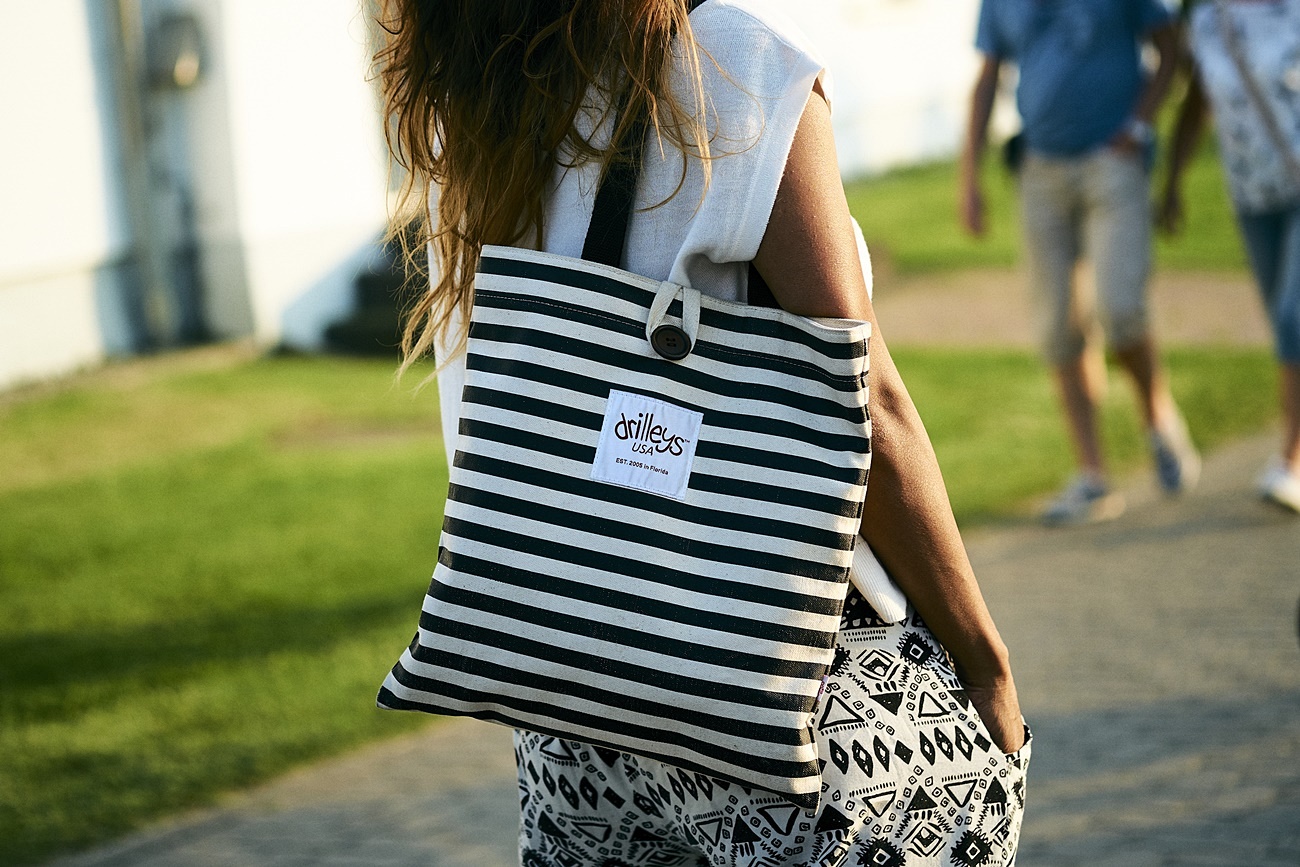 Beyonce taught us all in "Pretty Hurts" that beauty isn't all it's cracked up to be.  "Miss Congeniality" made us laugh, but also made us think about beauty pageants in a different way. More and more contestants are using the competition to speak about social issues.
From all these things and more, we now understand that being a Beauty Queen is hard work. That's why we're sure that the contestants in the Miss Korea competition were particularly pleased with one of the gifts they received. Each of the final contenders received a Drilley's Earth Eco Bag, a hard-working, heavy duty tote that's nonetheless quite fashionable.
Often, this kind of heavy-duty tote bag isn't very stylish. You'll find them in grocery stores, often plastered with logos or photos of trees. They're fantastic for shopping, but not something you'd want to carry if you were trying to look cool.
Drilley's bags are an exception to this. It is just as strong or more as any reusable grocery bag and at least ten times more fashionable.
Hardworking Bags for Busy Lives
Even though we've all seen the documentaries and the movies, it's probably impossible to imagine what it's like to compete in an international level beauty pageant unless you've actually done so.
The women on Miss Korea 2018 no doubt have busy, hectic lives and the preparation for the competition must be intense. Before, during, and after the show, they must need to carry loads of things with them, from makeup to wardrobe and beyond.
The great thing about Drilley's eco totes is that they can carry extra loads. The brand uses industrial grade canvas, which is several times stronger than normal canvas. The Earth Eco Bag, the model that each contestant received, is a large shoulder-type bag with long handles that make it easy to carry. If you needed, you could really pack it. You'd only have to worry about carrying it yourself, not it breaking!
Still, once the cameras are rolling, nobody wants to see someone struggling with a huge bag full of stuff. And  yet, they'd certainly need to bring some things along for the various outings, appearances, endorsements, and other requirements of the show. Why bother taking a new bag, though, when you have a Drilley's?
The natural cream canvas shines through in the bags, complemented by Drilley's looping logo in a variety of colors. It's casual, fun, and yet still sophisticated. It doesn't look out of place at all with these very fashionable women, and that's definitely saying something for "just" an eco tote!
This original color is bright and warm, however, if you're looking for something more somber, Drilley's does offer a few darker colors.
What they all share is the same toughness. It's scuff resistant and water resistant, which means that these bags really can take anything you throw at them. Much like, we imagine, the tough and beautiful women competing on the Miss Korea competition.
Find out more and order your own bag just like these beauty queens at www.drilleys.com!