How To Create Your Own Reality And Bring It Into Life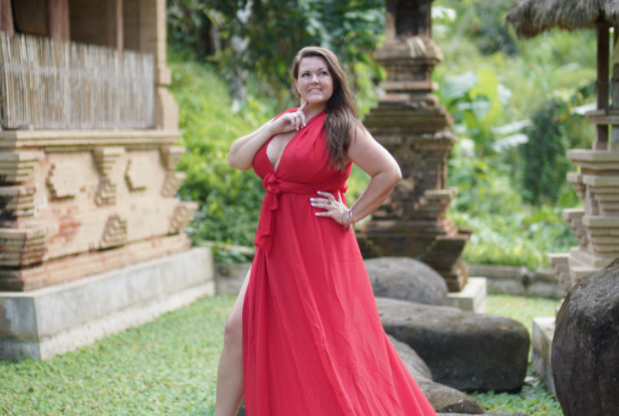 Tapping into our feelings is a challenge for all of us as we've learned to make life choices based on logic and analysis. Veteran software engineer Amy Bingham built her career on those foundations until she listened to her feelings and discovered that deep down she wanted a very different life and to create her own reality. 
Six years ago Amy's life looked significantly different. She was following a predictable path, worked hard to build her career, and was married with two children and a third on the way. 
Then she lost her teenage son to suicide. A few months later her daughter was born and her marriage collapsed. All her strength and focus were devoted to keeping the household together.  Everything she thought was right in her life suddenly felt very wrong and impossible to put back together. Despite the heartache and pain she experienced, she had no choice but to put one foot in front of the other and carry on. It took 3 years of struggling with therapy, support groups, PTSD treatments, and every ounce of her to find a new way of living, despite her effort to heal. Then she experienced energy healing for the first time and finally found a way to let go of some of the pain she had buried deep within on a cellular level. 
When the Covid-19 pandemic started Amy had already made some major shifts in her life. Amy explains; "I was already putting into motion how I wanted my day to feel. I claimed that my full-time 40 hours a week developer job would feel like an easy 20 hours. After manifesting that I could hustle and complete my work in much less time. So I had extra time to be loving to my children. I started removing myself from the limiting belief that I had to work extremely hard to earn my income."
She decided to decline a raise but wasn't sure where it would lead. She followed her intuition. "At the start of the pandemic, I pushed ego and logic aside and just allowed things to flow. I decided a 9-5 job was not what I wanted.  I chased my dream of living by the ocean. I quit my 20-year career, I sold my house and all my life's belongings, and I moved to a third world country, all during a pandemic," she says. Slowly a new vision for her life emerged, a new reality came into focus and she bought a ticket to Bali, a place she'd never had visited before. All she knew was that her intuition was guiding her to this place. 
Leaning Into Your Glow.
"People have this idea that healing implies something is wrong with you and that you are broken. Real healing on an energetic level means to let go, to release everything that no longer is serving you. It's in the releasing that you return to your highest vibrational way of living that your soul was meant to experience. Release the pain you've buried inside, and only then can you begin to live in the present again," she explains.
Amy's experience with her own healing gave her the tools she needed to make peace with her life, with her losses, and with her shattered dreams. So she could create a very different future for herself and her children. This process brought her closer to her son. "Once I was able to stop clinging to the past, the guilt I felt and trying to hold on to him through my memories and his possessions, there was a huge shift and I began to feel him closer again, but this time on a whole new consciousness level. I began to make some sense out of how grief no longer serves me and it gave me my freedom back, and it gave me a whole new perspective of how I want my life to be driven by my soul " she continues. 
Allowing your intuition to lead and what Amy calls, 'Leaning Into Your Glow' has given her a vision of a life she never imagined. Amy's transformation attracted others and potential clients started to contact her on how to make this same transformation for themselves. She didn't advertise her services, nor had she contemplated a career as a healer but as she began to move in that direction, she tapped into a knowing that she had skills that would help others. "I knew that I wanted to explore my healing work and help others but I really didn't know what that would look like. I learned that changing your life starts with a feeling, not a list," she says from her new home in Bali.
"That is why I called my company 'Lean Into Your Glow'," she explains. "That is what I did. Once I was able to come out of my grief I found I could tap into how others were feeling and help them to make an energetic shift. I began to work one-on-one with clients, teaching them how to use a set of highly effective tools that allow them to heal themselves," she explains.
Take the time to listen.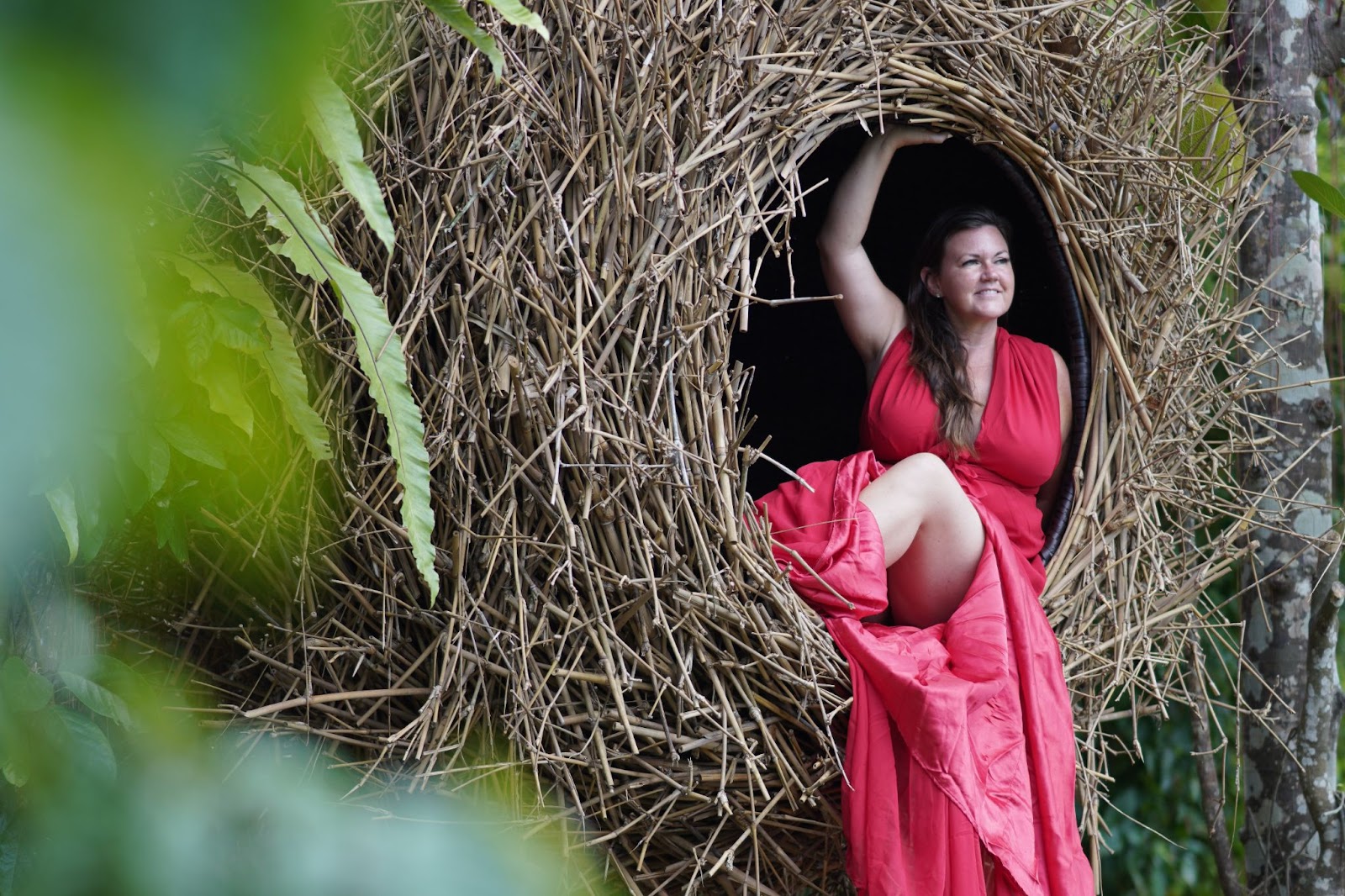 Amy had planned for her two children to join her in Bali once she had found a house and set herself up in a new home but due to delays getting their visas, she returned to Bali alone. "Even though my heart ached deeply as a mom for her children, I knew I was faced with a sacrifice I needed to trust, I knew I was supposed to return alone.  I found myself in a new country, with no demands on my time. Without my children to take care of I found myself and was allowed to go within my soul and let it guide me. It told me what to do next. So I just sat for a while and I heard my deceased son guiding me, telling me so clearly that this is what he wanted for me, to have time for myself, to sit and love every part of who I am" she explains. 
She instinctively felt she wanted to explore Bali's temples and discover more about her new island home. "I visited a temple every day, it was never a plan, it just felt like the next thing I was meant to do. I had no idea how much they would affect me as I went through the rituals and felt the energy', she tells us. Amy has now created online programs that take her clients on a journey to experience healing all through Bali's temples. 
Raising your own vibration.
"All my work is about bringing people back into full alignment with their soul, it's not what you need to add, it's what you need to release to discover what is within. I've created a 30-day program that centers around the healing energy I have tapped into here on the Island of the Gods – Bali, and invite groups of women from anywhere in the world to join me as I take them through a journey so they can start returning to themselves through a divine rebirth," she says. 
"I know that I am in the right place for what needs to happen next. When I hit an obstacle, I don't allow myself to think about it as an obstacle, instead, I see it as a message to slow down and trust that the universe has my back. I lean into my glow and use all the lessons I have learned to live divinely, guide divinely, and support divinely at all times."
SPOTLIGHT: Sweet vinyl by DREAMOUR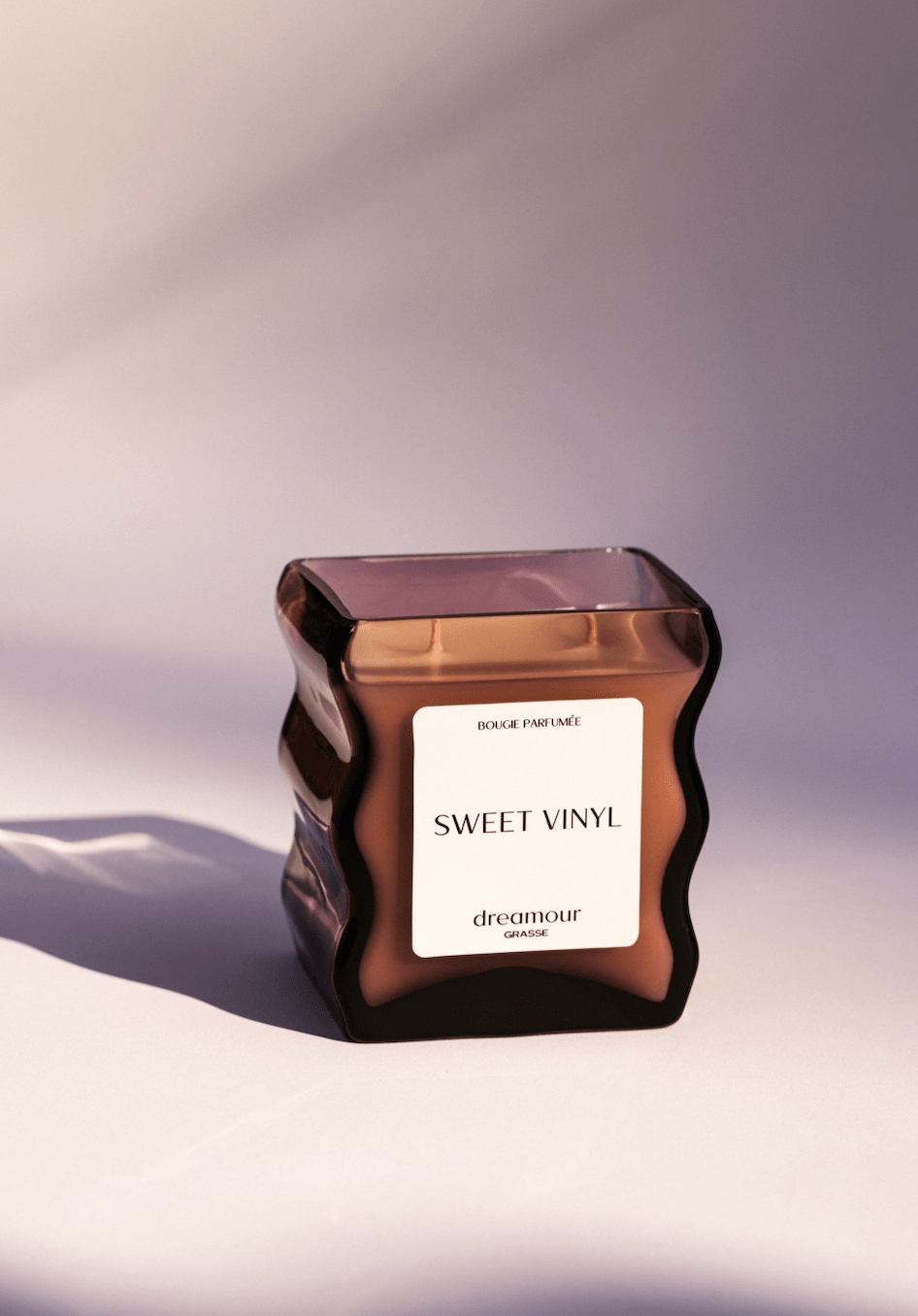 What happens when two immensely talented visionaries come together to create elegance and ingenuity in a sculptural glass fragranced candle? Dreamour. That is the long and short version of how Dreamour was created. Founded by Karissa Rowe and Neal Klotsman in late September 2022, Dreamour was founded with the goal of creating a luxury fragrance brand that operates at the intersection of functional art in the candle market space.
Rowe, a Parsons School of Design graduate, set out to fill the niche of integrating design in the candle marketplace. Unlike most candle vessels that are mass-produced, Dreamour's founders desired to prioritize the artisanal craftsmanship of glass in their production processes of the sculptural glass designs. This resulted in a long timeline of sourcing the globe for talented glass artisans who could transform a sketch into a functional and sophisticated candle vessel. Each and every candle vessel is hand-blown, inherently resulting in a one-of-a-kind product and unique experience for the consumer. These functional fragrant candles also act as a piece of décor due to its sculptural and alluring appearance.
Sweet Vinyl, Dreamour's first candle scent, fills the room with musky & leathery notes combined with earthy notes of vetiver and cypriol, topped with a citrus touch of bergamot and mandarin. The founders worked with master perfumers in Grasse, France, to create a scent that invoked notes of memorable moments, emphasizing high quality ingredients in the fragrances in a soy wax blend. This resulted in candles that consist of clean ingredients, a vegan formula, and is entirely cruelty-free.
It is the personification of the glass blowers' spirit, the heart of Grasse imprisoned in a bottle, and the narrative of two visionaries that sets Dreamour at the top of the candle market pedestal. Dreamour embodies the sophistication and savior-faire French perfumery as a luxury brand, while being a NYC based brand. Dreamour is currently stocked at Patron of the New in New York, along with other major designer luxury known brands. Rowe and Klotsman are currently expanding their production lines and will drop new fragrances and designs in early 2023. Don't expect anything ordinary with Dreamour, as they will continue to bring a unique perspective to the marketplace of home fragrances.
To find out more about Dreamour and their newest releases, you may visit the business's website dreamour.com or follow the company via its Instagram handle @dreamourshop.