Kamyar696 steps into 2020 with Goole Aksamo Nakhor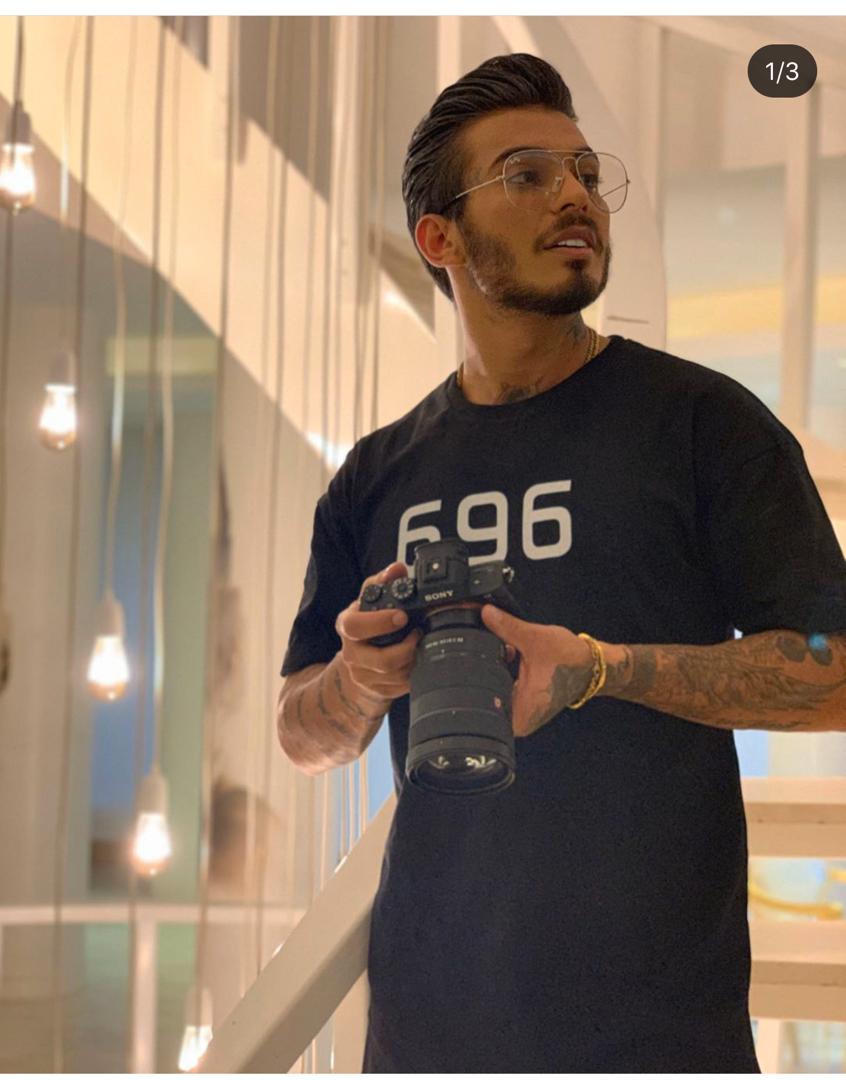 If there's one thing science cannot explain is how some people are just born great. These are the people who go on to achieve some of the biggest feats in life. These are your prodigies who accomplish what they were born to do at a very young age. Wolfgang Amadeus Mozart, Stevie Wonder, and Michael Jackson showed immense musicianship as kids. To have a beautiful voice is a blessing very few are born with. People born with the gift of music are considered to be fortunate. A young singer, actor, and comedian from Iran, Amir Hamdollahzadeh is blessed with this gift.
Amir Hamdollahzadeh aka Kamyar696 was born on 17th December, 1994 in Saveh, Iran. He showed extreme love and passion for music at a very early stage in life. As the years went by, Amir sharpened his craft and learned more about the industry. He released two singles in 2019 called 'King of Bonzale" and 'Sokoot' with featuring artist, Amin Hesam. Earlier this year, Amir dropped another single called "Goole Aksamo Nakhor" featuring Alishmas and Kimia. The song has been making waves in the Iranian music scene and has managed to gather a decent fan following for Amir. While he continued pursuing music, Amir also showed keen interest in acting and comedy. Amir says, "I have a very different style of comedy that is not often seen here. I love improv comedy and it is one of my strengths." While pursuing these two art forms along with music, it helped Amir to build more confidence on stage and in front of the camera. He adds, "I love making people laugh. It brings me more joy to see them happy". To further enhance his persona, Amir took a serious commitment to training and fitness. He has participated in various fitness competitions and has shown tremendous success in it as well. With music, comedy, acting, and fitness, Amir is making the most himself and outshining others.
In this day and age, it has become quite imperative to don more than one hat. The more you learn, the more you excel and more success comes towards you.
Break Media: Giving a lifetime opportunity to up & coming artists with their entertainment company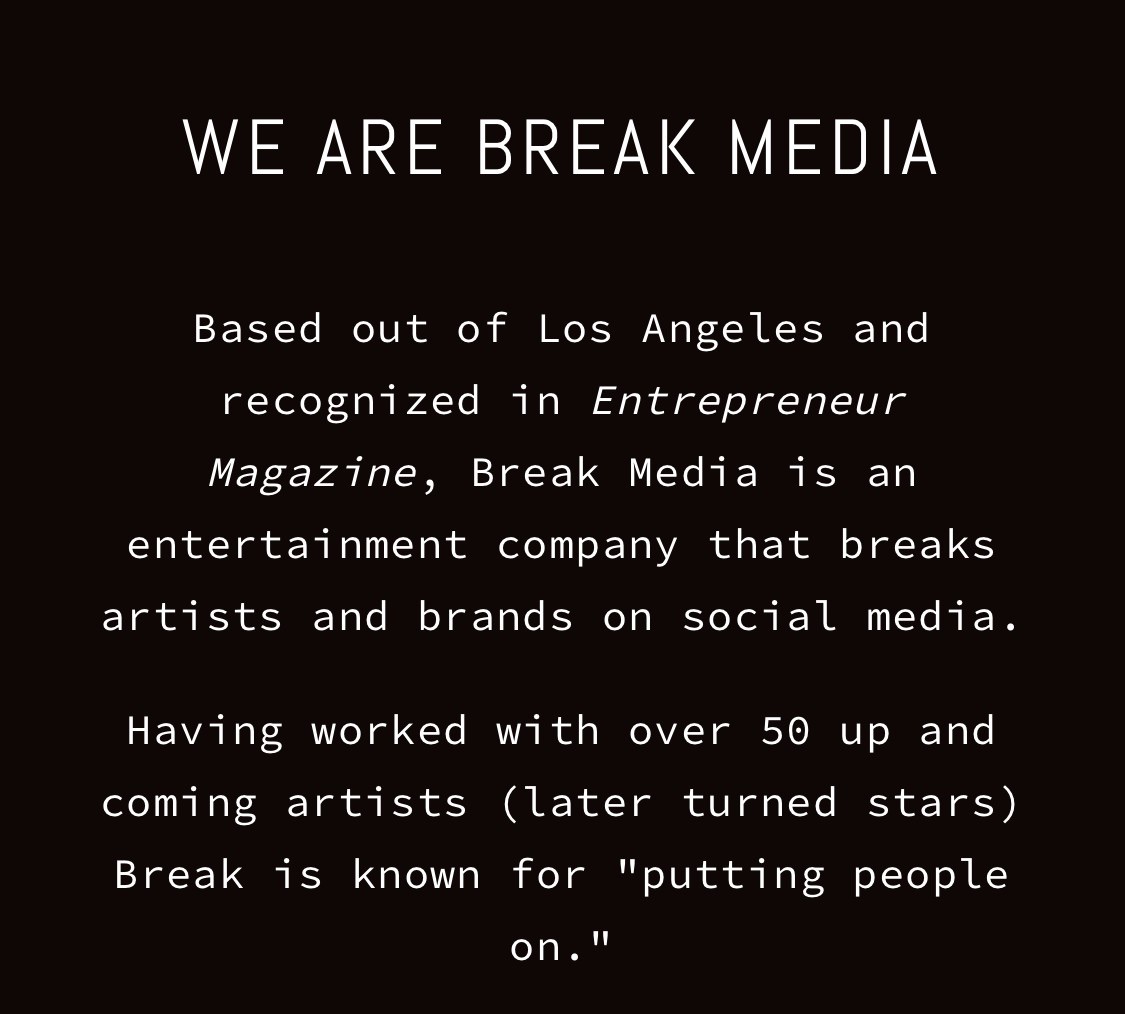 Considered to be the best in the USA, Joey Hickson's Break Media is both learning & a path-breaking platform for artists.
The way the world of social media has seen a rise, especially in the past few years is staggering. The number of people who have joined the bandwagon on social media is incredible knowing the various opportunities & admiration that the online platform offers an individual. When you are aware of such advantages of the medium, it is natural that some companies use the same to provide opportunities to clients who associate with them. Break Media by Joey Hickson is one of the best entertainment companies in the US that works for the growth & betterment of up & coming artists, athletes & influencers, who have talents that the world must know about.
Break Media is a visionary company created by Joey Hickson that provides the ultimate solutions to many artists & influencers across the world looking to get a chance of their lifetime to showcase their talents globally. Hickson, who is also a renowned social media influencer in the US, knows how to effectively use social media platforms to carve a path for talented youngsters & give them a platform which can turn out to be fruitful for their careers.
Hickson's company works for placing these talented people in front of huge audiences by helping them create an image on social media & in the outside world. The social media world is already crowded with many such similar companies & to still make a special place in the online world is something Hickson has achieved with his determination & hard work. Break Media is also unique because the work they do for influencers & artists; they do not claim any credit for their increasing popularity amongst the masses & the classes.
Today with his consistent efforts, Hickson has been able to take Break Media to the peak of the media industry, which is popularly recognised as a company that guides & supports talented artists & influencers.
Providing top services in influencer personality management, music promotion, collaborations on the agency's 350 million network & many more such amazing services, Break Media has been successful in giving a break to artists worldwide. Looking at the rate the agency is growing along with its clients, it won't come as a surprise if the agency develops many other things through social media platforms for the artists & influencers.
If you too wish to make your dreams a reality, you can connect with them on Instagram @break or can visit their
Website : breakmedia.us
Instagram : https://instagram.com/break