People are Getting Excited to See the Youtube Star PewDiePie in BlackPink Song Soon
The biggest and most followed Youtube star PewDiePie will soon feature in an untitled song with the South Korean girl group BlackPink. The new song by the girl gang is collaborating with PewDiePie this time and they have made the countdown website – Blackpinkftpewdiepie.com for the same. The website will soon reveal the name of the song.
The site has released the exact time for the song to go LIVE which has left both their and PewDiePie's fans equally excited. They are waiting to know how the collaboration of BlackPink Ft PewDiePie will be, whether the Youtuber will dance or sing in the video or how he will be collaborating on the story. Nothing about the video has been revealed as yet thus it has created more mystery.
Audience has been filled with excitement since the news was revealed. Some are even thinking whether PewDiePie is a closet singer waiting to be revealed. The new song collaboration is expected to be a kpop trap genre. People can only make guesses till the actual drops in. It has given their fans something to look forward to in these uncertain corona times.
The South Korean girl group has 4 members- Jisoo, Jennie, Rosé, and Lisa who have named their group BlackPink. They make entertainment videos and are quite popular in the entertainment industry. The audience finds their work really creative.
Their song with PewDiePie on YouTube is expected to beat the 24 hrs views count. Social media platforms are filled with likes, comments and excitement stories. Their website is getting loads of traffic everyday as fans are checking the site eagerly everyday to know when the video song will go LIVE.
Taking A Risk: King Nasir Steps Out with Confidence on His New Music Endeavors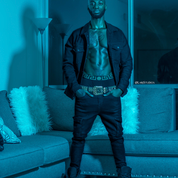 Ever since a teen, King Nasir dreamed of one day being an artist. Performing at shows, going on tour, and the famous lifestyle were always aspects that attracted him. It wasn't until October of 2020 that the rapper made it his reality – he began to do what he had always dreamed of.
King Nasir is a rapper from New York who has recently been overflowing with confidence with his new music drops. It all didn't start out like this, however. The young rapper previously struggled with self-doubt about his music. Not knowing if people would like it, he would keep everything on hold until he felt like he had a quality product to share.
Soon enough, the time finally came, and the New York native began firing on all cylinders. Dropping his first song called "Viral", he arguably went viral amongst his peers and community, finally being recognized as the artist he has always been. Using this momentum, King Nasir then released "Fade" which now has been the reason for the high streaming numbers and increases in followers lately.
King Nasir went from being unsure of his talents to a full-blown, confident musician. His quality sound continues to attract more fans with his polished and unique-sounding voice. Beginning to rise quickly now, it is a great thing that the New York native decided to showcase his talents.
Follow King Nasir on Instagram here
Listen King Nasir on Spotify