Renowned Aesthetic Doctor in Singapore Launches New Skincare Brand

SINGAPORE – Radium Skin Pte. Ltd., a skincare start-up in Singapore, made its debut 2 weeks ago with a wide collection of luxury beauty products for different skin types.
"After years of intensive research and development, it is exciting to see the range of Radium Skincare come to fruition", Dr. Siew Tuck Wah, Director of Radium Skin.
"With more than 12 years of experience in treating skin issues and leveraging on our team's expertise in formulating scientifically proven products with efficacious ingredients, we hope to design a range of products that can inspire confidence."
The brand launch is accompanied by a new e-commerce website, radium-skin.com, which features Radium's inaugural 6 skincare range, complete with cleanser, toner, moisturizer, and serum:
SERENITY: Best for people with sensitive skin. This range is specially designed to be gentle on the skin, yet provide deep cleansing and keep the skin moisturized at the same time.
AGELESS: The Ageless range contain skin-nourishing benefits to age-proof the skin to achieve anti-aging effects by replenishing the moisture and restoring weak, saggy skin.
GLOW: With 6 items in this range, the Glow range has the most number of products, including Liquid Gold Eye Gel. The Glow range contains powerful anti-oxidants to help your skin fight against free radicals and break down stubborn dark pigments at the same time.
LIBERTY: The most popular range among teenagers and young adults who battle with pesky acne on a daily basis. The Liberty range focuses on restoring balance to oily skin by gently removing dead skin cells and unclog pores at the same time.
BALANCE: Best for normal skin. The Balance range best suits people with normal to dry skin. They contain calming and nourishing active ingredients to restore the skin's balance without drying the skin.
SELF DEFENCE: Overall anti-aging skincare routine cannot be complete without a preventive care. This range of products contain strong anti-oxidants and protective agents to shield your skin from the daily exposure of harmful pollutants.
Dr. Siew is a familiar face in Singapore. On top of designing and developing Radium Skincare, he is also the Medical Director of Radium Medical Aesthetics. In addition to his impressive portfolio, he is also an appointed regional trainer for a range of dermal filler treatments using a range of hyaluronic acid fillers and collagen-stimulating fillers. He also performs laser treatments for pigmentation and thread lift treatments for non-surgical skin lifting procedures.
Outside of work, Dr. Siew is also actively involved in animal welfare and charity work. He is the President of SOSD, one of the largest animal welfare groups in Singapore. This should also give consumers comfort that Radium Skincare products are not tested on animals!
Why Kareem Hassan believes self-employment is the key to true freedom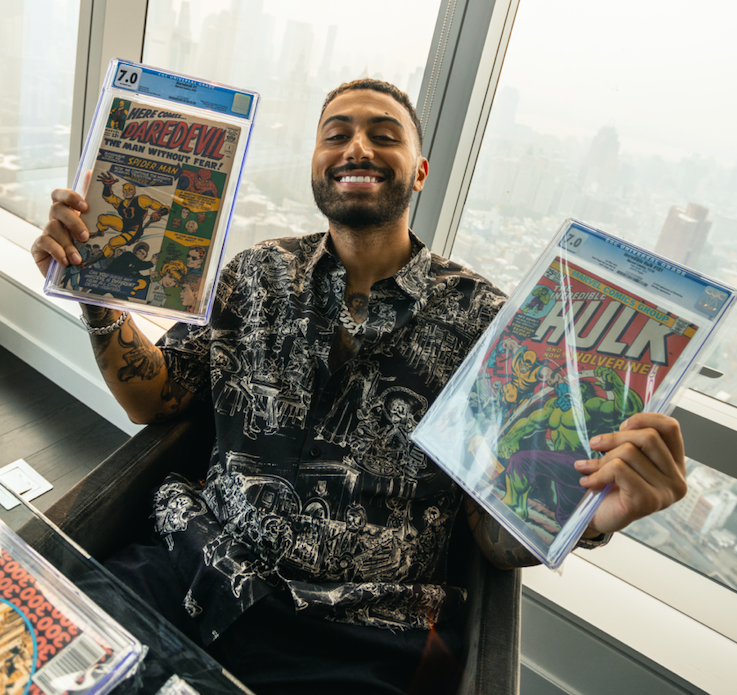 To those working a 9-to-5, self-employment often presents itself as a daunting choice; there is a considerable risk involved but, at the same time, a lot of freedom to be enjoyed. On the other hand, freelancers and entrepreneurs also have to deal with 'clients from hell' at times, making them question whether self-employment was the right choice. According to Kareem Hassan, whatever be your view of being your own boss, you cannot deny the freedom that comes along with it. Here, he explains why he believes self-employment is the key to true freedom.
Kareem Hassan runs a 3D printing service and trades collectibles, which have catapulted him into immeasurable success. From early on, Kareem knew that he wanted to be his own boss; he wasn't cut out for the 9-to-5 grind. Fueled by his passion for entrepreneurship, he began working to create a business where he could truly love and enjoy what he does.
True success to Kareem means freedom, both financial and time. It also means the freedom to be able to share your knowledge with others and to do what you want, when you want. In addition to running his business, Kareem Hassan has also ventured into creating digital art and investing in NFTs. He says that all this would not have been possible had he been working a regular 9-to-5. Instead, he would be stuck doing the same tasks with minimal returns and an even lower growth ceiling.
Another reason why Kareem Hassan vouches for self-employment is that it enables you to retire early. According to Hassan, being your own boss gives you the freedom to stop when you think you've accumulated enough wealth and secured enough investments. Once you achieve what you want and have your financial future secured, you can retire from work and pursue anything you want in life.
When he first got started, Kareem Hassan was not sure where this journey would lead him, but he had a firm conviction to see it to the end. He dropped out of college after two years to take care of his family. He began by investing the little he had in collectibles like comic books, rare items, trading cards, and toys. Seeing an opportunity when the popularity of comic books regained momentum in pop culture, Kareem jumped at it and established his business.
According to Kareem, besides success, freedom is the greatest thing about self-employment. Your time is your most valuable asset, and having time freedom is like having a blank canvas; you can fill it with anything you want and create magic. Knowing this, Kareem Hassan says that he wouldn't trade that freedom for anything. He also points out that self-employment lets you choose the people you surround yourself with and create diverse networks.
Even as he explains these benefits, Kareem Hassan cautions people against assuming that self-employment is the easy way out. In fact, the entrepreneurial journey can be one of the toughest roads to travel, but it is also worth every sleepless night. Moreover, working at something you are passionate about gives you a broader view of everything, making it easier to navigate these challenges.
Despite the challenges of entrepreneurship, Kareem Hassan says that being your own boss is so much better than working for someone else. "When done right, self-employment allows you to live your dream life," he concludes.