Talented young artist Dang Tra Xuan Minh and a three-year story with a guitar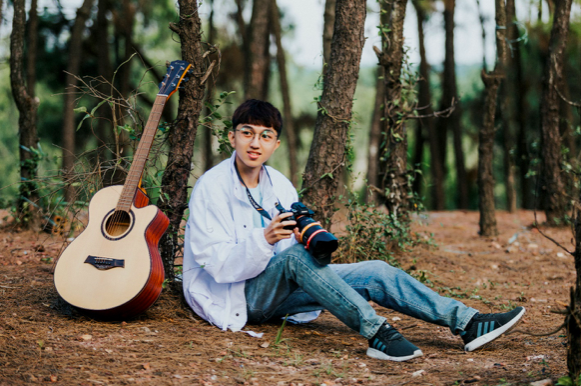 "Not playing the guitar, the person lacks confidence in him", that is the answer that "Đặng Trà Xuân Minh" dedicated to the question "why choose guitar?". He may still have the innocent appearance of a 12th grader, but when it comes to the guitar, he's a real artist.
Three years on the guitar
Dang Tra Xuan Minh is currently a 12th grade student, at the most beautiful age of each person. At that age, people often will have many friends, and will also have a lot of fun together … to grow up. But for Xuan Minh alone, the guitar is a great love. And the boy of that pure appearance decided to stick with it and write with him the beautiful stories for his youth.
It is known that Xuan Minh chose to study guitar from the 10th grade. In the beginning, there were many surprises, and many difficulties. Because the characteristic of learning guitar is not only requires perseverance when practicing but also confidence in your own sense of sound. Because the guitar is a highly integrated performance instrument, it requires the player to use a variety of technical groups, to complete a work. So, depending on the sound as well as the specific strengths of each different guitarist will produce different structures on the sound tone in each work. Therefore, it can be said that young guitar players like Xuan Minh are really creative artists in their endless passion for music …
And when asked, "Do you remember the funniest thing about when I was able to play the guitar?", Xuan Minh just smiled and replied in a very carefree manner "At first, I often lost my beat". That answer may seem a little off-topic with the question, but the truth is that only those who bravely carry out their passion can find joy from their "lost times". Because when we look back on those times, we know how much we have grown up. And that boy, Xuan Minh probably understood the value of that, so he had the same answer.
A young man soon chose not easy things
Dang Tra Xuan Minh (Minh Meo) with many impressive articles, photos and clips released on music media such as Spotify, Youtube, … Among them, there are two clips that were initiated by Xuan Minh. Each frame and sound quality to record his beautiful feelings about the youngest days of life. Those are the two music videos of the songs "Ngày Của Mẹ and Tết Về Sớm Nhé" By expressing rustic and sincere, every frame, every verse in those products of Xuan Minh really brings a lot of beautiful emotions to the listeners. And although he is only a 12th grade student, Xuan Minh has soon acquired his initial shape on the art person.
Xuan Minh said "I often like to play songs like "Ngày Của Mẹ", "Tết Về Sớm Nhé", "Yêu Như Trẻ Con"… those pop songs. Because those songs are good and have many memories. " It can be seen that, for Xuan Minh, memories are extremely important. His favorite songs, mostly pop songs, have a gentle melody, clear lyrics but also full of affection and respect. Especially on the topic of family. Thereby, we again see Xuan Minh as a young man with many passions and personalities but not a thorny, beat-hearted artist, but an artist with a warm heart.
Along with that, choosing to invest in their own MV products is a challenging option for Xuan Minh. Due to the fact, Dang Tra Xuan Minh is still a high school student with not much spare time, along with learning pressure as well as difficulties in adolescence. But Xuan Minh chose to put in a lot of energy and dedication to each of his favorite songs, showing how strong his love for art is. Indeed, it is not an easy path for a high school senior student Dang Tra Xuan Minh.
The guitar is still the most familiar companion
Despite many difficulties and choices, Xuan Minh still decided to stick very much with his beloved guitar. Even in his first music video, "Tết Về Sớm Nhé", the image of Dang Tra Xuan Minh holding a beautiful guitar, fascinated with the first notes is also an unforgettable impression. And then followed by a series of short pictures of that fragile boy walking, accompanying his guitar in every song, each offering emotions that are hard to describe in words. Thus, Xuan Minh really respect and seriously with his own passion. And with my beloved guitar too! That is the very special beauty, especially of this young man who is still a high school student.
Everyone has their own choices to make sense of their own lives. And with Dang Tra Xuan Minh, he chose the guitar to write beautiful and meaningful memories, but not only for himself, but also for the fans who love Xuan Minh.
Check out his channel on Youtube:
Crafting Excellence: Vidyut Xavier's Journey from Assistant Choreographer to Dynamic Actor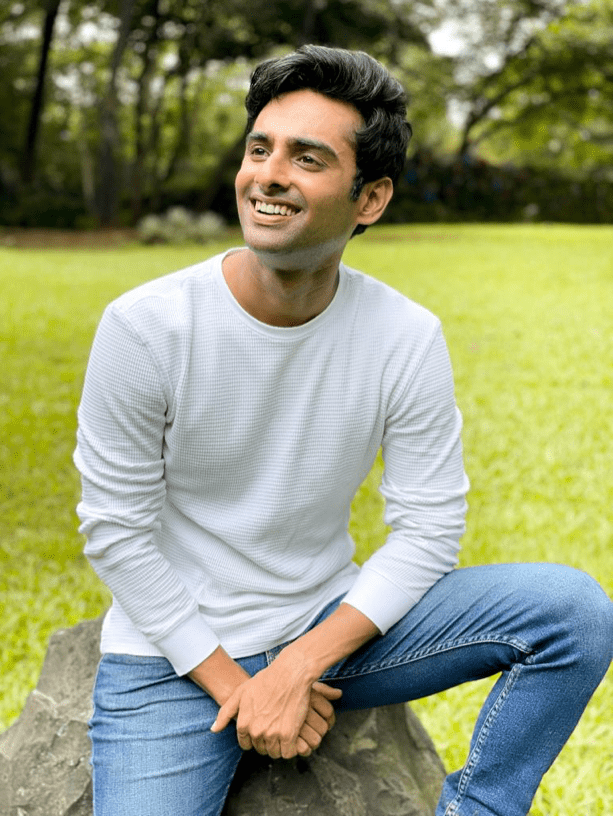 A fresh new face has arisen in Hindi cinema, where extravagant performances frequently take center stage, mesmerizing viewers with his genuineness and adaptability. The definition of brilliance in the acting industry has been redefined by rising star Vidyut Xavier, who has had a remarkable career. From his humble beginnings as a choreographer's assistant to his acting work, Xavier's journey is inspiring.
The journey of Xavier began at the center of the Hindi film industry. He was already a part of the film industry because he was the son of renowned cameraman Thomas A. Xavier and had a mother named Swati Xavier, a well-known costume designer. He strongly connected to the filmmaking tradition, which fueled his desire to leave a lasting impression.
His ascent began with a role many wouldn't consider glamorous: background dancer and assistant choreographer. Under the guidance of Rekha Prakash, Xavier has learned the art of movement and rhythm, setting the stage for his future success as an actor. This early exposure to performance nuances laid a strong foundation for the authenticity that would later become his hallmark.
His commitment to constant growth was a defining characteristic of Xavier's development. He pursued a mass media degree to add intellectual rigor to his creative endeavors. His combination of intellect and creativity gave him a distinctive viewpoint that he would later apply to his acting roles.
Xavier's entry into the television industry was made possible by the show "Dhadkan Zindaggi Kii." He received praise for his natural acting technique in a field that is sometimes noted for its theatricality because his portrayal of Dr. Abhay Sathe struck a deep chord with the audience. The program allowed Xavier to emerge as an aspiring actor by displaying his aptitude for giving characters nuance and authenticity.
Xavier served as an assistant director in "Dabbang," a seamless transition from television to movies from which he learned different aspects of what goes behind the screen. His ability to approach his profession in various ways demonstrated his commitment to participating in all facets of his endeavors.
With parts in shows like "Mahabharat" (TV) and "Pavitra Bhagya," where he continually demonstrated his range as an actor, Xavier's career continued to flourish. Notably, his music video "Jeene De" gave his artistic resume a new depth and demonstrated his adaptability outside the boundaries of conventional acting.
Vidyut Xavier stands out as a welcome example of an emerging talent who can change the way in a field dominated by well-known actors. His transformation from a dynamic performer to a choreographer's assistant inspires struggling or upcoming artists by highlighting the value of sincerity, hard effort, and humility. He solidifies his reputation as a young actor who is skilled in acting, dancing, and performing his own stunts and brings a genuine charm to every job.
Xavier's journey has begun, and he is gradually rising towards being extremely successful. He carries all the skills and talents it takes to be a star. He is ready to leave a lasting legacy based on excellence, authenticity, and the unrelenting pursuit of his dreams, thanks to his perseverance, passion, and dedication to his trade.