The Impressive Evolution of CJ Iwu From A Self-Conscious Kid To Vibrant, Charismatic Creator
CJ Iwu has dealt with plenty of adversity in his young life. He grew up feeling uncomfortable in his own skin, has dealt with low self-esteem, and has been faced with an overall feeling of insecurity from a young age. He also found that he didn't apply himself much in high school, and was unable to do schoolwork outside of the classroom.
Even though he dealt with a lot of shortcomings as a high school student from Minnesota, CJ's maturity and evolution of his personality since graduating have been nothing short of immaculate. He chose to enroll in the American University of Nigeria in West Africa, and he was forced to mature and become independent very rapidly.
CJ says, "When I arrived at AUN, the study habits I developed over the years miraculously unearthed themselves and helped me become a straight-A student for the first time in my life. What caused my study habits to surface was my determination to turn the page on my academic life."
As he matured in the classroom, he began working tirelessly on another project. AUNwithCJ, a vlog he started documenting his journey traveling across the world to Nigeria to attend college, quickly evolved into a weekly TV-like show on YouTube where CJ talks about attending AUN from an American perspective. He's incredibly passionate about the show, and works hard to make the production as high-quality as possible, and includes trailers, weekly episodes, cinematics, closed captions, and more.
It's no surprise that CJ has been so open in sharing his experiences on the AUN campus with the whole internet, as he's blossomed into a social person compared to his high school days. Regarding campus life, CJ says, "I'm usually pretty friendly to everyone around me. If I see someone walking past me on campus, it's virtually second nature to extend a warm greeting and a smile."
His love for meeting his classmates helped inspire a miniseries within his vlog called "We Asked AUN Students", a series solely dedicated to showcasing the thoughts and experiences of AUN students on specific topics. It allows his classmates the chance to voice their opinions and experiences on campus, and it's something CJ has grown to become very proud of.
Now that CJ's settled into his life in Nigeria, he's looking forward to creating more episodes of his vlog, connecting with new people, and excelling in his academic life. Based on his transformation from a shy, self-conscious high school student, it's clear that CJ is only just getting started as a creator.
SPOTLIGHT: Sweet vinyl by DREAMOUR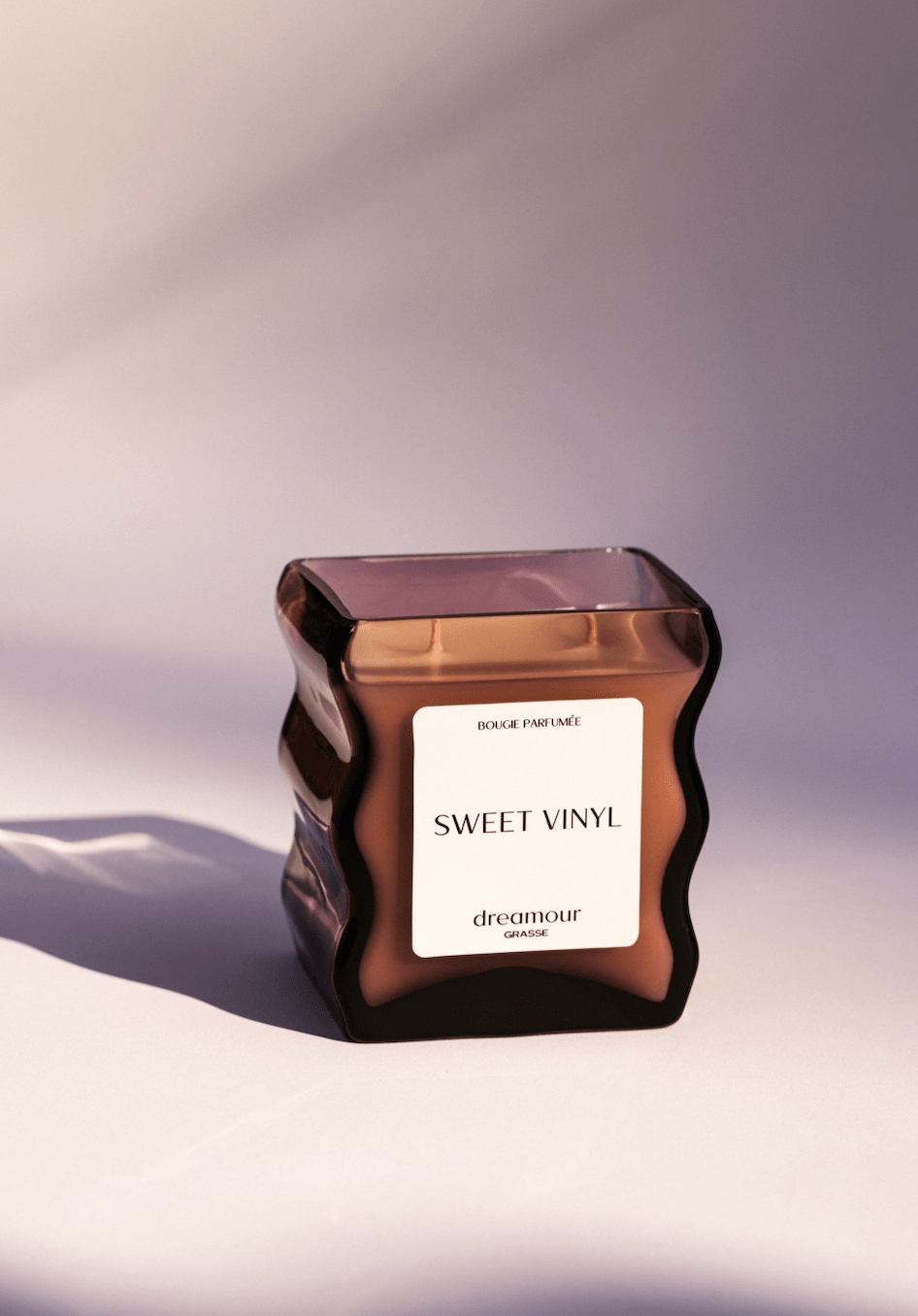 What happens when two immensely talented visionaries come together to create elegance and ingenuity in a sculptural glass fragranced candle? Dreamour. That is the long and short version of how Dreamour was created. Founded by Karissa Rowe and Neal Klotsman in late September 2022, Dreamour was founded with the goal of creating a luxury fragrance brand that operates at the intersection of functional art in the candle market space.
Rowe, a Parsons School of Design graduate, set out to fill the niche of integrating design in the candle marketplace. Unlike most candle vessels that are mass-produced, Dreamour's founders desired to prioritize the artisanal craftsmanship of glass in their production processes of the sculptural glass designs. This resulted in a long timeline of sourcing the globe for talented glass artisans who could transform a sketch into a functional and sophisticated candle vessel. Each and every candle vessel is hand-blown, inherently resulting in a one-of-a-kind product and unique experience for the consumer. These functional fragrant candles also act as a piece of décor due to its sculptural and alluring appearance.
Sweet Vinyl, Dreamour's first candle scent, fills the room with musky & leathery notes combined with earthy notes of vetiver and cypriol, topped with a citrus touch of bergamot and mandarin. The founders worked with master perfumers in Grasse, France, to create a scent that invoked notes of memorable moments, emphasizing high quality ingredients in the fragrances in a soy wax blend. This resulted in candles that consist of clean ingredients, a vegan formula, and is entirely cruelty-free.
It is the personification of the glass blowers' spirit, the heart of Grasse imprisoned in a bottle, and the narrative of two visionaries that sets Dreamour at the top of the candle market pedestal. Dreamour embodies the sophistication and savior-faire French perfumery as a luxury brand, while being a NYC based brand. Dreamour is currently stocked at Patron of the New in New York, along with other major designer luxury known brands. Rowe and Klotsman are currently expanding their production lines and will drop new fragrances and designs in early 2023. Don't expect anything ordinary with Dreamour, as they will continue to bring a unique perspective to the marketplace of home fragrances.
To find out more about Dreamour and their newest releases, you may visit the business's website dreamour.com or follow the company via its Instagram handle @dreamourshop.