Marko Danial, 19-yr-Old Social Media Influencer and Entrepreneur is Dedicatedly Helping Athletes with his Sports Company, Spzrts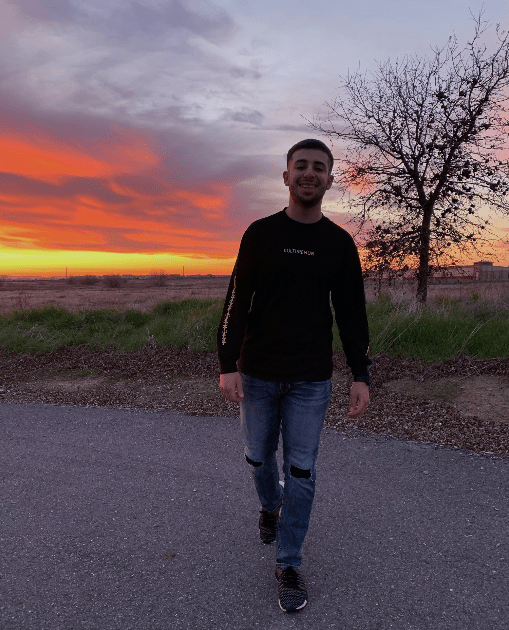 19-year-old Marko Danial, more known as Pharaoic, has been getting popular as a social media influencer and entrepreneur. He owns a sports media company, Spzrts, which is passionately helping athletes around the globe by providing them with the best athletic gear and apparel. Through his passionate efforts, Pharaoic has contributed to the growth of his company and gathered over 3,000,000 followers across different social media platforms.
Marko was born in Egypt on February 19, 2001, but moved to the United States with his family in 2007. In order to express himself and his culture, he came up with the name "Pharaoic." In 2013, he created a sports account on Instagram for fun, however, it went viral and started gaining popularity for its exceptional content. Since then, he hasn't stopped going and continues to explore the world of social media as well as entrepreneurship in a dedicated fashion.
Currently, Pharaoic has huge popularity on different social media accounts and also runs his own Youtube channel and Tik Tok account where he posts interactive content. In the present, he lives in California where he's studying engineering. Pharaoic is working hard to grow his sports media company. His ultimate goal is to transform it into a bigger name in the coming future. 
Marko was able to build relationships by collaborating with different influencers and athletes on the many social media platforms. Through Spzrts, Pharaoic is also constantly trying to inspire younger athletes around the world. According to Pharaoic, his major goal is to inspire others through his work and help them break their limits to find their true potential. He tries to push the message that anyone can accomplish anything as long as they make it a goal and work towards it. 
Music Driven by Life Experiences – Di Higrade's Unique Style and Vibe
Parents, a word synonymous to protectors and guardians, are people who go to the greatest extent to provide their children with a stable ad beautiful life. Imagining a life without the guidance of parents seems impossible. However, not everyone is as lucky and are deprived of this form of love and compassion. 
Parents serve as the light during the dark days and guide their children towards the right direction in life. They teach their little ones the ways of differentiating between things that are good for them and things that might lead them to destruction. Di Higrade was one of those kids who had to spend a life without having someone to guide him. When it was time to make big life decisions, he had to take the risk and decide for himself. 
Adding to his problems was the pressure of the society, to work and establish a stable future. Being surrounded by all these problems forced him to search for an escape, which he did. He found his comfort and his escape in the form of music.
GETTING PAST A TOUGH CHILDHOOD
Roger Akutcha, better known as Di Higrade, was born on August 26, 1989, in Tema, Ghana. His childhood wasn't like what one usually dreams of, and life was hard on him from the start. The child lost his parents at a very young age and had to look after himself from the very beginning. Growing up alone in a developing country was not easy on the boy. Di Higrade had to face every single problem, from health to shelter, all on his own, as he had no one to offer him a helping hand. Before the child could even dream about good days,  he found himself crushed under the brutal burdens presented by his life.
FINDING COMFORT IN MUSIC
Even when life was harsh and all Di Higrade could see was darkness, the ray of hope for the boy was music. Clinging on to his silver lining, Di Higrade lost all his worries and troubles whenever he stepped into his music world. He spent elaborate hours all by himself just listening to music, singing along, and humming to the beautiful tunes. His fondest memories include listening to Bob Marley, Vybz Kartel, Movado, Shaggy, Sean Paul, and many others. Di Higrade was more than often alone in times of need, and he found that it was only music that helped him move forward.
Soon, he turned to writing and composing his own music. After dedicating a great deal of time coming up with something extraordinary, Di Higrade finally created a masterpiece. At the time, he was just ten years old! The boy performed his song for his friends, who helped him realize that music to him was much more than just comfort; it was his passion. Di Higrade came back home, feeling victorious and accomplished for then he knew music was a part of him and he wanted to keep that piece alive by sharing it with the rest of the world. 
STEPPING IN THE MUSIC INDUSTRY
Now that he had a clear vision as to what he wanted to do, the rest just flowed. Di Higrade decided to craft music pieces by fusing the Afrobeat and Dancehall genre. Drawing inspiration from the artists he listened to and his life experiences, the artist began working on his craft. The artist believes that music might be something personal, but it is also something that the whole world can relate to, which is why he uses his tunes and lyrics to bring his experiences and emotion under music in a big way. His songs are like a tribute to his life but are something everyone can relate to.
His singles gained immense recognition throughout the world and were loved and admired by thousands that helped him earning significant traction. 2015, gave the world Di Higrade's first single, Hello To My Lover, that was acronym HTML. The song is a narration of emotion and heartache, for everyone who years of seeing their lover. 
The Christmas of 2016 brought two party rocker singles, named, 'Obsession,' and 'Party Time.' Three other tracks, 90's, Prove Dem Wrong, and Enemies, were released the same year. His unique voice and the moving music helped him earn a stream of admirers.
A TECH JUNKIE
Apart from being so exceptionally well at creating music, Di Higrade realized that he needed a second option as well. From the age of 17, Di Higrade had been repairing computers at a shop. He instantly decided not to let the skill go to waste and instead use it for the better.
Soon after he had released his first single, Di Higrade joined the Business Information Technology Undergraduate Program at NCC Education UK. Upon finishing the program, he got admitted to acquiring top IT Certifications three years later, in 2018. Di Higrade finished several IT Certifications, which included; Cisco Certified Network Associate Routing and Switching (CCNA), Microsoft Certified Solutions Associate (MCSA), CompTIA A+, and CompTIA security+. He worked hard in polishing his skills and soon earned a reputable name in the IT sector.
AN ARTIST, HUMANITARIAN, AND AN INSPIRATION
Having to face the cruelties of life made Di Higrade a humble human. Knowing the difficulties a person has to face in poverty, his heart grieves for the poor. He says, 'Can you imagine what it's like not to have enough food to eat and go to bed hungry at night? Poverty is not a joke.'
After spending so much time in shaping himself, today, Di Higrade is a fitness model, musical artist, a technician and, serving the US Military. But most of all, he is an inspiration for all those who need a little push and courage to move forward with their lives and take their passions to greater heights!